Take a look at this sexy story and company called Luxottica, a growth stock play involving designer eyewear looking us all right in the face.
Luxottica Group (NYSE:LUX) is headquartered in Milan, Italy. It engages in the production and sale of sun and prescription eyewear. Currently, it is the world's largest eyewear and eyeglass company. It's best known brands are Persol, Ray-Ban and Oakley. Not surprising, it also makes sunglasses and prescription frames for a multitude of "popular" designer brands such as Chanel and Prada, whose designs and trademarks are used under license. Luxottica also makes sunglasses branded by Giorgio Armani, Burberry, Versace, Mui Mui, Tory Burch, and Donna Karan. Chances are that you are wearing one of its popular designer frames and didn't even know it?
The company operates through three very profitable divisions:
Wholesale Distribution
Retail Network
Oakley
The Wholesale Distribution division:
The company is vastly diversified covering 130 countries across five continents, and has 18 distribution centers and over 40 commercial subsidiaries providing direct operations in key markets. The Group is currently seeking to penetrate emerging markets and is exploring new channels of distribution such as department stores, airports and railway stations. They pretty much have a lock on this market and management is very savvy too.
The Retail Distribution division:
Luxottica Retail has more than 7,000 retail locations worldwide. It operates through retail brands, which include, LensCrafters, Sunglass Hut, Pearle Vision, OPSM, Laubman & Pank, Bright Eyes, Oakley 'O' Stores and Vaults, David Clulow, Multiopticas and Licensed Brands (Sears (NASDAQ:SHLD) Optical and Target (NYSE:TGT) Optical).
The Oakley division:
Luxottica provides sports channel through a chain of flagship ""O"" stores. In these stores, the Group offers a variety of Oakley-branded products, such as clothes, footwear, backpacks and other accessories. Oakley-branded products include men's and women's apparel, footwear and accessories designed for surf, winter sports, golf, motorcycling, cycling and other athletic lifestyles.
Worldwide Growth Strategy:
Luxottica expects to produce over 100 million frames for glasses ramping up into 2015. In doing so, it plans to invest over $200 million euros ($257 million) over the next three years to increase manufacturing capacity in Italy, China, U.S., Brazil and India, as well as, for innovation and IT enhancements. This would include production demand growth by increasing sales by up to 15% for the United States, 100%+ for Brazil, up to 70%+ for China (including India), and up about 8% or more for Italy.
Initially investment into new areas may reduce margins, but it should eventually result in reductions of overall lead time and inventory days of 30% and 20%, respectively. This in turn should improve its customer satisfaction scores and goodwill with its customers. Currently, one of the biggest complaints from its customers has been its slow order turnaround time. New investment in this area should boost capacity and help with their supply issues.
Research suggests that China, India, Russia and Brazil (BRIC countries) are set to become four of the six largest retail markets in the world by 2022, according to research released by the Economist Intelligence Unit (EIU). The EIU predicts that the Chinese retail market will be worth $8.3 trillion by 2022, accounting for a quarter of the world's retail sales and twice the size of the United States at $4.5 trillion. India will account for almost $4 trillion of sales, followed by Japan with $1.6 trillion, Russia with $1.5 trillion and Brazil accounting for $1.2 trillion of sales.
Luxottica demand trends are in line with the group's solid quarterly results, with very good sales in North America and a steadily improving Western Europe according to its CEO Mr. Andrea Guerra. It expects sales of its fashionable sunglasses to grow double-digit in 2013 after demand for luxury goods from emerging markets helped first-quarter sales meet expectations.
During the first quarter of 2013, the Group's growth trend continued. It was able to achieve positive growth in net sales, and in net income. The results thus far confirm the continuing and strong growth in net sales and profits, particularly in the emerging markets (+17 percent at constant exchange rates). Sales were reported at $1.86 billion euros ($2.42 billion), up 4.2 percent from the year before.
The company's revenue in 2012 generated 7.1 billion euros ($9.3 billion), up from EUR6.2 billion in 2011. An additional boost to sales will come from a new contract signed recently with fashion house favorite Giorgio Armani, which is expected to assist Luxottica to achieve around EUR130 million in additional revenue in 2013, a figure that could accelerate to around EUR200 million in the next few years according to its CEO, Guerra.
Clearly, you can see that a developing middle class (with style in mind) along with the combination of demand in the emerging market countries coupled with leaner, faster production cycles could continue to improve its top line and margin expansion plans. Profitability appears to be increasing too.
Current News:
On July 9, 2013, the company announced that it has signed licensing agreements converting 13 of its neighborhood eye care centers from company-owned to licensees. This is the result of the company's 2013 expansion plans to re-license 34 company-owned centers covering 10 states.
Fundamentals - Sales and Profitability:
Fundamentally, the health of the company along with experience of the management team led by CEO, Guerra is very strong. The global market for optics and eye wear is expected to expand at the rate of 6% in the coming five years ahead and will go on to account for a total of $20 billion in revenues. Driving further growth, eyeglasses are increasingly being used as a facial accessory and a "designer" item much like jewelry or purse being accessorized in conjunction with a wide variety of daily outfits. Each designer brand and its various colors are used for highlighting the personality of the individual eyeglass consumer.
If sales continue to increase as I suspect that it will along with ramping profits, one could only assess that the stock will react very positively. Also, given that LUX is the leading eyewear company worldwide, its competition has really been left in the dust. Looking at 2013, Luxottica is expecting a big push in sales from the "new" Armani license too.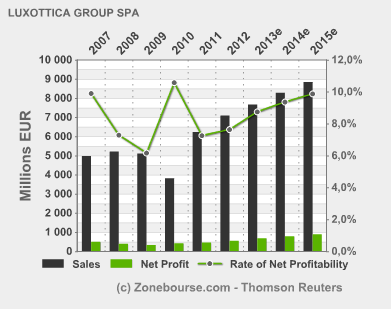 As you can see from the chart below, the stock has performed well moving from $32 to $52 (a 62% move) over the past 12 months. With summer in full gear and moving into the fall, this particular stock looks poised to benefit greatly. Investors should expect to see new YTD highs on brisk sales. (Please see the chart below)
(click to enlarge)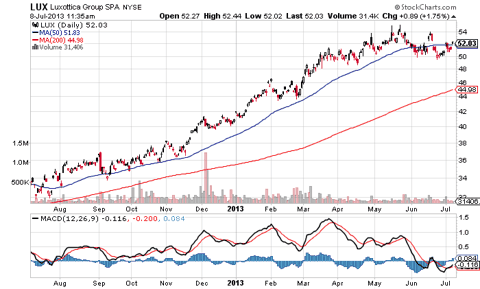 Competitors:
With its critical mass and global distribution channels, Luxottica really has relatively limited competition within their respective markets. The top players in the industry include; Essilor (EI.PA), Carl Zeiss, Safilo, Marcolin and Marchon.
Recommendation:
Luxottica's growth continues as a global leader in the design, manufacture and distribution of fashion, luxury and sport eyewear, with net sales reaching Euro $7.1 billion in 2012, with over 70,000 employees and it continues to hold a strong global presence. LUX's stock appears to offer investors a fundamentally strong and steady long-term growth play as the worldwide leader in eyewear. Some would suggest that it holds an eyewear and eyeglass monopoly over its competitors with its ever popular brands and 7,000 retail outlets. Without a doubt it sells the most popular eyeglass brands in its stores. Looking out longer term, the stock remains positive and the volatility appears to be minimal. So far, it has stood up against recent small corrections over the past year.
With all of the brands and geographical diversification, LUX should benefit greatly from global summer sales, as well as, back-to-school sales worldwide. Look for the shares to reach new YTD highs as its sales and profit model is achieved. If I'm correct, LUX shares could very soon move up into the $60's.
Disclosure: I am long LUX. I wrote this article myself, and it expresses my own opinions. I am not receiving compensation for it (other than from Seeking Alpha). I have no business relationship with any company whose stock is mentioned in this article.