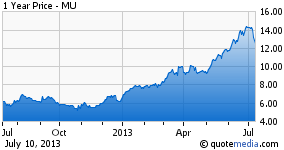 Micron (NASDAQ:MU), with the closing of the Elpida acquisition, becomes the world's second largest memory manufacturer behind only Samsung (OTC:SSNHY).
"Memory" for our purposes, means either DRAM (used as scratch pad memory in any system using a microprocessor) or NAND flash, which is used for mass storage in anything from USB thumb drives to cell phones, tablets, and data centers. It is ironic that while DRAM growth has slowed with the softness in the PC business, the consumption of NAND is exploding and will continue to explode due to its use in solid state drives within that "soft" PC business.
NAND flash based solid state drives provide low power, small size, 10 second boot times, extremely high performance; all features that are demanded in today's PCs. SSDs are destined to replace hard disk drives in nearly all applications except very large archive storage systems. So, within a flat or declining business (PCs) we have a sub system (SSDs) that is in explosion mode.
Apple (NASDAQ:AAPL) has used SSDs across their PC product line since the MacBook Air was introduced in January of 2008. The use of SSDs in the MB Air makes the thin, light format and the fast boot time possible.
WinTel PC manufacturers are finally coming out of their Rip Van Winkle nap to offer some light, thin, low power, high performance computers to match Apple. Intel (NASDAQ:INTC) calls these computers "Ultrabooks." No wonder the PC business is "soft;" if I am representative of PC users, it's a wonder anyone buys a PC. I am still grinding away on my "boat anchor" waiting for a Haswell Ultrabook detachable to come my way. Intel management must be pulling their hair out; Dell (NASDAQ:DELL) and HP (NYSE:HPQ), or as I call them, Dopey and Sleepy, can't seem to design a product that an anxious buyer (me) is willing to purchase.
OK, back to memory.
I have spent the past year wondering how Ultrabooks can come to be without solid state drives. I have been scratching my head wondering how the memory business will respond to the demand for SSDs. Let me quantify the problem. In addition to the NAND used in cell phones and tablets, the memory industry is going to have to make enough NAND chips to make 300 million SSDs to be used in the "soft" PC business. 300 million is the number of CPU chips that Intel will ship no matter how soft the PC business gets. The average size of a solid state drive will be somewhere between 128 GigaBytes (GB) and 256 GB, probably an average of about 192 GB. A 192 GB SSD would require 12 of the largest, 128 GigaBit, chips that the memory industry is able to manufacture. The arithmetic returns 3.6 billion of these huge chips required per year. A 300mm silicon wafer can produce about 250 of these chips. More arithmetic returns a number of over 14 million silicon wafers to produce a solid state drive to mate up with each of the Intel CPU chips. A very large wafer fab facility can produce about 100,000 wafer starts per month, 1.2 million per year. 14 million wafers would require nearly 12 of those monster fabs. Each of those monster fabs would cost $4-5 billion and take at least two years to build and equip.
Samsung is building one of those plants in China, but it won't be ready for another year. Hynix (OTC:HXSCF) is transferring 40,000 wafer starts per month from DRAM to NAND, a drop in the bucket.
During the recent Micron earnings conference call, Micron CEO Mark Durcan described the future demand for NAND as "insatiable."
D. Mark Durcan
"And let me jump in here, we're not going to be moving capacity around on a high frequency basis. The changes we're making are over the long haul and if we look at the market going forward for NAND, there is just insatiable demand."
So, here's the irony of the whole memory thing: DRAM demand is soft due to the soft PC business, DRAM prices are up 130% in seven months. NAND pricing is only up about 30% in that time. Hynix is converting DRAM capacity to NAND, Samsung is building a NAND giga-fab in China. Micron said in the same conference call that they were converting a large Singapore DRAM fab to NAND. Speculation is that Micron will convert another million wafers per year at either Rexchip or Inotera from DRAM to NAND.
To wrap things up in this crazy business, NAND demand is driving the conversion of DRAM capacity to NAND capacity, thus driving the price up on DRAM. Even with the conversion activity and new Samsung capacity, the SSD part of the PC Industry is still about 11 million wafers short of providing SSDs for all the Intel CPU chips. That's about nine giga-fabs and $36 billion short.
And the FUDsters can drive the price of Micron down. I don't get it.
I think I will be shopping for one of those Haswell Ultrabooks with a solid state drive tomorrow before the shortage sets in earnest.
Hint: Intel has enough extra capacity to build about four million memory wafers if they had to in order to sell their Haswell chips.
Disclosure: I am long MU, INTC. I wrote this article myself, and it expresses my own opinions. I am not receiving compensation for it (other than from Seeking Alpha). I have no business relationship with any company whose stock is mentioned in this article.