Company Description
Yongye International (YGII.OB) is a fulvic acid based nutrient product manufacturer and developer in China. It is based in Inner Mongolia (actually just one hour drive to Beijing).
The nutrient is mainly used to increase the yield of plants and animals. Its main target is crops, animal only takes no more than 10% of total revenue.
The company likes to call its product as nutrient. However, it is not much different to organic fertilizer. So I would still like to take this company as a fertilizer company.

The product
YGII's plant nutrients improve a crop's taste and nutritional value while producing greater yields. When used along with fertilizers, the effectiveness of fertilizers is improved by 10% to 50% (company report), stronger and larger leaves and roots are produced, and typical harvest times are shortened by 10 to 20 days. Yongye animal nutrients help maximize digestion as a natural antibiotic for the better health.
Financials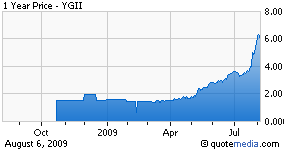 Net revenue was $12.4 million in the first quarter of 2009, an increase of 30.5% from $9.5 million in the first quarter of 2008.

Gross profit increased from $5.0 million in the first quarter of 2008 to $6.5 million in the first quarter of 2009. Net income increased 176.6% to $3.1 million in the first three months of 2009, or $0.14 per diluted share, compared to net income of $1.1 million, or $0.10 per diluted share, in the same period of 2008. $9.0 million was raised in a private placement in May 2009. 2009 projected revenue is $82-$84 million; projected net income is $23 to $24 million.
Capacity
To keep up with increasing demand for the Company's products, the Company has acquired manufacturer's existing 2,000 metric tons per annum production facility and land, and completed construction of a new 8,000 metric tons per annum manufacturing facility on the same property. Now total capacity is 10,000 tons. If operates under full capacity, the company is expecting $100 million revenue.
Distribution Model
At the end of June 2009 the company's distribution network has a total of 5000 stores selling "Shengmingsu" plant nutrient products.
The sales model is a community-direct model. The distributors contract with independently owned agricultural product stores to bring them into the branded store network. Yongye products are featured and prominently displayed in its branded stores. This model creates a network of specialized agricultural product stores which have a local feel and long time recognition in the community.
Before the store is brought into the Branded Store network, it goes through a trials process. After branding, each store has the opportunity to sell a nationally distributed product which attracts attention to the store.
Store owners receive training and promotional assistance. Stores are supplied with a computer that has education and promotional programs that are used to help farmers understand the benefits of Yongye products.
Macro
The amount of arable and productive land in China is declining due to urban encroachment and nonproduction as farmers move to cities for higher paying jobs. China's increasing wealth and rising concern about food quality and safety have led to greater demand for organic plant and animal nutrients.

China now has more than 20% of the world's population, but only 7% of the world's arable land. Every hectare of arable farmland in China must support 10.3 people, compared to 5.1 people in the European Union and 1.6 people in the United States. With a population of 1.3 billion people and an estimated average annual growth rate of 0.9% up through 2010, China's farmland is currently being used at close to capacity levels just to meet domestic demand. The need to use land efficiently has led to a need to improve productivity (from Roth Capital Research Report).
Government
The capacity of chemical based fertilizer manufacturing capacity in China is huge. At the end of 2008, China has become the largest producer of nitrogen and phosphate fertilizer. However, this industry is fragmented and actually has problem of over capacity. In order to handle the rising food problem, the Chinese government has made decision to restructure the fertilizer industry.

Recently, the National Development and Reform Commission announced the elimination of outdated chemical based fertilizer production capacity in the following 5 years and will help boost the development of Chinese organic fertilizer industry.
On May 28, 2008, Premier Wen Jiabao reiterated that "[we] guide farmers to apply fertilizer to encourage the growing of organic fertilizer companies." Since then, local governments at all levels have been introducing various organic fertilizer subsidies. 2009 Central Document No. 1 clearly stated "encourage farmers to increase organic fertilizer usage."
The Chinese government also exempted value added taxes of organic fertilizer producers, wholesalers, and retailers.
The central government official document says: "…enjoy the above-mentioned policy of duty-free products are the organic fertilizers, organic - inorganic compound fertilizers and bio-organic fertilizer. "
Fulvic Acid
Fulvic acid is extracted from humic acids. The Company obtains its humic acids from lignite coal which is also known as Leonardite Coal. China has approximately 12% of the world's Leonardite Coal reserves (World Energy Council) and 250MM tons much of this is found in Inner Mongolia (from company report).
Fulvic acid strengthens the cell walls of plants and animals and acts as a transport mechanism to speed the absorption of essential minerals and nutrients by cells while promoting cell formation. The Company adds to this base its own mixture of macro and micro nutrients to ensure plant growth. These formulas help bind and stabilize the light weight molecules in fulvic acid with the additional components and stabilize it for use on crops. (company report)
The Company's current universal plant nutrient product is a liquid nutrient which is applied via a foliar spray. Yongye now has two patents pending for this mixture and stabilization process in its plant and animal nutrient products.
Competition
China's fertilizer industry is highly fragmented, with over 2,800 fertilizer products registered with the government in 2007. Yongye competes against 164 other fulvic acid fertilizer products (Chinese Fertilizer Net), however, only four other similar enhanced fulvic acid based products are truly competitors (company report).
Although the market is fragmented, the market is still widely open to small organic fertilizer companies. These top 5 companies mainly operated in its own regions. Thus, the competition is still not fierce. We may see more M&A and competitions in 2-3 years.
The Market for Plant Nutrients
The overall fertilizer market in China is estimated to be a $50B, which is estimated to grow about 30% a year from 2005 to 2009. Yongye is marketing in ten Provinces and is estimated to grow appproximatly 70% to 75% in 2009. So far, its main product: "Shengmingsu" plant nutrient product has about 2% market share.
Management
Organic fertilizer companies are still in early stage and mostly tiny compared to major Chinese fertilizer companies. Management plays an essential role.
I had chance to talk to a few management team members of various Chinese organic fertilizer companies, I would say that the management team of YGII impressed me most. The CEO has a clear goal of future development and is very committed to this business. Additionally, the company has recently engaged KPMG as its auditor. This is clear a positive move by the company to improve its internal controls and financial reporting. The hiring of a big four auditor reflects management's commitment to enhance shareholders' value and will further increase investors' confidence.
In order to communicate well with global investors, YGII also hired a few America educated Chinese as senior executives and Americans to be strategy VP. As its target so far is Chinese market, they hired a a Chinese marketing guru to direct its branding and marketing.
Valuation
In China, the government support is really important for the growth potential. If the Chinese government is committed to something, they will do it without tedious process. Considering the population and food requirement, organic fertilizer absolutely has a huge market and strong growth potential.

However, valuation of this kind of small cap firm is very hard to do. I will only purchase these stocks with enough margin of safety and make sure they have decent management team.
From pure financial perspective, I don't think DCF could be a good way to value the business at this stage. Debt coverage, DSO, and cash generation are important.
Let's first look at some ratios. Price/sales and price/earnings may be better than other ratios to value the firm, but we should also take future growth into consideration. I don't think trailing P/E & P/S ratios are meaningful but may be good references. Forward ratios have uncertainties also. So I will consider both trailing and forward ratios.
Current trailing P/E and P/S ratios are around 11x and 2.6x. It seems a little expensive. However, if we consider a 70% top and bottom line growth and same margins, the forward P/E and P/S will be 6.5x and 1.53x. Based on its fundamentals, I believe 70% growth for 2010 is reasonable or conservative.
Other financial ratios
| | | | |
| --- | --- | --- | --- |
| Profitability Ratios | 1Q 2009 | 4Q2008 | 3Q2008 |
| | | | |
| ROA % (Net) | 35.24 | -11.56 | 55.71 |
| ROE % (Net) | 40.8 | -13.52 | 74.12 |
| ROI % (Operating) | 42.34 | -14.48 | 83.39 |
| EBITDA Margin % | 27.21 | -30.9 | 25.87 |
| | | | |
| Liquidity Indicators | 1Q 2009 | 4Q2008 | 3Q2008 |
| | | | |
| Quick Ratio | 2.46 | - | 7.88 |
| Current Ratio | 9.57 | 8.31 | 8.78 |
| Net Current Assets % TA | 73.18 | 74.04 | 79.89 |
| | | | |
| Debt Management | 1Q 2009 | 4Q2008 | 3Q2008 |
| | | | |
| LT Debt to Equity | 0.01 | 0.01 | - |
| Total Debt to Equity | 0.01 | 0.01 | - |
| Interest Coverage | 550.38 | - | - |
| | | | |
| Asset Management | 1Q 2009 | 4Q2008 | 3Q2008 |
| | | | |
| Total Asset Turnover | 1.41 | 0.33 | 2.27 |
| Receivables Turnover | 10.28 | 0.91 | 3.38 |
| Inventory Turnover | 2.35 | 1.01 | 19.9 |
| Property Plant & Equip Turnover | 8.35 | 2.63 | 36.68 |
Data from mergent online
This firm has very low debt load and improving receivable turnover. They have negative Cash from operations last quarter but it is mainly due to account receivable and inventory. As receivable DSO is improving and it is entering 2Q (usually 1Q and 4Q are slow seasons, company will build up inventory and sell in 2Q and 3Q), I expect a positive operations cash flow in the following quarters.
Based on all these information, if we allow some margin of safety, I would say below $6 is absolutely a buy. If it is above $6 and below $8, you may have some risks but still strong growth potential.
Risks
Small cap firms always have some risks:
The limited operating history and the early stage of development make it difficult to evaluate the business and future prospects.
The company is subject to high customer concentration risk. A limited number of major distributors represent a majority of the company's total sales.
Adverse weather could reduce demand for the company's nutrient products and consequently have an unfavorable impact on its financial performance.
The market in which the company operates is highly competitive and fragmented. The company may not be able to compete effectively with existing or new competitors with greater resources.