The big news we want to point out today is that Japan announced that they shall in fact continue their versions of quantitative easing programs (see article here). The world markets that we pay particular attention to are all trading higher this morning and catching our eye is China which is outpacing all of the major indices. It looks like the cash crunch shall be averted, but this is a lesson we must all file away for future reference and remain aware at all times that it can creep back up at any moment.
It appears to us that the market is shifting into an extremely bullish mentality right now and today's economic news shall go a long way into either supporting the current thesis or weakening it. So far the numbers have been pretty spot on to our expectations with a little bit more strength over the summer months in the jobs numbers. Continue to watch the data.
Chart of the Day:
As the US Federal Reserve used numerous Quantitative Easing programs over the past few years the Japanese Yen saw strength in US Dollar terms. For about a year and a half the currencies traded in a nice relatively tight range, and then Japan announced their version of Quantitative Easing which has caused the drop in value in US Dollar terms as depicted by the tail end of this chart. With the news of Japan continuing these easing policies, the calls for the USD/JPY to reach the 150 level seem reasonable...especially when one considers the US appears set to end their QE programs as Japan continues its.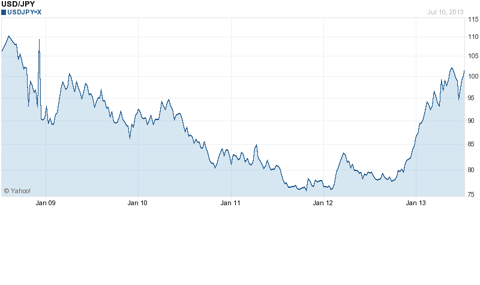 Source: Yahoo Finance
We have economic news due out today and it is as follows:
Initial Claims (8:30 a.m. EST): 345k
Continuing Claims (8:30 a.m. EST): 2949k
Export Prices Ex-Ag (8:30 a.m. EST): N/A
Import Prices Ex-Oil (8:30 a.m. EST): N/A
Natural Gas Inventories (10:30 a.m. EST): N/A
Treasury Budget (2:00 p.m. EST): $115.0 Billion
Asian markets finished higher today:
All Ordinaries -- up 1.26%
Shanghai Composite -- up 3.23%
Nikkei 225 -- up 0.39%
NZSE 50 -- up 0.07%
Seoul Composite -- up 2.93%
In Europe, markets are trading up across the board this morning:
CAC 40 -- up 0.79%
DAX -- up 1.13%
FTSE 100 -- up 0.62%
OSE -- up 1.05%
Technology
Yesterday a reader sent us a message expressing concern about the recent price action in Pandora (NYSE:P) and wanted to know if something had suddenly changed or if the shares were simply correcting. Yes the shares have fallen in recent sessions, however one has to recognize just how far the shares have risen over the past few months and the past few weeks especially. The move has been strong and due to the news flow there has been little time for a correction, especially as analysts have piled on after the recent quarterly report with those who were not bullish becoming bullish and those who were already bullish becoming even more so. This is merely a pullback due to investors booking profits, and although competition is on the horizon from big tech names, Pandora is on a roll and it will take a while for that momentum to be broken on an operational level...if it even can be broken.
After the big advance in share price over the past three months, with shares rising nearly 70%, a correction was due. Another dollar or two to the downside should lead to support in the share price, and that is where we would look to initiate a position or add to current positions.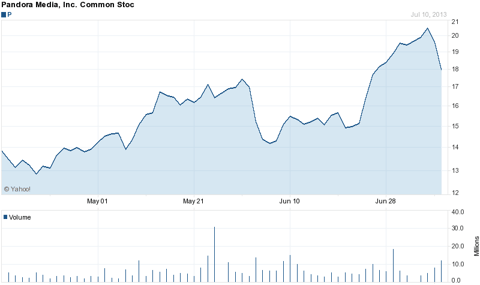 Source: Yahoo Finance
As readers are aware we do like the 3D printing industry as a speculative investment at this point and called the bottom as we became bullish. Most of our focus has been on 3D Systems (NYSE:DDD) as they are the industry leader and have a larger following on the street, however yesterday Stratasys (NASDAQ:SSYS) caught our eye as shares rose $5.40 (6.16%) to close at $93.13/share on volume of 1.1 million shares. It was a strong move on strong volume, as volume was over 30% higher than the three month average daily volume. Even more important is that the high of the day was a bit over 2% below the stock's 52-week high. This looks even more bullish for the industry as 3D Systems appears to be breaking out of resistance just as Stratasys is about to take out yearly highs. It appears that this is another opening for momentum investors without positions to establish them before another leg up. We remain bullish here.
Consumer Goods
Shares were pummeled at the end of 2012 on fears of the FTC and SEC potentially taking a look at the business model but those fears have abated and as the clouds have parted investors have enjoyed the rally. The stock is up over 100% now, which is impressive for any name, but especially for a company which has so recently had issues raised.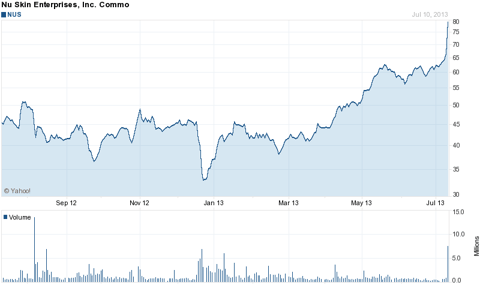 Source: Yahoo Finance
One of the names which saw shares come under pressure with the Herbalife (NYSE:HLF) drama was Nu Skin (NYSE:NUS) which saw its momentum higher halted as the business model was called into question. It appears that investors have decided that the worries were 'much ado about nothing' as the shares have rebounded and after yesterday's guidance raise left the shares at a new all-time high. The shares closed at $79.36/share after rising $12.79 (19.21%) on volume of 7.6 million, which is high for the stock, after the company announced earnings that blew away the guidance and analysts' estimates as well as forward guidance for 2013 earnings of $4.85 to $5/share versus the previous guidance of $4.18 to $4.30/share. The company gave revenue guidance which was raised from $2.51-2.54 billion to a new range of $2.83-2.86 billion, totally blowing away the previous range. The numbers are looking great and even more importantly the fundamentals of this rally are too, as shares did not sell off one bit into the close and the shares closed at exactly the high of the day. When a stock rallies into the close and has buying up until the bell rings, that always catches our attention.
Biotechs
We closed out our trade in Celgene (NASDAQ:CELG) not long ago as the chart was telling us the trade had run its course and momentum was slowing. The call was made right around the highs and we made it in small part due to fear that the biotechs as a sector had gotten ahead of themselves. Long-term we are bullish of all of the names, however from time to time certain names and groups require corrections after big runs. Although we liked the big cap names in the sector, Amgen (NASDAQ:AMGN) was one of the laggards we saw due to their lower growth rates than other names and the following chart highlights their underperformance versus other large cap biotechnology names. With their recent willingness to bid for growth and reinvest their cash in the business we think that this might be an opportune time for long-term investors to take another look at the name. For those readers with exposure to Biogen and Celgene but lacking shares in Amgen, maybe booking some gains and diversifying into Amgen shares would be wise.
Shares have underperformed recently, however if the company is going to redeploy cash and look to allocate future cash flows to acquisitions then there is reason to be bullish. An uptick in the company's growth rate would do wonders for the shares in relation to its peers.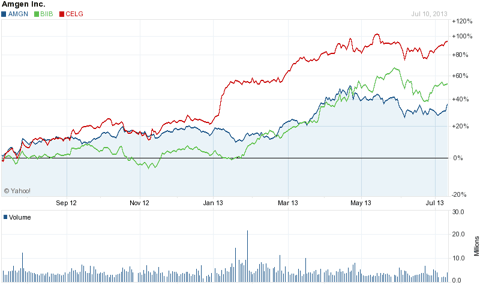 Source: Yahoo Finance
Disclosure: I have no positions in any stocks mentioned, and no plans to initiate any positions within the next 72 hours. I wrote this article myself, and it expresses my own opinions. I am not receiving compensation for it (other than from Seeking Alpha). I have no business relationship with any company whose stock is mentioned in this article.