ChannelAdvisor (NYSE:ECOM) has just reported June 2013 "same store sales" for Amazon.com (NASDAQ:AMZN). These came in at +30.6% year-on-year, as we can see below:
Amazon - In June, Amazon came in at 30.6% which is an increase from May's 25.8% and more than double the rate of e-commerce growth (as reported by comScore)
While this represents month-on-month acceleration as May was an unexpectedly weak +25.8%, it still leads to the same conclusion: that Q2 2013 saw deceleration in revenue growth from Q1 2013.
Q2 2013
With the data for June, we have a complete picture for Q2 2013. The June data will be used in my ChannelAdvisor model which seeks to predict the direction of Amazon.com's revenue growth and has exhibited a 100% success rate in doing so.
So what is the model saying now? Let us see where we stand (green is the new data, red is the present consensus):
As we can see, the average reported (by ChannelAdvisor) growth for Q2 2013 up until this point stands at +29.0% year-on-year, down 4.6% from the growth reported on Q1 2013 (+33.6%). This implies that Amazon.com's revenue growth rate during Q2 2013 will fall from Q1 2013, while the present consensus calls for +22.7%, which is above the +21.9% reported on Q1 2013. As such, our model is clearly saying that Amazon.com will miss revenue estimates for Q2 2013 and show a further deceleration in revenue growth.
Additionally, I've extended the model to include Amazon.com's 3P revenue growth rate. What we see there is this (Red is the estimated growth rate using the same spread between ChannelAdvisor and Amazon.com's overall 3P growth as last quarter):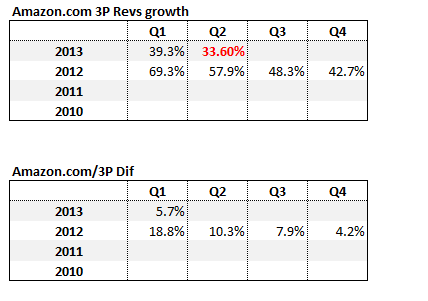 This means that the model is predicting +33.6% year-on-year revenue growth in Amazon.com's 3P segment during Q2 2013. This is very close to the 33.5% I'm using in my own earnings model for Q2 2013, thus I won't make any changes to my earnings model due to this new data point.
In short, this model - which has gotten the direction of Amazon.com's revenue growth rate right 100% of the time - is predicting that Amazon.com will miss Q2 2013 consensus revenue estimates.
Conclusion
I again predict that Amazon.com will report a Q2 2013 revenue growth rate below the present consensus of +22.7%. Here, it's important to reinforce that this prediction is on a comparable accounting basis. Amazon.com's change of accounting policies in ebooks might allow it to inflate reported growth.
Also, it seems likely that Amazon.com will disappoint particularly in its 3P revenues, perhaps as a result of the recent increases in commissions both in the U.S. and Europe.
These conclusions are broadly the same as when we got the May 2013 data from ChannelAdvisor.
Disclosure: I am short AMZN. I wrote this article myself, and it expresses my own opinions. I am not receiving compensation for it (other than from Seeking Alpha). I have no business relationship with any company whose stock is mentioned in this article.