Regardless of what the media might say, the growth story at Lululemon Athletica (NASDAQ:LULU) certainly does not appear to be over. When you look past this public relations nightmare, this fast growing retailer continues to increase its revenue guidance, now +20% over the prior year. But before you look to acquire shares following a 20% decline, it may be worth digging deeper into the possible risks.
One of the hardest tasks when analyzing a publicly traded company is figuring out what goes on inside the corporate headquarters. Unless you have substantial ownership in the company, chances are you will never truly know the full story. While I am bullish long term on this company, I could caution investors who want to enter into positions at this point. There have been very serious issues going on inside the Vancouver headquarters of Lululemon Athletica. It appears prudent to sit back and see how the company handles its current troubles before acquiring the stock.
Click to enlarge images.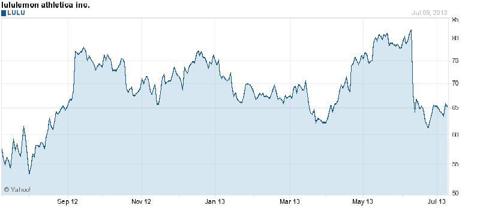 Source: Yahoo Finance.
Brief Review of Risks
There are a number of risks when looking to take ownership in a company through stock, for a complete list of risks please review Lululemon's recent 10-K filing. What I am listing below are numerous cautionary signs that any prospective or current investor should be aware of.
Anytime a member of the management team chooses to leave the company a red flag should appear in your mind. The first instance of this occurred on April 3 when Chief Product Officer Sheree Waterson left the company. While many assumed "heads would roll" following the nightmare of see through yoga pants, more was going on behind closed doors that we were unaware of. This was later discovered when yet another key member of the team stepped down. On June 10, Christine Day stepped down as CEO. I should first commend Day for doing an incredible job growing this company to where it is today. She has been a tremendous asset to the firm and her presence is likely to be missed.
However, investors are now asking the difficult questions. Is more bad news about Lululemon about to be revealed that she did not want to stick around for? Was she truly being humble and realizing that a more qualified individual should be running Lululemon? Many will speculate as to why Day left, but unfortunately we will never know the real truth. You could certainly spin each point to your advantage, however given that the board of directors is still looking for a replacement, waiting to see who takes the lead before investing appears the best avenue to take.
Along with losing top-level management is the fear of other executives following suit. From what it appears, Day was an innovative, positive, and well-respected leader at Lululemon. We tend to see exits of other key employees when shakeouts in management occur. While the board searches for her replacement over the next few months, I would recommend investors to watch the 8-K filings to see if other employees depart as well.
On July 3, Chairman of the Board Dennis Wilson, offered to sell roughly $225 million worth of his stock. It is worth noting that Wilson owned 28% of all shares outstanding and is now reducing his stake to 25%. Although the sale is rather large, he is still a substantial owner in this company and stands to lose a significant amount of capital if Lululemon suffers further (i.e., he is likely to continue acting in the best interest of shareholders). While it is not uncommon for insiders to be selling shares, especially to diversify their own holdings, the timing of this stock sale is alarming given the problems inside the company.
The final risk to keep an eye on is a newly filed class action lawsuit against Lululemon. Although this does not appear to be a major threat at the moment, if it gains traction we could see the company face further corporate image issues (in addition to monetary problems). The lawsuit accuses the firm of hiding defects from the pants incident and concealing talks of the CEO departing. This is a separate lawsuit from the one filed in May, which accused directors of the firm of boosting bonuses just before the pants recall. While lawsuits are a part of doing business for corporations, I would keep an eye on the footnotes in upcoming 10-Q filings to see how management responds to these charges (possible litigation reserves).
Current Valuations
On top of the risks mentioned above, the valuation multiples of Lululemon shares are still very high. Given the ability to continue growing in the midst of a rough first half of 2013, it appears investors are not ready to abandon this phenomenal growth story quite yet. When looking at a trailing 12 months price-to-sales ratio (see chart below), you can see how much of a premium investors are looking to pay for LULU. Competitors Under Armour (NYSE:UA) and Nike (NYSE:NKE) are significantly less expensive.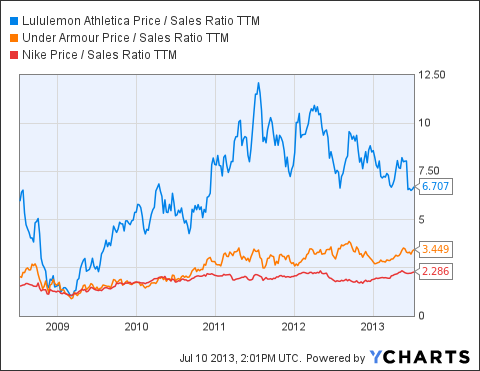 Evaluating the company from a trailing 12 months price-to-earnings shows a different story (see chart below). Although not as cheap as shares of Nike, from a historical standpoint shares of LULU are beginning to look very attractive (although still quite high). As you can see in the chart below, investors liquidating stock over the past few months has brought shares of LULU towards the bottom end of its historical range.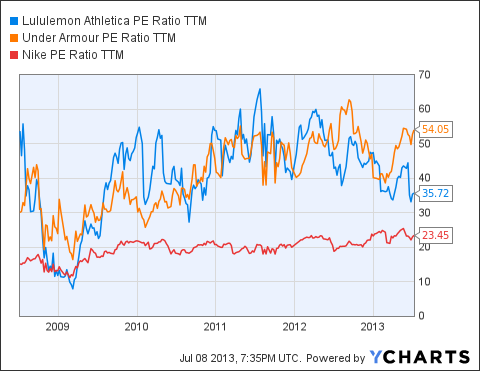 Updated Income Statement
My last article on Lululemon Athletica gave a detailed breakdown of revenue projections for the company during fiscal 2013. Given management's updated guidance for revenue now expected to fall between $1,645 million and $1,665 million, I have updated my estimates as well. This is a result of increased sales per square foot during the year. The only major changes made to my estimates below from last quarter are a slightly higher cost of revenue and slightly lower diluted share count. Lululemon management is projecting earnings per share of $1.96-$2.01 during fiscal 2013, my estimates are toward the high end of this range.
Please note that the estimates below are not guaranteeing any of the results will be met. These estimates are strictly based upon management's guidance, the company's SEC filings, press releases, historical data, and my estimates.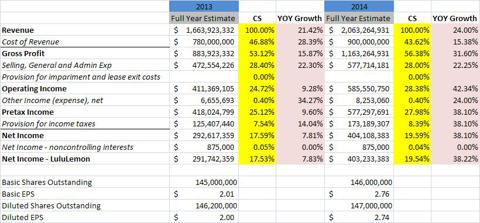 Source: Lululemon's SEC Filings, Lululemon's Management Guidance, and my estimates based on historical data and future expectations. Estimates given above are no guarantee of future results, please evaluate the company in greater detail before making investment decisions.
Conclusion
Although slightly tarnished in the investment community, I strongly believe the image of Lululemon in its customer's eyes remains strong. At the end of the day if consumers keep spending, the company remains a very attractive candidate for your portfolio. However, analyst and traders need something to do, therefore every possible setback will likely be exacerbated in the stock price and volatility is going to be present while the company works through its issues. I suggest investors be patient, wait to see who the board hires on to replace Day, and then evaluate the stock for their portfolio.
If the growth story of Lululemon is sustainable (which I believe it is), sitting on the sidelines to wait for further clarity should not have a significant impact on your long-term investment returns. Consider your investment goals and objectives before initiating a position in Lululemon Athletica, and please remember that the value of investments in equity securities, like LULU, will fluctuate in response to general economic conditions and to changes in the prospects of particular companies and/or sectors in the economy.
Note: All data reported and graphed is pulled directly from Lululemon's SEC Filings, press releases, earnings calls and investor presentations.
Disclosure: I have no positions in any stocks mentioned, and no plans to initiate any positions within the next 72 hours. I wrote this article myself, and it expresses my own opinions. I am not receiving compensation for it (other than from Seeking Alpha). I have no business relationship with any company whose stock is mentioned in this article.