Nvidia (NASDAQ:NVDA) has been a bit of an enigma for investors lately. For a company that sits on a pile of cash amounting to $3.7 billion, which is equivalent to about 44% of its $8.3 billion market capitalization, it is surprising to see that the stock cannot seem to outrun its shadow: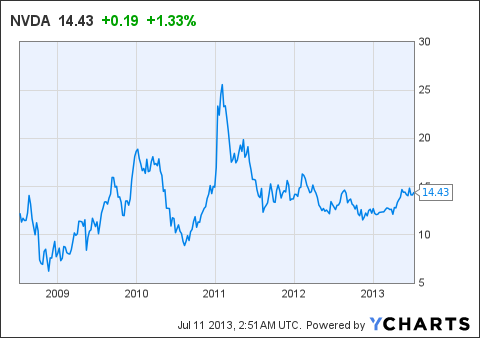 The stock has seen a nice double-digit gain so far in 2013, but sits roughly at the same level it did nine months ago and is over 40% below the levels seen in early 2011. The cyclical decline of the PC market and a transition into the competitive mobile field have weighed heavily on the outlook of the company. Yet Nvidia continues to soldier on, with gross margins consistently above 50% and a strong commitment to shareholder friendly actions through a recently initiated dividend along with a commitment to return $1 billion to shareholders during the current fiscal year, mainly through stock repurchases.
With signs that the entire high-end smartphone and tablet market may be slowing this year, putting further pressure on the companies mobile business, there is a strong likelihood that Nvidia shares could be range bound for a period of time. With a significant cash balance, EBITDA, which should approach over $800 million in the current year, and the company actively buying back shares, investors can profit from Nvidia even if shares were to remain range bound on fears surrounding the growth opportunity for its mobile business and the stability of its PC business.
A smart investment to profit from Nvidia, albeit one that caps an investors potential upside, would be to sell LEAPS put options. Investors could sell the January 2015 $15 put options and collect a premium of $2.80 per each option sold. If Nvidia shares close above $15 roughly 18 months from now, investors would earn a return of 18.6% prior to taxes and commissions. This is the equivalent of more than a 12% annual return. Conversely, shares could fall as low as $12.20 before investors would see any losses on this trade. With the stock currently trading at ~$14.40, this is the equivalent of a 15% decline from its current levels before this trade would lose any money.
While Nvidia certainly seems like a company that should have potential upside -- possibly even significant -- sometimes you can't fight the market and have to take the opportunity you are given. The stock has traded in a pretty tight range over the last 12 months, between $11.15 and $15.48 per share. Given the uncertainties facing the company in the near term, offset by the strength of the balance sheet, the investment opportunity presented above presents a compelling opportunity for investors to earn a significant return from Nvidia even if the stock continues to trade sideways.
Disclosure: I have no positions in any stocks mentioned, and no plans to initiate any positions within the next 72 hours. I wrote this article myself, and it expresses my own opinions. I am not receiving compensation for it (other than from Seeking Alpha). I have no business relationship with any company whose stock is mentioned in this article.