Big yields from companies with international exposure can sometimes be a great asset to income-oriented portfolios… but when diversification means volatile political environments, run away. Because unstable countries can mean bad, bad business.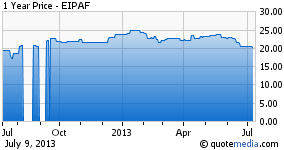 And when revenue dries up and earnings head south, dividend shrinkage is sure to follow. Enter Eni SpA (OTCPK:EIPAF)…
Mired in International Instability
Eni is a Rome-based oil company with operations all over the world. All told, it draws out a couple of billion barrels of oil per day. It's also involved in gas pipelines, storage networks, a European petrochemical business and a global oilfield services firm.
To its credit, Eni has strong diplomatic ties around the globe, enabling it to operate in difficult markets such as North Africa, the Middle East and Russia. In fact, Eni is the largest international oil and gas producer in Africa.
That's all well and good… except when you consider that Eni's oil and gas production was down year-over-year because of problems in Nigeria and Libya - both notably unstable political and business environments. Such instabilities are famously hard to foresee, which leaves Eni's future in such locales a wide open question.
Nevertheless, there's still some optimism regarding the company's ability to continue to operate effectively, despite the international troubles. With a large pool of natural resources to draw from, in theory, Eni should be able to compensate for problems in areas like Nigeria by upping production elsewhere.
Unfortunately, as demonstrated in 2012, having the resources and being able to use them to offset losses elsewhere sometimes works out better on paper than in reality. Plus, Eni is further troubled due to the fact that it's 30% owned by the Italian government. Such governmental ties make it unlikely that Eni will ever be fully shareholder friendly, which brings us to the dividend.
Granted, the company yields a healthy 6.8%. But even that is mired in instability. For one, Eni hasn't been paying dividends for very long - less than a decade, in fact. And in that time, the dividend hasn't achieved any sure footing.
Worse than the fluctuating payout is its -8.67% five-year average dividend growth rate. In other words, if there's anything consistent about it, it's that the payout is consistently shrinking.
And with earnings in Q2 2013 down 12.5% compared to Q2 2012, Eni's future earnings and ability to pay the dividend consistently are, to say the least, worsening. Bottom line: Some might see a contrarian opportunity in Eni, given a stock price valued at less than half of what it was before the financial crisis. But considering that Eni's share price has fluctuated between $30 and $55 since the financial crisis began, I wonder if there's any opportunity for growth… or just nauseating volatility.
Disclosure:
I have no positions in any stocks mentioned, and no plans to initiate any positions within the next 72 hours. I wrote this article myself, and it expresses my own opinions. I am not receiving compensation for it. I have no business relationship with any company whose stock is mentioned in this article.