I previously called a top to Angie's List (NASDAQ:ANGI) on July 9 at $28.24. I highlighted their increasing competition, skyrocketing valuation, balance sheet issues, and potential dilution. I recommended a short (insured or via options) heading into Q2 2013 earnings and gave a price target of under $10. This article will delve into the spin of the Angie's List model, and expose a house of cards that will soon collapse.
Angie's List is billed to potential subscribers as "reviews you can trust." But can you? There is an enormous conflict of interest in this business model -- a conflict of interest that is poorly disclosed to potential new customers. Angie's List has recently begun a quiet business model shift toward revenue generation from service providers. Ripoff Report has documented ANGI's "deceptive business model" in several reports.
The Presentation
The "how it works" page describes the review with the following language: "Businesses can't pay to be on Angie's List, which means they can't buy their way to better ratings." And: "Businesses are rated on the List only when a member submits a report. Angie's List is a consumer-driven service supported by membership fees."
This sounds great. In fact, the membership-supported angle is the only key feature that differentiates the Angie's List business model from competitors such as Yelp (NYSE:YELP), ReachLocal (NASDAQ:RLOC), and Thumbtack. This unique angle and subsequent share-price appreciation has given ANGI a relative price/sales multiple of over 10x RLOC's multiple.
Click to enlarge images.


Behind the Scenes Decline in Membership Fees
Angie's List reported Q1 2013 subscriber numbers of 1.95 million, a shocking 60% increase from the 1.22 million reported in Q1 2012. Meanwhile, participating service providers increased 45% year over year to 39.3K (up from 27.1K). On average, ANGI offers 49.7 paying customers per participating service provider. This is up from 45.1 in Q1 2012 -- so far, so good.
So what's the problem? Revenues are not tracking. Revenue per member (RPM) is currently at $7.51. The RPM for Q1 2012 was $8.18. When you back out to Q4 2010, RPM was $11.15. The numbers are not precise since we are comparing end-of-period memberships to quarterly revenues, but the trend is clear. To adjust for seasonality bias, the RPM for Q4 2012 was $7.65 (a two-year decrease of 31.4%). Angie's List is growing in net revenues and numbers, yes, but it is growing only by sizable decreases to membership fees.
Imagine if Netflix (NASDAQ:NFLX) had to cut their membership fees to encourage growth? Valuable companies do not have to do this. Valuable (useful to the client) companies can raise their membership fees (remember the sizable Netflix increase?).
New Business Model: Charge the Service Providers
Remember how the only differentiation with Angie's List was the perceived value of a paid-membership network? They already said that service providers do not pay for better reviews. What about paying for more reviews? Welcome to "Fetch." With this service, Angie's List will retrieve reviews from previous customers and take their review over the phone. This program is expensive and it is driving service-provider revenues.
Angie's is technically not lying to their customers. Service members do not pay for better reviews. However, service members do pay for additional reviews from previous clients that are taken over the phone. It doesn't take a very high IQ to see the glaring conflict of interest here. I personally doubt Fetch is "finding" any negative reviews from high-paying customers.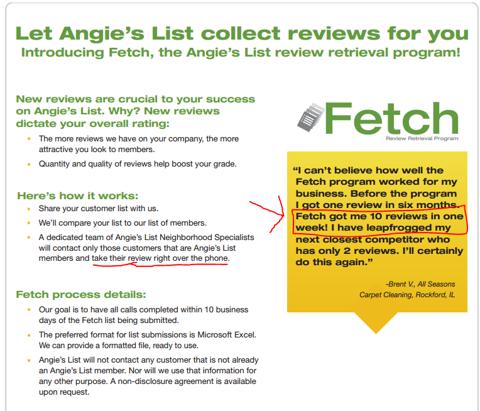 Growth in Service Provider Revenues
Angie's List grew service provider revenues by 78% year over year in Q1 2013. That is a larger increase than both paid memberships (60%) and membership revenue (47%). Service provider revenues now make up 72% of Angie List's total revenues.
Comparatively, for full-year 2010, service provider revenues made up 57% of total revenues. Angie's List (at least since 2010) never has been primarily a membership network. Angie's List is a paid marketing company, just like every other major competitor. This conflict of interest continues to worsen. In full-year 2010, the average service provider paid $2,250, roughly 54x the average amount paid by customers ($2,250/$41.74). In Q1 2013, the average service provider paid 127x the average ($956/$7.51).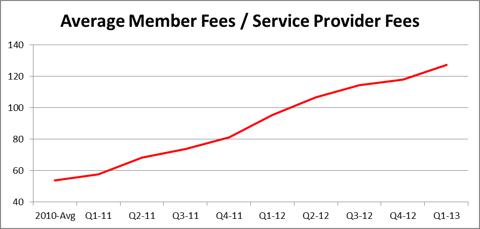 The House of Cards
How does Angie's List propose (to investors) to continue to grow? By continuing its stated consumer-centric business model of building a premium membership-based network. Metrics suggest ANGI is shifting focus to the service-provider side.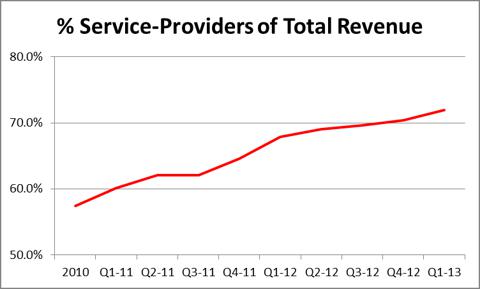 Each percent increase further deepens the inherent conflict of interest and ruins ANGI's pitch to customers.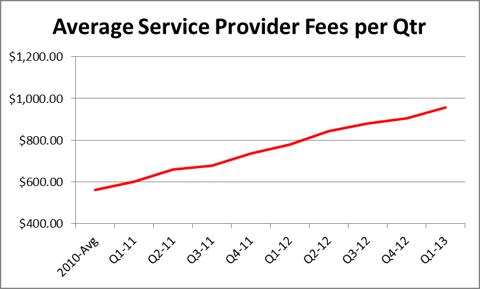 Meanwhile, service providers are squeezed for higher and higher fees to gain access to this premium network.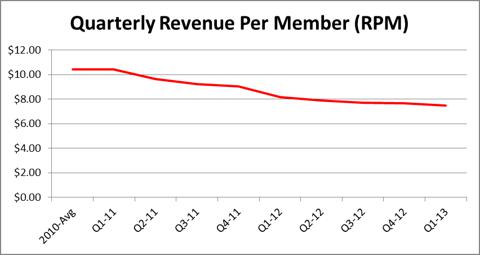 Surprisingly, the average monthly cost to access this "improving" network keeps lowering. Does this add up?
Look Out Below
Despite the fact that I am extremely bearish on this stock, I never recommend shorting a stock without insurance in the form of calls or from a safer angle, such as by purchasing out-of-the-money puts. I like the November 2013 $15 puts and $17.50 puts best. I believe this company is on the brink of full disintegration. If you do not believe my presentation of the numbers, or doubt the nature of the service provider squeeze, just spend a few minutes searching for public reviews of Angie's List or read a recent article (April 30, 2013) from NBC.
Disclosure: I am short ANGI via July and November puts. I may buy additional put contracts at any time. I wrote this article myself, and it expresses my own opinions. I am not receiving compensation for it (other than from Seeking Alpha). I have no business relationship with any company whose stock is mentioned in this article.