As someone who covers a lot of short ideas on this site, one of the most important items I follow is short interest data. One must always be aware of the short interest in a stock. A large short base could spark a short squeeze on good news, while low short interest could spark a huge drop on bad news. Every couple of weeks, we get an update from Nasdaq on short interest data, and I report on what I am seeing. Today, I'm here to discuss the end of June numbers. I'll discuss five names that short sellers are going after, whether just recently or over the longer term.
Apple (NASDAQ:AAPL):
The end of June update was not a kind one for Apple, as nearly 4.35 million additional shares were shorted. This puts Apple's short interest at its second highest point of the year, only trailing the super spike we saw a few months ago. The chart below shows a brief history of Apple's short interest. Excluding that super spike, it's also the second largest short interest increase, in percentage terms that we've seen over the past year. Apple's short interest rose by 18.6% in the final few weeks of June. What was the culprit? Well, we got a number of negative analyst notes late in the month. Apple's stock dropped from $430 in mid-June to the mid $390s by the end of the month.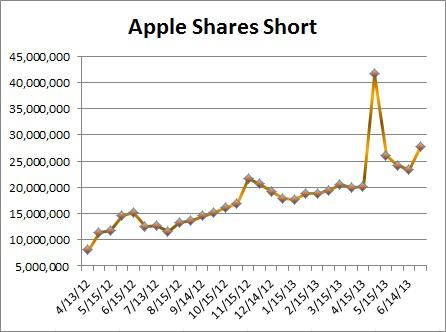 Those that have read this ongoing short interest series of mine know that there is another aspect to short interest I've covered in regards to Apple. It's the days to cover ratio, a ratio that says how long it would take all short sellers to cover. Apple's days to cover ratio jumped again in late June, as the average volume number only rose by 9.36%, about half the rise in short interest. This is the first time that the days to cover ratio has risen above 2.00 since I started following short interest, as you can see below.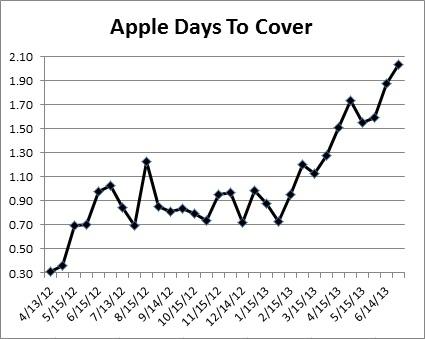 The rise in the days to cover ratio isn't just due to a rise in short interest. It also has to do with the decline of trading volume in Apple, which I like to call Apple fatigue. If you look at the six second quarter updates on short interest from NASDAQ in 2012, the average volume was approximately 20.50 million shares. In the six second quarter updates this year, it was 15.88 million. That's a decline of roughly 22.5%. Don't forget, Apple was trading at much higher prices this time last year, in the $500s and $600s. You might think that as prices got lower, more shares would be traded because they are cheaper. Well, the opposite has happened. Apple's price has dropped, and so has its trading volume. Investors just aren't as interested in Apple anymore.
Maybe their interest will start to increase as we get closer to Apple's earnings report about two weeks from now, followed by what we believe to be multiple product launches in the next few months. While Apple might be selling more iPhones and have all-time highs in revenues, the stock is dwindling and volumes are lower. Combine that with a spike in short interest, and this is something to keep watching.
Sirius XM Radio (NASDAQ:SIRI):
Lately, Sirius was making my list of short interest declines, which you can see in the chart below. Short interest in this name peaked at 414 million at the end of February, but was down to 339 million in the middle of June. That 18% decline in short interest eliminated a three-month rise in short interest. However, Sirius makes the increase list this time, as short interest rose by more than 13.7 million shares in this update. That 4.05% increase may not seem significant, but it's the largest percentage rise in five months.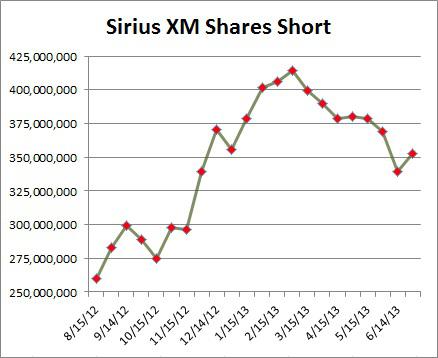 I really had been expecting one more decline in short interest. Sirius shares, which had traded as high as $3.63 in late May, dropped to barely above $3.00 in late June. With shares coming down that much, I thought short sellers would take the opportunity to cover. That was not the case, and shares have rallied back since, now trading around $3.60. It will be interesting to see what this rally back to the 52-week high does to short interest at the next update.
BlackBerry (NASDAQ:BBRY):
BlackBerry short interest rose by another 1.8 million shares in this update. As you can see from the chart below, this name makes it for the significant long-term trend. BlackBerry short interest is at another new high, more than 184 million shares, marking a rise of roughly 100 million shares in the past year.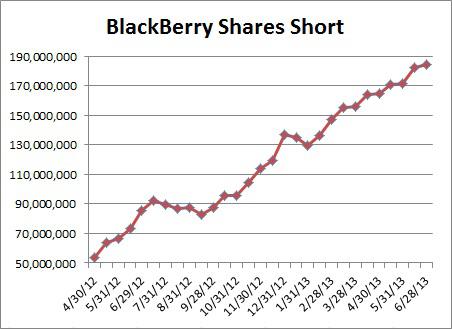 The latest earnings report was not good, which is why shares are at their lowest point since November 2012. One of the reasons so many hold hope in this name is for a massive short squeeze. That potential is still there, but this company needs to have solid results. The BlackBerry 10 launch got off to a slow start, and they missed expectations for phone sales, revenues, and earnings per share (they actually surprised with a loss). If short interest in this name is ever going to make a massive downward move, this company needs to produce some quality results. They didn't in fiscal Q1, which is why you have a stock below $10 and not near $20.
SodaStream (NASDAQ:SODA):
As much as I follow SodaStream, this name never really made the increase in short interest list because there weren't many significant moves in this name's short interest. As you can see below, short interest was gradually going lower, and the largest percentage increase in short interest over the last year was 11.52%. That's nothing really, not when some of the names on my list have short interest moves of twice that size every month!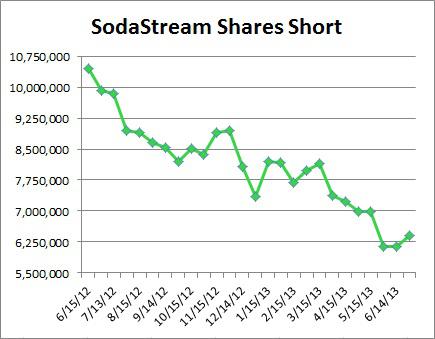 But SodaStream did need to make the list this time because the 4.32% rise in short interest, while small, is significant in my opinion. It is the largest rise in short interest since the first update of this year. However, it also goes to a point I recently made, and that is about buyout rumors. SodaStream shares recently spiked on rumors that one of the two beverage giants would be purchasing SodaStream. Shares rallied from the low $50s (with some analyst upgrade help) to nearly $80. They also traded much higher than that in the pre-market on the one day that the rumors were most prevalent. At that time, I cautioned investors to be wary of the madness. I thought that without a buyout, shares would head towards $60 in the next few weeks, and I was dead on there. This name is one of my favorite growth companies out there, but speculating on a purchase at that time did not feel right to me. I think short interest is starting to rise as some investors feel the rally was too much as well.
Intuitive Surgical (NASDAQ:ISRG):
I included Intuitive on this list because even though the short interest rise was small, the company had a significant news item I will discuss shortly. Short interest in this name has risen four straight times, something we have not seen since late 2012. While the 6.45% rise over those updates is rather small, we had begun to see shorts come back to Intuitive, as you can see below.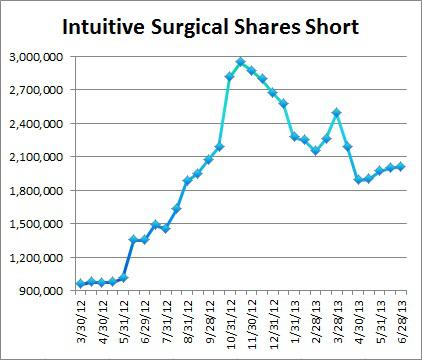 Those shorts have been rewarded. Intuitive issued a revenue warning a few days ago, something that I thought I would never say. This is a company that repeatedly blew out revenue and earnings estimates. With all of the negative press this name has received regarding the da Vinci surgical system, you might find a revenue miss logical as hospitals ease back on purchases and use of da Vinci. I found this warning to be really surprising, and even the most bearish analysts agreed. Shares dropped $100, roughly 20%, in just two trading days, but have rebounded a little since. Intuitive doesn't provide revenue and earnings guidance for future quarters, but they might want to start doing so. An extra level of transparency might be a good thing, and it might prevent these types of disasters going forward.
Final Thoughts:
All five of these names have seen a significant rise in short interest. Apple saw a sharp jump in short interest, which also pushed its days to cover ratio to a new high. Sirius short interest reversed a recent downward trend. BlackBerry short interest hit another high, but that might change after the latest earnings report sent the stock plunging. SodaStream short interest has started to rise as the promise of a buyout has begun to wear off. Intuitive Surgical shorts were coming back, and just in time, as the stock plunged on a quarterly warning. I'll be back in a couple of weeks with the next round of updates, and we'll see if these names make the list then.
Disclosure: I have no positions in any stocks mentioned, and no plans to initiate any positions within the next 72 hours. I wrote this article myself, and it expresses my own opinions. I am not receiving compensation for it (other than from Seeking Alpha). I have no business relationship with any company whose stock is mentioned in this article.
Additional disclosure: Investors are always reminded that before making any investment, you should do your own proper due diligence on any name directly or indirectly mentioned in this article. Investors should also consider seeking advice from a broker or financial adviser before making any investment decisions. Any material in this article should be considered general information, and not relied on as a formal investment recommendation.