Overview
Charoen Pokphand Foods (OTCPK:CPOKY), or CPF, is a large and diversified food producer based in Bangkok, Thailand with substantial operations throughout the South East Asia region. The company trades on both the Stock Exchange of Thailand and on the Pink Sheets in the United States. The Pink Sheet shares represent four shares on the Stock Exchange of Thailand and volume is rather thin. Charoen Pokphand Group, also known as CP, is a company that Dhanin Chearavanont and his family control, which holds substantial stakes in a few of Thailand's companies. Charoen Pokphand Group currently owns around 45% of Charoen Pokphand Foods.
This relationship is important as the Chearavanont Family is very influential in Thailand and this can have major implications for CPF's business. Additionally, Dhanin Chearavanont currently serves as the Chairman of the Board of CPF. CPF is vertically integrated and operates three main business segments: feed, farm and food. I will elaborate later on the specifics of their food businesses, but this vertically integrated process is key to the company's success as they are able to have a greater control over product flow and pricing, especially relative to competitors who are focused on a specific market segment.
Additionally, CPF is geographically diversified as 55% of the 2012 sales came from outside of Thailand. The thesis for this investment is that over time, as demand for quality food in Asia rises, Charoen Pokphand Foods will benefit as they will have increased sales opportunities and increased pricing power.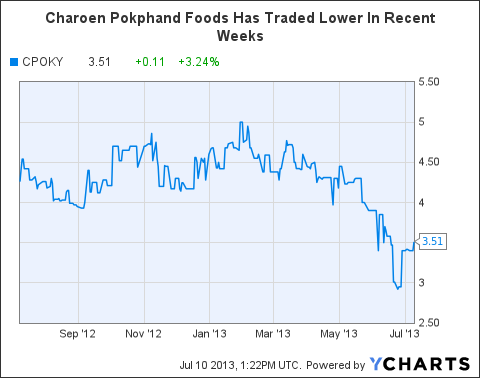 Fundamentals
CPF's earnings suffered last year and in Q1 of this year largely as the result of their 2011 acquisition of a large stake in their Hong Kong-based affiliate CP Pokphand, which ended up hurting profit margins, which I discuss in more detail later. While the below TTM P/E ratio seems to be rich, especially for a food company, TTM earnings were negatively impacted by increased costs and disease in the Shrimp business. I will discuss these earnings issues later, but high multiple is skewed and could be a reason for investors to skip the stock if they cannot determine the reason for the valuation. Additionally, analysts expect further strong growth from the company in 2014 that makes the valuation much more reasonable. The below table highlights the current fundamentals for Charoen Pokphand Foods' stock.
| | |
| --- | --- |
| Market Cap | $6.9 Billion |
| Dividend Yield | 4% |
| TTM P/E | 26.4x |
| P/E on 2013 Estimates | 16.6x |
Shuanghui-Smithfield Deal
CPF exports a large amount of its production to foreign countries, with a significant portion going to China and other countries in the region. CPF concentrates on production of meats such as Pork and Chicken in addition to fish and shrimp. China drives a very large portion of region demand and as such is a rather large component of the market pricing. Back in May, Chinese-based Shuanghui came to an agreement to purchase US-based Smithfield Foods (NYSE:SFD), which just so happens to be the world's largest Pork producer. This purchase is a very large indicator that Chinese demand for food, specifically Pork, is likely to increase significantly over the long term. The have been rumors that CPF was working on a deal to acquire Smithfield before the Shuanghui-Smithfield deal was announced. Even though Charoen Pokphand was not involved in the deal, the acquisition represents a confirmation that Chinese food demand will continue to increase, which is a trend that will benefit CPF.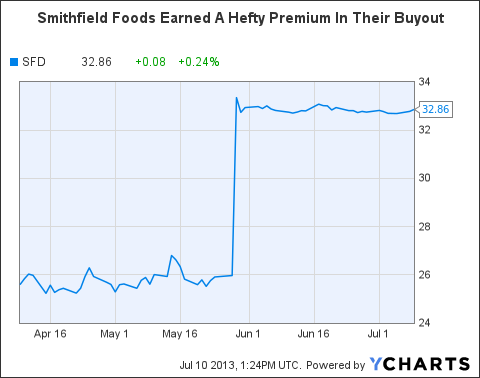 Earnings Trend
CPF's earnings have been depressed over the last few quarters mainly due to the integration of the earlier mentioned Hong-Kong affiliate into the business. CPF bought approximately 74.2% of CP Pokphand for a little more than $2 billion. Given CP Pokphand's presence in Vietnam and China, this purchase would be able to give CPF greater leverage into those two important and strategic countries. Given CPF's large ownership stake, financial statements from CP Pokphand are consolidated onto CPF's statements and this has had a rather dramatic impact on revenue and on earnings. Since the acquisition was completed, revenues have soared but profit margins, and subsequently earnings, have suffered. For example in the consolidated financial statements, from Q1 2012 to Q1 2013 the cost of sale increased by 25% whereas revenue only increased by around 19%. This put serious pressure on the margins of the business as they only earned net profit margins of 1.5% in Q1 2013 where they earned nearly 15% net margins for the same period in 2012.
It is to be noted that in Q1 2102, CPF did record gains on fair value adjustments of over 8.6 billion Baht, where there were no such gains in Q1 2013. Additionally, there were one-time investment gains in Q1 of both 2012 and 2013. While those one time gains do skew the results, for 2012 CPF earned a net profit margin of 5% on sales of slightly more than 350 billion Baht. For comparison, the company earned 7.6% net profit margins in 2011. In addition to the effects of the merger, earnings and margins for the first quarter of this year were impacted in the company's Shrimp division.
As a result of the disappointing earnings for Q1 2013, which would have included a net loss if one-time items were excluded, the company addressed concerns and stated that it expects that raw material costs will be lower and the operating results will return to normal in the second half of this year. Despite the troubling earnings report from May, management seems to be upbeat and confident about business prospects for the rest of the year. However, shares have sold off and thus present an opportunity for value investors to purchase a piece of the strong business during a time of short term troubles which is set to benefit from exciting industry trends.
Over the long term as CPF drives competitive advantages, economies of scale and normalized business conditions they should be able to expand profit margins from current depressed levels, which should increase profit tremendously. This upbeat sentiment is not limited to management, as analysts are expecting EPS of around 1.67 Baht/Share from 2013, which represents 59% growth from depressed 2012 EPS of 1.05 Baht/Share.
Recent Sell-off
Over the last few months, there has been a tremendous sell-off in emerging market stocks; the iShares MSCI Emerging Market ETF (NYSEARCA:EEM) is down by nearly 7% in the last month. Thailand is no exception as the iShares MSCI Thailand ETF (NYSEARCA:THD) is down over 11% over the last month. This has been driven by fears of tapering of US asset purchases combined with a general "risk-off" trend over the last few weeks. Capital has moved away from emerging markets and prices have moved lower. CPF has sold off by more than 20% over the past three months and has recently rebounded off of 52-week lows.
The relative underperformance is likely due to the disappointing earnings release in May, but as discussed earlier it is not a long term issue and the management of CPF is confident that the business will return to historical norms in the back half of 2013. This sell-off presents a rather compelling buying opportunity as CPF has very strong potential from long term trends going forward.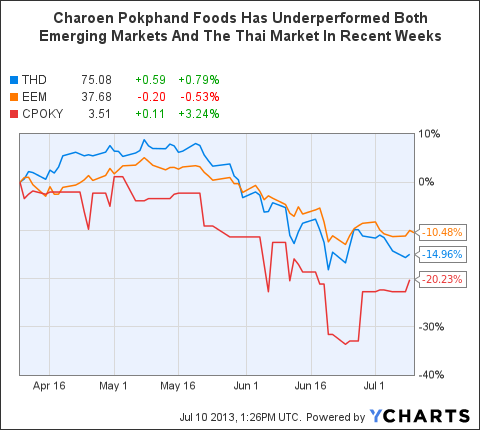 Conclusion
Charoen Pokphand Foods is set to benefit from strong trends for food demand in Asia and investors should be rewarded for its business' earnings power and dominant market position over the long term.
Disclosure: I have no positions in any stocks mentioned, and no plans to initiate any positions within the next 72 hours. I wrote this article myself, and it expresses my own opinions. I am not receiving compensation for it (other than from Seeking Alpha). I have no business relationship with any company whose stock is mentioned in this article.