Ross Stores (NASDAQ:ROST) appears to be a great company for a number of reasons, with the two key ones being; (1) new store growth potential and (2) a major demographic shift that will benefit off-price retailers.
Many investors point to key statistics, such as revenue growth, EPS growth, and consistent dividend increases as the greatest signs of Ross' potential, and don't get me wrong these are all good indicators, but what will really drive these metrics are specific catalysts; new stores and demographic tailwinds.
First, let's have a look at revenues, same-store sales, and sales per square foot. Ross Stores has focused on opening locations in community and neighborhood shopping centers in heavily populated urban and suburban areas with a large surrounding population of middle income households. This has proven to be a good strategy as the company has catered to women shoppers across a wide range of income level and demographic base, which has helped grow revenues over 10% annually for the last five years.
While revenue alone is not a great indicator of a company's potential, it is a good jumping off point. If revenues are growing because of new store openings, it isn't necessarily a good thing, but if revenues are growing from increasing same-store sales, this may be a better indicator of long-term potential. In this case, the company has been able to grow same-store sales and sales per square foot, both key indicators of the company's ability to continue on its current path. Since 2008, the company has increased same-store sales by 5% annually, and sales per square foot over the same period have increased from $298 in 2008, to $355 in 2012.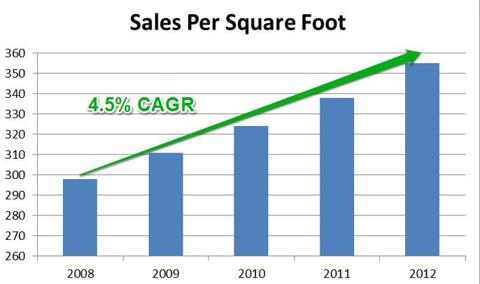 Sales per square foot is a better indicator when compared to other retailers and off-price retailers. While electronics retailers, jewelers, designer stores can reach sales per square foot in the multi thousands, $300-$500 is a more typical range for average clothing retailers. This number is slightly lower for off-price stores, as would be expected since the items are discounted. Kohl's (NYSE:KSS) and TJX Companies (NYSE:TJX) are strong competitors to Ross Stores in off-price retail, and a comparison of sales per square foot shows Ross as an efficient off-price retailer.

This is important because it is indicative of the company's ability to grow existing stores while also focusing on opening new stores.
All of these data points; revenue growth, same-store sales, and sales per square foot, are important in gauging the health of a retail company's growth, but they become even more important in determining the potential for future growth through new store openings.
Any company can open a significant number of stores in a short period of time if the capital is available, and this will lead to an increase in overall revenues. Ross Stores has not only grown by opening new stores, but it has consistently improved profitability in its existing stores.
Future store openings unlock huge potential for Ross. As illustrated above, Ross clearly has the ability to manage and grow same-store sales and improve efficiencies with sales per square foot.
Ross is already one of the largest off-price retailers, with 1,091 stores in 33 states, while this alone is a solid indicator of the company's success in the off-price retail market, its true long-term value comes from opening new stores.
Even as the largest off-price retailer already, the company has plans of being able to double its store size to more than 2,000 stores over the long run, according to a recent investor presentation from the company. Its Ross Dress For Less stores is at only a 55% penetration for its long-term goal...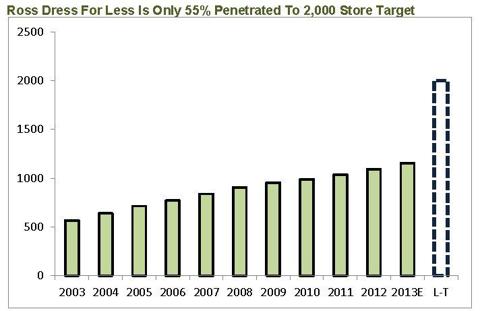 Meanwhile, it's dd's DISCOUNTS brand only operates in eight states and is only about 20% of the way to its 500-store target.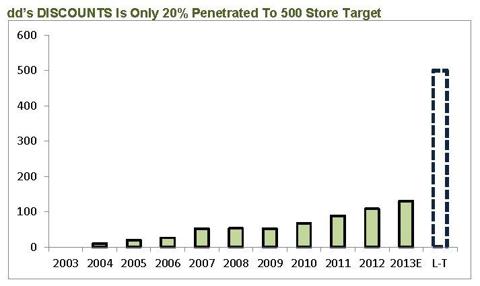 What's better, though, is that the company expects to maintain its growth with existing cash and cash flows from operations. Free cash flow was $555 million in 2012, and with very little long-term debt (including a debt-to-equity ratio of only .08), the company should easily be able to grow this -- especially considering operating margins are at all-time highs: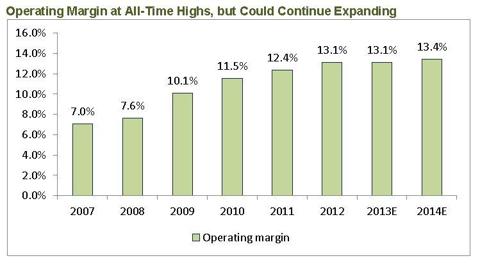 At the current growth rate of same-store sales and a healthy TTM profit margin of 8.21%, additional stores will add to revenue, earnings per share, and ultimately dividend growth. There is still the opportunity for Ross to expand into new states and to open additional locations in current states.
Demographic shifts and consumer habits a boon for Ross. A lot of people have come to realize the mass potential for certain parts of the economy created by the baby boom generation. However, few people have focused on Generation Y (aka Millennials or New Boomers) and Generation X, and the impact this cohort will have on the future of various businesses and trends.
While the "baby boomer" population helped to ignite growth in the economy through home buying, spending discretionary income and earning wages, the Millennials and Generation X will be the next wave to guide us into the future of retail spending and economic growth.
The shopping trends of these generations will benefit some retailers while likely making growth difficult for others. Off-price retailers like Ross will be a beneficiary of these two generations' established shopping habits that tend to favor off-price shopping opportunities. Fortunately for stores like Ross, these two generations combined are nearly twice the size of the baby boom generation that has been the major driver of retail activity until recent years.
In order to understand the potential behind these generations it is important to note some key statistics. The baby boom generation was so important because of its sheer size and the fact that it was really the first generation to spend a significant amount of money as a group on luxury and discretionary items. The combination of population size and the spending characteristics made the cohort a tremendous economic engine. Now, Generation Y, those born between 1983 and 2001, is larger than the baby boom generation and Generation X (those born between 1965 and 1982) is not far behind.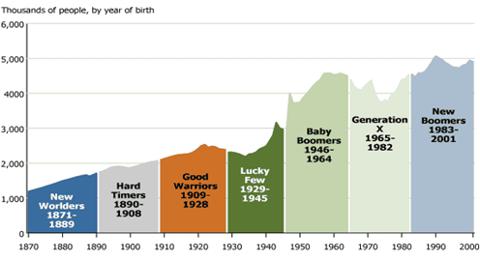 Source: U.S. Census Bureau and prb.org
With 72.5 million members of Generation Y and 49 million members of generation X, these current and future retail shoppers will certainly have an impact on sales for certain stores. While Generation Y is the largest generational group, it only accounts for 6% off all household spending currently.
This is a potential that will be unleashed as these members age and begin to earn and spend discretionary income. These two generations combined also exhibit similar retail spending behaviors that, along with the population size of these two groups, are providing a major benefit to stores like Ross.
A number of articles and reports in recent years have begun to uncover the true potential of these generations. A recent Price Waterhouse Report [pdf] points to Generation X as the group that will lead us into the next level of spending and Generation Y, which is more recession resilient, will become more influential as the younger members of the group begin to earn and spend income.
Another article from 2010 entitled "Gen X,Y Will Lead Economic Recovery" points to the fact that Generation X as the first group to increase retail spending as they reach peak earning years. Statistics from the article show that 47% of baby boomers plan to buy only the things they need compared to only 29% of Generation Xers. Price Waterhouse points to the fewer debts and less urgent need to accumulate wealth in the immediate term as reasons Generation Y will have a higher portion of discretionary income in relation to older generations.
All of these statistics point to these generations as potential growth engines for consumer goods, but here's what makes them particularly important for off-price retailers.
For starters, Generation X has been shown to buy more clothing than previous generations, as described in a market-truth.com article based on a Boston Consulting Group study. Second, generation Y shoppers strongly support discount department stores, as indicated by a report from Urban Land Institute. Further, Generation Y still does most of its purchases in stores rather than online, which is contrary to what many people believe since this is a generation of online access and technology. Despite the technology available for easy online purchases, this group tends to enjoy in store shopping according to the Urban Land Institute report. All of these trends are leading these groups of shoppers to store front locations, and more specifically, to off-price retailers. And with $200 billion/year in future spending power, Generation Y will be a force to be reckoned with.
Risks. Ross certainly is not immune to risks, and it faces challenges that any other retail company faces. Disruptions in supply chain management and an increase in costs could both materially affect the company. In addition, Ross has plans to grow its store base over the coming years and plans to pay for that growth with cash flow from operations; if its cash flow falls below expectations, the company may be forced to limit growth take on some debt to grow. In the context of this article, a risk to Ross fulfilling expectations may be that shoppers fundamentally change their spending habits.
Tying it together. The off-price retail group has fared well over the interim, thanks to the trade down due to a tough economic environment, but this isn't the only reason. We believe a fundamental shift is taking place among generational spending habits. With these shoppers continuing to flock to discount stores, Ross stores should continue to benefit.
As Ross continues with its expansion plans to open more stores across the country, it will be able to reach more of these consumers in more locations. While we think that analysts and investors alike have priced the revenue growth, earnings growth, and dividend growth into the current value of a stock, they are missing the effects of a major tailwind that could change the face of off-price retailing. So while Ross stores may seem fairly priced at the current level, consider the potential that lies beyond the horizon.
Disclosure: I have no positions in any stocks mentioned, and no plans to initiate any positions within the next 72 hours. I wrote this article myself, and it expresses my own opinions. I am not receiving compensation for it (other than from Seeking Alpha). I have no business relationship with any company whose stock is mentioned in this article.