In two previous articles over the past year I examined valuations in high-yield closed-end funds (CEFs). In July of 2012, I noted that only 10% of all funds were trading at a discount to NAV. My conclusion at that time was that investors should avoid the space, as pricing was clearly indicative of "yield chasing." Four months ago I offered a follow-up and pointed out more discounts were appearing, with about 40% of the group trading under NAV. At that time I still urged caution, but was a bit more constructive on the group. In this article, I will take a look at the recent sell off in this space, the macroeconomic outlook, and whether investors should view high-yield CEFs as an investment opportunity or not.
The Current Environment
The selling in high-yield bond CEFs, similar to many other interest rate sensitive market sectors, was triggered by Fed commentary relating to an end to QE, a rise in the 10-year treasury, and fear that ultimately Uncle Ben will begin a tightening spree. In general, bond prices react inversely to interest rate movements, with sensitivity predicated on time to maturity.
10 Year Treasury Yield
After conducting a recent search on cefconnect.com, I found that 37 of 43, or approximately 86%, of high-yield CEFs tracked on CEFconnect, now trade at a discount to NAV. Thirty out of those 37 trade at a better than 5% discount. While in most instances these funds, including the ones I tracked in the previous articles [(EAD, HYT, HIO, NHS, and DHY)] have lost only about 5-7% of their NAV since mid-May, their share prices have plummeted, on average, around 12-13 percent. The graph below depicts the slaughter in HIO, Western Asset High Income Opportunity Fund, but is indicative of most sector constituents.
HIO chart - 12mos.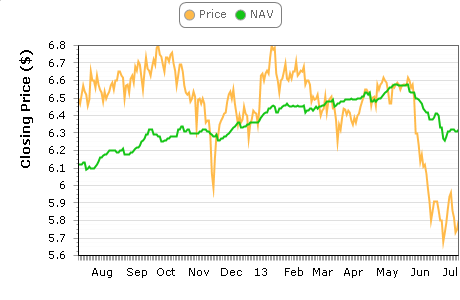 The green line above shows the actual value of the bonds in HIO's portfolio and the descending yellow line at the far right of the chart indicates how investors have drastically sold shares off over the past two months. Unlike ETFs and open-ended mutual funds which trade mostly based on the value of their underlying holdings, CEFs, whether of an equity or fixed-income bent, trade just like stocks, based on the laws of supply and demand.
Quite often CEFs will trade at premiums when a sector is performing well or an underlying portfolio is outperforming the market. Conversely, lagging sectors or underperforming portfolios will trade at discounts and will usually continue to do so until sentiment and/or performance reverse course. Market volatility and greed/fear cycles tend to be well depicted in a CEF, as market price and NAV diverge.
So What Does It All Mean?
The takeaway from this discussion is that there is tremendous fear on the part of high-yield CEF investors right now. About a year ago, I contended that investors were apathetic and greedy, bidding these funds up to silly premiums and driving yields down, with little concern to interest rate risk. I would posit that for the first time in quite a while, given the widespread appearance of discounts, there appears to be a window of opportunity for opportunistic, risk tolerant investors to consider purchase of shares.
While I'm not a huge fan of bond funds and would much prefer to own a diversified portfolio of individual issues, I think the immediate diversification afforded in a fund (sometimes hundreds of positions) mitigates the elevated credit risk one takes by investing in junk debt. And now that discounts are readily available, where investors can buy underlying assets in some cases at better than 90 cents on the dollar, I think this provides for a reasonable entry point.
Before making any commitment, however, one needs to think about the macroeconomic backdrop in a commons sense way, and target funds that provide as much protection from further interest rate gyration as possible. While I don't think it is a bad idea to allocate a portion of one's portfolio to high-yield CEFs at this point, I still would recommend against backing the truck up. Indeed, I think a dollar cost averaging strategy may be most prudent if one wants to commit to high-yield.
Which Funds Should you Consider?
Given the plethora of funds in this sector, I ran a screen to narrow the list down to a manageable number of considerations. In addition to domestic high-yield, I included global high yield, and emerging markets income in my screen since they have been beaten down as well. The criteria I utilized:
Market Cap > 250 million (ensures adequate liquidity)
Discount >5% (ensures value)
Expense <1.25% (ensures against a rip off)
Avg. Maturity <8 Years (guards against excessive rate risk)
The screen at CEFconnect.com yielded 10 results as follows:
Links to the CEFs in this chart: (FAX, AWF, MCR, MIN, MMT, TEI, EHI, HIO, HYI, MHY)
Out of this list, I am a current owner of HYI, which I bought late last year. I think the 9% yield and 9% discount make it an attractive option. I've owned AWF in the past, but sold it earlier this year when the premium skyrocketed. Now that it is trading 12% lower than where I sold it at, with a 7% discount and 8.6% yield, I'm considering re-adding it to my portfolio, but have not done so as of this writing. While I have done no due diligence on the other names, all appear worthy of investigation.
Risks
The risks here are high and numerous, even with the omnipresent discounts. First, we have the elevated credit risk of variable junk debt. We have NAV risk in a rising rate environment, the leverage risk that comes with some CEFs, and finally we have market risk that we already discussed. You should also be prepared for distribution cuts - which have already been occurring - as funds replace older, higher-yielding paper with potentially shorter maturity, lower yielding debt. If you think that rates will rise quickly and swiftly going forward, you should think twice before allocating to these names or any bond fund for that matter.
For now, I'm of the opinion that when and if rates start to tighten, they will rise slowly, so despite the potential pitfalls, I'm willing to allocate a small portion of my overall portfolio to this space. While high yield may not appear on the radar of most investors shopping for value, there's little arguing with the fact that the deals have become much more attractive now than they were a year ago.
Disclosure: I am long HYI. I wrote this article myself, and it expresses my own opinions. I am not receiving compensation for it (other than from Seeking Alpha). I have no business relationship with any company whose stock is mentioned in this article. The above should not be considered or construed as individualized or specific investment advice. Do your own research and consult a professional, if necessary, before making investment decisions.