This week marked an important milestone in BlackBerry's (NASDAQ:BBRY) transformation. Tuesday was their annual and special meeting where the company officially shed its old Research In Motion name and became BlackBerry Limited. The three items of substance were name change, new by-laws passed by the company and the CEO presentation and following Q&A . A cursory review of the new by-laws does not place new impediments for an activist to get involved in the company. Since BBRY is a Canadian company, activists that are familiar with Canadian regulations are more likely to surface here. One Canadian company, Lions Gate Entertainment (LGF) was the subject of two activists fighting against each as reported in a trade paper which we have highlighted:
The famously combative Icahn made his peace with Lionsgate in August, 2011, with Icahn wishing the company well on its future slate. He had blasted Lionsgate management repeatedly for overspending and failing to boost the stock price to anywhere near its 2007 high of $12; ... The Lionsgate-Icahn battle began to die down in December 2010 when shareholders backed Lionsgate's slate of a dozen board nominees while spurning Icahn's quintet of dissident candidates. ...The August, 2011 settlement included a provision for board member Mark Rachesky to boost his stake from 29% to 35% by buying a quarter of Icahn's stake - 11 million shares - for $7 each. That $77 million purchase is now worth $316 million for Rachesky, who's now co-chairman.
What is interesting in this story is that Mark Rachesky learned his trade from the best: Carl Icahn. He may be the right person to get involved in BBRY. He knows how to work with management to help them build value. And more importantly, he knows the Canadian rules and regulations from his experience at LGF.
To be sure, there is a lot of raw assets at BBRY to work with. Starting with a shrinking, but still substantial user base of 72 million users. Then there is the sticky and popular BBM network for secure and free messaging which is about to be made intra-platform between IOS and Android smartphones. Then you have the BES10 enterprise server which is also supporting the BYOD device movement for large institutions and has been installed in 18,000 IT departments. Next you have their $3.1 billion cash rich debt free balance sheet with another $3 billion -at book value- in patents and other intellectual property. There is also their QNX operating system, which has many other applications outside of smartphones including machine to machine -m2m- connections as well as automotive applications which are already under deployment. But the biggest asset which no one knows how to value and is not on their balance sheet is.... the large and growing short interest in BBRY shares.
Yesterday's Nasdaq report looks like the trend is still in place with short sellers adding to their positions despite the big tumble in share price on June 28th. See both below: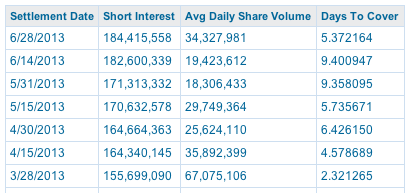 As you can see, the share drop only emboldened the shorts on this name. Our further research with institutional stock loan departments which typically handle large hedge fund short positions show that the negative rebate borrow rate -NRBR- is 10.5-13% depending on the institution, with some claiming there is no availability. But we all know, and fellow SA writer Quoth The Raven has recently reported in his article, that naked short sales do occur today, and if they do in BBRY, they are not included in the figure above. And our previous article shows that most short sellers stay anonymous, which is clearly the case in this name as no one short seller has publicly claimed victory on this trade.
The Lemons
Short sellers focus on things to criticize companies and therefore place their bets on strategies that profit from a drop in share price. In BBRY's case they are expecting a complete disintegration of the company. Can this happen? Of course anything is possible. We hope and don't believe it will die because there is just too much to work with at BBRY. Unfortunately, the CEO has maintained his position on limited transparency which we feel is at the top of the short sellers song sheet along with slower sales of the new Z10 and Q10 phones. This is especially true in the U.S. with CEO Heins admitting at the shareholder meeting that US is a tough market for them. Anecdotally, an investment banker friend this weekend witnessed a customer returning the Q10 at Best Buy (NYSE:BBY) and claimed he hated it. Look, the Q10 and the Z10 are not for everyone. But there are true lovers of the BBRY qwerty phones, and selling 2.7 million of mostly Z10s and a few Q10s last quarter globally shows that there are customers for these phones and the coming Q5s and A10s as well. How many? BBRY did sell 6.8 million handsets last quarter, so we know that there is still a market out there for their products. But without transparency, everyone will be left in the dark. Therein lies one of the major quickly fixable opportunities for someone who knows what wall street and the U.S. consumer wants.
The Lemonader
Mark Rachesky is perhaps the best fitted activist for the role to be had with BBRY. He made a lot of friends in Canada with LFG. The stakes are high enough here to warrant someone of his ilk to get involved and he is from Wall Street: he knows what will scare the shorts and satisfy the analysts. He knows that marketing in the right U.S. venues will make the BBRY products feel more attuned to the youth. He is youth. We have previously valued BBRY shares at $20+ and we stick with that valuation. Given the growing short position, having an activist such as Mark come in now would shake but not eliminate the shorts, as they are not ones to go away without being completely annihilated as they were with Tesla Motors (NASDAQ:TSLA). We think the right ingredients including Mark in the BlackBerry lemonade mix will bring similar results to BBRY.
Disclosure: I am long BBRY. I wrote this article myself, and it expresses my own opinions. I am not receiving compensation for it. I have no business relationship with any company whose stock is mentioned in this article.