Buy S&P 500: Even If Earnings are Weak
Pullbacks in the S&P 500 from the all-time highs have been limited, and if we look at the market's projections for this earnings season, this might be something of a surprise. For those considering long positions in the SPDR S&P 500 ETF Trust (NYSEARCA:SPY), the PowerShares QQQ Trust, Series 1 ETF (NASDAQ:QQQ), and the SPDR Dow Jones Industrial Average ETF (NYSEARCA:DIA), which track the three benchmark stock indices in the U.S., this means buying opportunities can still be found.
At the moment, the main question for investors is: What is driving valuations? To be sure, economic data has shown improvements, with last month's U.S. jobs data coming in strongly at 195,000. In addition to this, data for the previous two months were revised higher, indicating a much better year-to-date performance for the economy. At the same time, however, investors have to weigh this against the possibility that the Federal Reserve will begin scaling back its quantitative easing programs in September. This latest strength ultimately shows that the focus is once again being placed on the real economic data and market fundamentals, rather than simply relying on central bank stimulus to support equity markets.
But there are additional factors to consider as well. As investors start to accept the possibility of reduced stimulus, an environment of rising rates means areas like fixed-income will become less attractive. Rising rates mean smaller returns for bond investors (as prices for those bonds will drop). In addition to this, stock markets in other areas of the globe offer little in the way of alternatives. The eurozone is mired in a recession, manufacturing productivity in China has shown marked slowdowns, bear markets have emerged in Japan, and emerging markets have been unable to "emerge" as a strong point in the wider global recovery. This is the real reason stocks have yet to fall sharply from their all-time highs (even with weak earnings expectations). There are simply not many attractive alternatives in the current economic environment.
Weak Earnings Expectations
As we begin with the second-quarter earnings season, analyst expectations are calling for companies in the S&P 500 to see earnings growth in the neighborhood of 0.8%. Operating margins should remain supportive but revenues will be another point of weakness. Over the past 4 years, improved earnings (and their accompanying stock market rallies) have been driven by cost cuts rather than impressive profit gains. But things have changed, and there is not much "fat" left for companies to cut out of their businesses. Because of this, it is unlikely we will see many surprises in performance results in earnings this season.
Will this be enough to generate further rallies in the S&P 500, Nasdaq, and Dow Jones Industrials? Not likely. But given the lack of clear alternatives for long-term investment, the end result will be a slow grind higher, as long as we don't see a series of big earnings misses in the next few weeks. For these reasons, investors should be looking to buy dips in the S&P 500, Nasdaq, and Dow Jones Industrials. For those looking for specific sectors to get bullish, financials should be one of the best performers, with earnings growth expected to come in at roughly 18% (well above what is seen for the economy as a whole).
Chart Perspective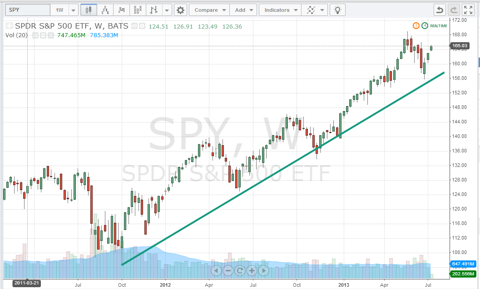 Price activity in SPY has obeyed its medium-term uptrend quite nicely, with a consistent series of higher lows on the 4-hour charts. Any dips into 158.50 should be viewed as a new opportunity to get long, with the next level of support seen at 155.50.
Disclosure: I have no positions in any stocks mentioned, and no plans to initiate any positions within the next 72 hours. I wrote this article myself, and it expresses my own opinions. I am not receiving compensation for it (other than from Seeking Alpha). I have no business relationship with any company whose stock is mentioned in this article.