Canadian National Railway Company (NYSE:CNI) is one of the best railroad companies in North America. With good revenue growth, impressive profits margins, reliable dividend payments, and intelligent share repurchases, CNI is a safe investment. After a conservative analysis, CNI is undervalued by roughly 20 percent.
A Brief Look at CNI's History
For a mature company, CNI has done an impressive job maintaining revenue growth. The chart below shows CNI's revenue over the last 17 years (click here for the data used in this article):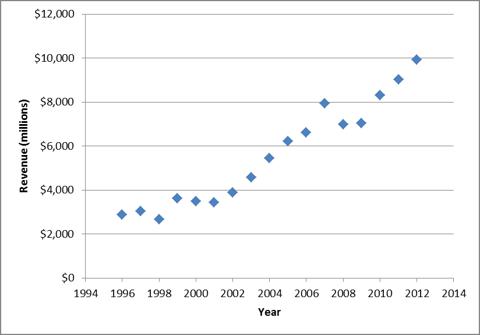 In addition to the growth in revenue, CNI has been able to increase its earnings to revenue ratio over the years. In the last few years, however, that ratio has remained unchanged; CNI might not be able to squeeze any more profits per dollar of revenue going forward: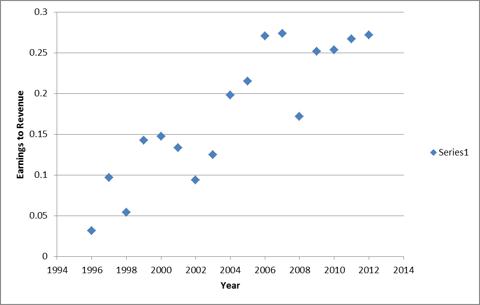 When a large firm does manage to grow revenue, it is usually by pouring more money into investment opportunities of lower quality. Most firms, as they grow larger and quality investment opportunities become increasingly slim, realize lower returns from their retained earnings. As a result, the return on assets (ROA) begins to fall over time. CNI, however, has managed to grow revenue and its ROA over time; below is another chart showing return on assets for the last 17 years: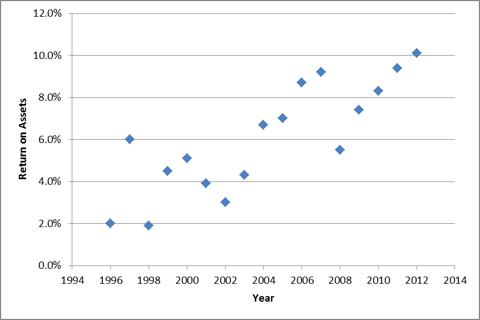 Finally, CNI has been able to finance its growth without taking on dangerous amounts of debt. Impressively, CNI has been able to keep its debt to equity at relatively safe levels: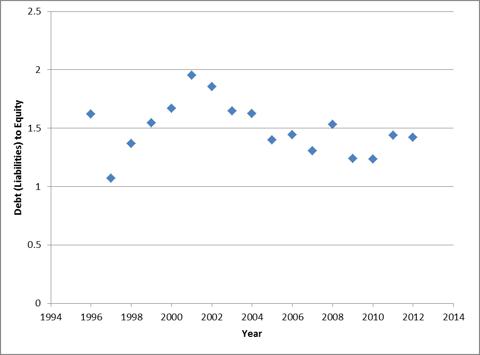 CNI's Growth and Profitability
Armed with the information above, some assumptions can be made about the future of CNI and its fair market price. For the last five years, revenue growth has averaged about five percent. While this is impressive for a large company, it would be inappropriate to assume this rate into the future. CNI is a large, mature firm and its revenue is largely dependent on growth in commodity demand by the North American economies and, to a lesser extent, other advanced economies around the world. As a proxy for the growth in demand for basic commodities the GDP growth of Canada and US can be used. CNI's growth rate will most likely be similar to the GDP growth of North America, with a small premium in growth due to the global demand for oil, coal, agricultural products, and metals. CNI's growth is heavily dependent on commodity pricing and historically, commodity pricing is volatile. It would be nice to assume the high growth rates of the last few years will continue, however, CNI does not have a great deal of pricing power despite the high barriers to entry within its industry. For this evaluation, a revenue growth rate of two percent is assumed into the future.
In the last 10 years, the ratio of earnings to revenue has remained steady and has averaged about 23.5 percent. In more recent years, that ratio has been more favorable, averaging about 27 percent; this is due to the relative rise in commodity prices after 2008 and early 2009, and will probably revert back to a lower figure in the coming years. To capture some permanent cost savings, the 10 year average will be rounded up and a ratio of 25 percent of earnings to revenue will be assumed going forward. Perhaps CNI will be able to improve that margin over the long run, but that cannot be counted on to happen.
Treatment of Shareholders
How a firm manages its profits is just as important as whether it can generate them. Like any company, CNI has three basic ways of using its earnings: reinvestment, dividends, and share buybacks. For all three, CNI's management has done a commendable job.
As mentioned earlier, ROA has been rising over the last decade. This is primarily because of rising commodity demand during those years and this trend will not last. However, that a company of CNI's size has been able to reinvest nearly a quarter of its profits each year for over a decade and maintain a rising ROA is impressive. Moreover, since becoming a public company in the mid 1990s, CNI has never had a year with ROA below two percent. Management has done an excellent job of putting profits back to good use within the company.
Since 2003, CNI has returned about 25 percent of its earnings back to shareholders in the form of dividends. Over those ten years, per share dividend payments (NYSE:DPS) were never cut. DPS increased by about 20 percent year over year during this time period. CNI's dividend is among the safest available to investors.
In the past decade, about half of CNI's earnings have been used to repurchase shares and these repurchases have been conducted pretty well. The first and most obvious thing to look for when evaluating share repurchases is to see if shares outstanding decrease over time. Between 2003 and 2012 shares outstanding fell steadily from about 567.9 million shares to 428.4 million shares as shown in the chart below.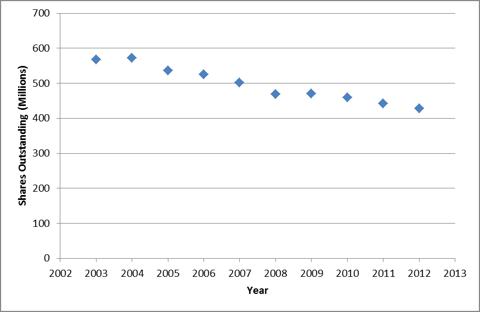 It is not enough to simply decrease share count over time, how much a firm pays to buy back shares is important. A quick way to judge how well share repurchases are carried out is to look at the price paid per share. Here is the basic equation:
((share repurchase cost + share resale revenue) / shares reduced)
For most of the last decade, CNI bought back shares at around their trading price at the time. This is not exceptional, but CNI's ability to continually reduce share count without paying above market pricing, during a period when its shares have been undervalued, has benefited shareholders.
Intrinsic Value
CNI's fair value is around $119. The model underpinning this value goes out about 100 years into the future. That is a long time period to be making projections; however, the railroad industry is one of the very few industries that has demonstrated the stability and longevity which would prudently allow this assumption to be made.
A seven percent discount rate was used on future earnings. True, CNI is a very safe stock, its equity premium is low, and current interest rates are much lower than seven percent. However, when projecting cash flows 100 years into the future, current interest rates cannot be used. The long term historical average for interest rates has been closer to six percent; one percent is assumed for CNI's equity premium.
Shares outstanding are assumed to continue decreasing by three percent a year for the next five years and then remain constant. Roughly 55 percent of earnings are assumed to be used on share repurchases during these years and this portion of the earnings is subtracted from the earnings accruing to shareholders for those five years. The reason for this is that share repurchases should be thought of as an investment in future cash flows. By reducing shareholder profits today in order to buy shares, the firm increases the future profits available to shareholders. To model a decreasing share count, while not removing the earnings needed to reduce shares, would double count that portion of the earnings.
Admittedly, CNI's intrinsic value is probably a bit higher than stated in this article. A number of the assumptions made here were rather conservative. Even if global economic growth were to be lower than expected over the coming years, CNI will still be a rewarding investment at its current price.
Disclosure: I have no positions in any stocks mentioned, and no plans to initiate any positions within the next 72 hours. I wrote this article myself, and it expresses my own opinions. I am not receiving compensation for it (other than from Seeking Alpha). I have no business relationship with any company whose stock is mentioned in this article.