Just because the Twinkie vanished off of store shelves doesn't mean that people don't want their snack cakes. Flower Foods, Inc. (NYSE:FLO) has been one of the direct beneficiaries of Hostess's demise. This Zacks Rank No. 1 (Strong Buy) has seen huge profits over the last nine months.
Flower Foods operates 44 bakeries that produce breads, buns, rolls, snack cakes, and pastries to stores in the Southeast, Southwest and Mid-Atlantic states. Flower Foods has been on an acquisition streak. It had good timing when it bought the struggling Tastykake brand of snack cakes in 2011 for $175 million. Headquartered in Philadelphia, and founded in 1914, the brand is a direct competitor of Hostess snack cakes.
When Hostess vanished off the store shelves, what was a snack cake fan supposed to do? If you could no longer get your ding-dong, you could buy the Tastykake cupcake or Kreamies instead. Hostess products disappeared off of shelves in November 2012, but are expected to return on July 15. In the meantime, Flower Foods has seen a surge in business. Total sales were up 29.5% in the first quarter on the back of a 19.3% volume increase due to the absence of Hostess from the market, in both breads and snack cakes.
But will it last? Analysts are encouraged that Flower has had shelf time when Hostess has not. How much of that will endure after Hostess comes back this month is unclear. But some consumers who tried Flower Foods' brands after Hostess disappeared may end up sticking with it.
Buying Hostess's Bread Business
On July 8, Flower Foods confirmed that it had received regulatory approval from the Department of Justice to acquire 20 bakeries and 36 depots from Hostess Brands for $360 million. Flowers is buying the bread business, however, and not the Twinkies and other brands. The breads include Wonder, Nature's Pride, Merita, Home Pride, and the Butternut brand. The transaction should close in a few weeks and then Flower Foods is expected to slowly roll out the re-openings.
Double-Digit Earnings Growth
With Hostess out of action, it's not surprising that 2013 is expected to be a very good year for Flower Foods. Earnings are expected to jump 41%. But while business is expected to cool in 2014, earnings are still forecast to rise another 12.1%.
Flower Foods is scheduled to report second-quarter results on Aug. 13. It has recently turned around its earnings track record and has beaten the Zacks Consensus the last two quarters. Shares have only recently taken off after being dormant for the previous five years.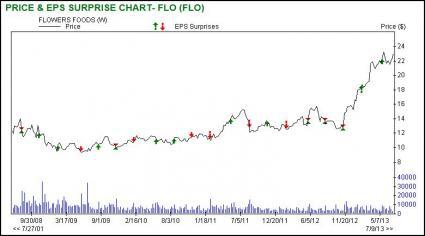 Flower Foods is taking advantage of the demise of a competitor to boost its own market position. For investors looking for one of the "winners" in the bread and snack cake wars, Flower Foods would be it.
Flower Foods: Free Stock Analysis Report (email registration required)