RadioShack Corporation (NYSE:RSH) hasn't been profitable since 2012 as sales and margins have eroded. But this Zacks Rank No. 5 (Strong Sell) has a new CEO and is testing new concept stores. Is it too late to save this electronics retailer?
RadioShack operates 4,300 stores in the United States and 270 stores in Mexico. It also has about 1,000 dealer and other outlets worldwide. On July 1, RadioShack opened up a new concept store on Manhattan's Upper West Side that aims to highlight popular tech devices from Apple (NASDAQ:AAPL), Samsung (OTC:SSNLF), and the others. There will be more hands-on testing capabilities.
Over the next several weeks, RadioShack also expects to open up different store prototypes across the New York area, including New Jersey, and also in Texas. Data from the response to the new stores will be used in determining which of the other 4300 stores across the U.S. will get reconfigured. The company is undergoing changes at the hands of new CEO Joseph Magnacca, who came to RadioShack in February 2013 from Walgreen (WAG). He instituted a 100-day plan to turn it around. He is behind the recent concept store changes, but he needs time to implement the changes.
How Much Time Does RadioShack Have?
On April 23, RadioShack reported its first-quarter results, which were pretty dismal. Comparable same-store sales fell 5.7%. Inventory was up 27% and margins eroded. RadioShack expected continued weakness in first half of 2013. It's scheduled to report second quarter results on July 24, so further details will soon be forthcoming.
For now, however, there is no end in sight to the earnings losses. The company is expected to lose 76 cents in 2013 and another 51 cents in 2014. As for liquidity, at the end of the first quarter it had total liquidity of $820 million.
Shares Sinking Again
Shares have been on an up and down ride the past few months. Recently, they have been sinking again.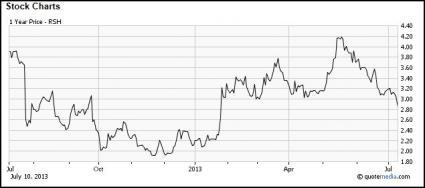 Instead of taking a chance on the RadioShack turnaround, investors should take a look at Texas retailer Conns, Inc. (NASDAQ:CONN). It is a Zacks Rank No. 1 (Strong Buy). It sells not only electronics but is also a play on the housing rebound with beds and appliances.
Conns: Free Stock Analysis Report (email registration required)
RadioShack: Free Stock Analysis Report (email registration required)