Lloyds Banking Group (NYSE:LYG) is one of the largest financial institutions in the United Kingdom where the government holds a shareholder position of 39%. The bank is now facing new challenges supported in its efforts to create cost savings, improve credit quality, and have a credible core business.
It's essential to take a brief look at the bank's situation. Back in September 2008, after HBOS's share price collapse, the completion of a takeover of this bank by Lloyds TSB was a quick deal. It's true that the U.K. government liked this outcome, and it's also a fact that both institutions cheered for the creation of a giant bank -- Lloyds Banking Group. But the global banking crisis was profound and rapidly showed that they had made a poor deal as it brought tens of billions of dollars in losses to LBG. Thus, a heavy legacy would have to be supported by the bank. After a period in which the bank's serious financial problems had no chance to begin to be resolved, new management took office in 2011.
Since then, a strategic plan attacking the difficult problems of the bank has been put in place. In a safe and continuous way, all situations have been identified and are being resolved in accordance with the schedule. It was a real turnaround, still in progress, which has given priority to the sale of substantial non-core assets and has strengthened the balance sheet to achieve a sustainable situation. After several years of losses, the bank has shown profits again in the first quarter of 2013, and dividends are expected for 2014. In parallel with this stage of the recovery, its shares showed a strong increase of 40% in the last three months. At Wednesday's closing share price of 66.10p ($3.97), Lloyds had a market capitalization of £47.4B ($71.1B).
Lloyds Banking Group shares are traded in the U.S. on the New York Stock Exchange as American Depositary Receipts (ADRs), and the ratio of ADRs to ordinary shares is 1:4. Shares have climbed lately above the 61p level, or $0.93, which the Treasury regards as its breakeven point on its financial-crisis bailout of the bank. The average price paid for Lloyds' shares was, in fact, 73.6p, but in March, the Treasury signaled 61p as its preferred measure. This was the price of Lloyds' shares in the market at the time rather than the actual price that the government paid. And it also linked Horta-Osorio's bonus to selling off a third of the taxpayer stake above 61p.
U.K. Financial Investments, the organization that manages the holdings on behalf of the British government, has already appointed investment banks as consultants to sell the stakes in the bank.
Click to enlarge image.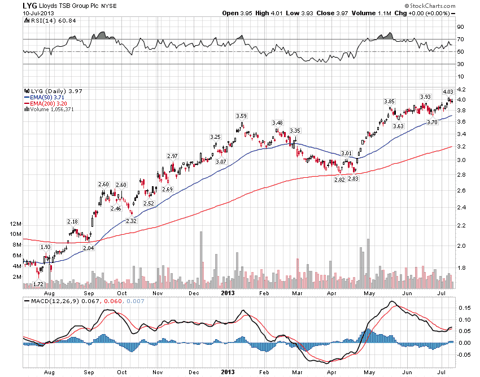 Chart courtesy of StockCharts.com
Lloyds' shares have been climbing since August 2012 to January 2013 when they have doubled in price. Then, they made a correction until April. From there, they have risen sharply, and in the last two months, prices have been making higher highs and higher lows, which is a good sign.
Now that the company has shown a profit in Q1 2013 with a positive guidance and shares are strong, the U.K. government has made public its intention to sell its 39% stake in Lloyds as soon as possible. Last month, George Osborne, the country's chancellor of the Exchequer, said the government was "actively considering options for share sales in Lloyds." While giving no timetable, he said that a sale of the first block of shares was likely to go to institutional investors.
Although the privatization process is already under way, there are questions about how long it will take, and the possibility that some plots have different treatment. Another question concerns the price structure that can be set to allow the government to benefit, at least in part, of any future increases in the Lloyds' share price. Last week, news had pointed to the existence of several proposals from different investors attracted to buying the government's Lloyds shares. It was revealed that Lord Davies, the former trade minister and a senior partner of private-equity fund Corsair, is organizing a £10 billion ($15 billion) bid on Lloyds Banking Group.
Clearly, there are two components here -- one is financial and the other is of a political nature. Lloyds is improving their situation more quickly than expected, and it is again being sought by the private sector. British taxpayers will see the beginning of payment for the support previously made to the bank. Only shareholders who have bought the shares before the acquisition of HBOS, and still hold them, will have to wait for a rise large enough to achieve an adequate compensation. As I mentioned in a previous article, Lloyds Banking Group will continue its recovery plan in order to achieve and exceed their strategic objectives.
Working with the bank's ADR (each one has four common shares) EPS of Q1 2013 were $0.132. Taking growing EPS at a 25% CAGR for the remainder quarters of the year, we will get EPS of $0.76 for FY 2013. Let's assume an extremely conservative P/E of 8 for a bank that is recovering its profitability. At 8x multiple against $0.76/share, we arrive at $6 per share by the end of its fiscal year (December 2013). This relates to upside potential of around 50%.
In my opinion, due to the gradual improvement of its fundamentals, in the medium term, the bank has significant upside potential. The short- and medium-term investment can be attractive and profitable here. But in this paradigmatic case, its shares are an excellent investment for the long term as growth and sustainability can take place on a very significant way. The resumption of the traditional policy of distributing solid dividends will have also a favorable reception from shareholders. After the Q2 2013 earnings report, it will be possible to make a new assessment of this bank, which at the present time has nothing to do with the troubled financial institution of 2009.
Sources: In addition to other research, the data collected by the author was obtained through the bank's site and related documents.
Disclosure: I have no positions in any stocks mentioned, and no plans to initiate any positions within the next 72 hours. I wrote this article myself, and it expresses my own opinions. I am not receiving compensation for it (other than from Seeking Alpha). I have no business relationship with any company whose stock is mentioned in this article.
Disclaimer: The author of this article gives only his personal view and opinion, never making any investment advice to buy or sell specific securities. The information presented is from sources believed to be reliable, but its accuracy cannot be guaranteed. Before investing in financial assets, investors should do their own research and consult a professional investment advisor.