It did not last long. It was just the other day that I wrote an article discussing how the game has changed for investment markets. This was due to the fact that Chinese officials had shifted toward a policy tightening while the U.S. Fed was seeking to phase out its QE3 asset purchase plan in the coming months. But all of a sudden it appears that the story has changed following seemingly dovish comments from Chinese Premier Li and Fed Chairman Bernanke. Not surprisingly, markets around the world responded on Thursday with a massive jolt of euphoria. Given this apparent shift, it is worthwhile to examine the associated implications for investment markets in the days and weeks ahead.
Policy Schizophrenia or Market Schizophrenia?
Before going any further, it is worthwhile to explore exactly what has changed on the policy front in the last 48 hours. The perception across investment markets has clearly shifted dramatically following the comments from Premier Li on July 9 and Chairman Bernanke after the market close on July 10. But perception is not necessarily reality, as a closer look at their respective statements suggests that nothing at all has changed.
I will begin with Bernanke and the Fed. The first statement is from Chairman Bernanke's press conference following the Fed's June 19 meeting.
I will close by drawing again the important distinction between the Committee's decisions about adjusting the pace of asset purchases and its forward guidance regarding the target for the federal funds rate. As I mentioned, the current level of the federal funds rate target is likely to remain appropriate for a considerable period after asset purchases are concluded. To return to the driving analogy, if the incoming data support the view that the economy is able to sustain a reasonable cruising speed, we will ease the pressure on the accelerator by gradually reducing the pace of purchases. However, any need to consider applying the brakes by raising short-term rates is still far in the future.

-- Chairman Bernanke, June 19
The second excerpt is from the Minutes of the Federal Open Market Committee - Summary of Economic Projections from their June 19 meeting after which Bernanke made the above comments that were released on Wednesday.
Participants also described their views regarding the appropriate path of the Federal Reserve's balance sheet. Given their respective economic outlooks, all participants but one judged that it would be appropriate to continue purchasing both agency MBS and longer-term Treasury securities. About half of these participants indicated that it likely would be appropriate to end asset purchases late this year. Many other participants anticipated that it likely would be appropriate to continue purchases into 2014. Several participants emphasized that the asset purchase program was effective in supporting the economic expansion, that the benefits continued to exceed the costs, or that continuing purchases would be necessary to achieve a substantial improvement in the outlook for the labor market. A few participants, however, indicated that the Committee could best foster its dual objectives and limit the potential costs of the program by slowing, or stopping, its purchases at the June meeting.

-- Minutes of the Federal Open Market Committee - Summary of Economic Projections, June 19
So at the June 19 FOMC meeting, we had roughly half of the members in the room that wanted to end asset purchases late this year. This means taking asset purchases from $85 billion to zero between now and December 2013. This implies a pace of tapering that is far more aggressive than has been discussed to this point. A few members even wanted to start tapering or end the asset program completely effective immediately. And the remaining many other participants felt it was appropriate to continue purchases into 2014. All of this implies that on June 19, the conversation was not a question of "if" but "when" on QE3 tapering, and the language implies that the mid-2014 date to end the program provided by Chairman Bernanke was among the most dovish views in the room.
We then fast forward to Wednesday when Chairman Bernanke provided an answer to a question following a speech at the National Bureau of Economic Research. I have included his entire answer for full context.
So you put that all together, and I think you can only conclude that highly accommodative monetary policy for the foreseeable future is what's needed in the U.S. economy. Now, how does that relate to recent communications? I think the issue has to do with - not so much with the overall accommodation, but rather with the mix of instruments being used to provide that accommodation.

The Fed has two instruments that we've been using in the context of interest rates close to the zero lower bound. The first, asset purchases, we have thought about, and I've frequently described as, providing some near-term momentum to the economy. In other words, we have said that we are trying to achieve a substantial improvement in the outlook for the labor market in the context of price stability.

We've made progress on that, but we still have further to go. But again, that's the objective of the asset purchases is to provide near-term momentum to try to get the economy moving forward more quickly.

The second tool that we have is our rate policy, short-term interest rates, and associated with that is the forward guidance that we provided to the public about our expectations for when rates might change. And in particular, we said that we will not raise interest rates until - at least until unemployment hits 6.5 percent, as long as inflation is well-behaved - again, I think as I've said before, that that 6.5 percent is a threshold, not a trigger. There will not be an automatic increase in interest rates when unemployment hits 6.5 percent. Instead, that will be a time to think about the situation anew. And given, as I said, the weakness of the labor market, the fact that the unemployment rate probably understates the weakness of the labor market, given where inflation is, I would suspect that it may be well sometime after we hit 6.5 percent before rates reach any significant level.

So again, the overall message is accommodation. There is some prospective gradual and possible change in the mix of instruments. But that shouldn't be confused with the overall thrust of policy, which is highly accommodative.

-- Chairman Bernanke, July 10
My interpretation of his response is the following based on his words. The Fed is going to keep interest rates at zero percent for the foreseeable future. According to the FOMC's Summary of Economic Projections from its June 19 meeting, 14 of 19 members believe keeping rates at 0% until 2015 is most appropriate at present. And one of the five not on board with 2015 is inclined to keep rates at zero even longer into 2016. This is the "accommodative monetary policy for the foreseeable future" to which Bernanke is referring. This is why he makes reference to the "mix of instruments being used to provide that accommodation". And in elaborating on the asset purchase side of this mix, Chairman Bernanke uses the phrase "near-term momentum" twice, reinforcing the point made in his June 19 commentary that asset purchases are ongoing for now and "have further to go", but they are likely going to start being phased out sooner rather than later.
What about the comments from Premier Li? The comment that many interpreted as dovish from a meeting in China's Guangxi province was the following:
If economic growth rate, employment and other indicators don't slip below our lower limit and inflation doesn't exceed our upper limit, we will focus on adjusting the structure, promoting reform and pushing forward economic transformation and upgrading.

-- Premier Li, July 9
The implication is clear that if China's growth rate slows too much and inflation is not a problem, they will provide stimulus to support the economy. But these comments are largely consistent with the policy stance implied by Li both during his first speech as Premier back in March as well as during a speech broadcast in mid May, with this lower limit for GDP growth widely viewed to be in the 7.0% to 7.5% range. And if the Chinese government does end up providing stimulus, it is likely to be targeted toward priorities consistent with the broad structural reforms emphasized by the new leadership, which are not likely to be of the asset inflating variety.
In short, my read on both Chairman Bernanke's and Premier Li's comments in recent days is that absolutely nothing has changed from June 19. For the Fed, tapering is likely coming in September and interest rates are going to stay at 0% until at least 2015. As for China, structural reform remains the primary priority but targeted stimulus is at the ready if needed.
Of course, when it comes to investment markets, it is often not about the reality but the perception instead. This highlights a critically important risk going forward, which is the following. A policy maker might make a statement on any given day that can send markets reeling violently lower across the board. And that same policy maker might make what is effectively the same statement at a later date that can send markets soaring euphorically higher. This is a risk that is largely beyond modeling. Instead, it is behavioral response that is not only random but resigns investors to endure a potential game of chance on any given trading day. And it is one of the many reasons that policy makers need to both stop talking so much and work to diminish their significance on a day-to-day basis in order to help return investment markets to their proper functioning. The sooner this transition takes place the better. In the meantime, it is critically important to examine the investment implications.
Redrawing The Market Battle Lines
So where do we stand following the market response on Thursday? Some markets have turned wildly enthusiastic. Some remain in flux. And others were largely unmoved.
We will begin with the obvious. The stock market that hated what Chairman Bernanke had to say on June 19 loved his words on Wednesday. And despite any notable news on the economic or market front, stocks have gone from being trapped above their 20-day moving average for much of last week and getting crammed across the 50-day moving average goal line at the close of trading last Friday when virtually everyone around the world was already on holiday or gone for the weekend to setting a new all-time closing high on the S&P 500 (NYSEARCA:SPY) only a few days later. Looking ahead, the final barrier for stocks is the intraday high of 1687 on the S&P 500, which looks more than achievable given the relative strength and momentum tailwinds currently behind the market. Whether it is supported by fundamentals and technicals or not (it's not), the market clearly appears to want to move higher at least for now.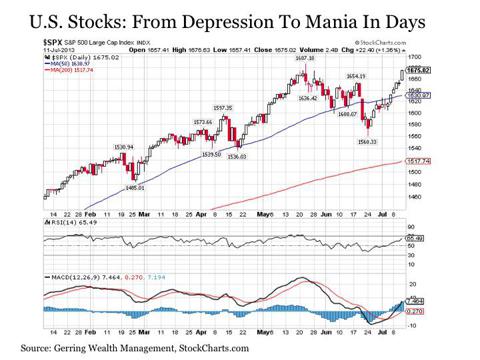 While bonds also rallied following Bernanke's speech, the response was far more muted. The advance among U.S. Treasuries was solid, with the 10-year yield declining by 11 basis points to 2.57% and the 30-year yield dropping by 7 basis points to 3.62%. But interest rates on both of these measures remain solidly locked in an uptrend despite Thursday's rally. To see a true reversal for the bond market, we would need to see 10-year and 30-year yields break below their 20-day moving averages currently at 2.46% and 3.51%, respectively. An even more bullish breakout would occur with 10-year and 30-year yields slicing below 2.40% and 3.50%. In short, the bond market still has a great deal of repair work to do and does not appear to be a buyer of the Thursday optimism exhibited by stocks about Fed policy.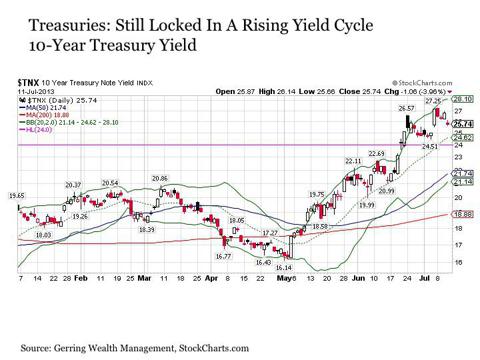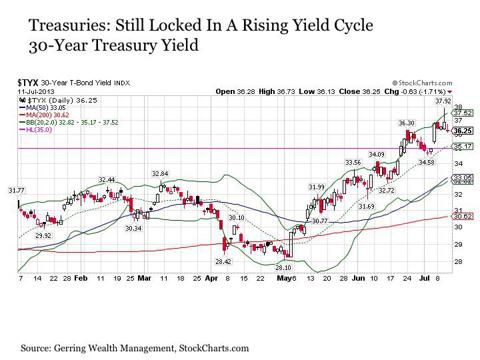 What about the precious metals? This is where the story gets interesting. The circumstances are notable enough that I've broken it out into a separate article. I will follow up with a link in the comment section once this article is published.
The Implications For Investors Going Forward Remain The Same
Despite the change in investor mood about policy, the implication for investors going forward remains the same. A market that is swinging violently in either direction on the sometimes arbitrary interpretation of the words uttered by key global policy makers is not a healthy one at its core. The fact that asset class returns have often become highly correlated during these market reactions is problematic from a risk control perspective. And given that we are likely in a phase where policy makers are trying to guide the market to an environment like the U.S. where future stimulus is likely to be less or China where the priority is more on structural reform is likely to result in more frequent and violent market volatility than what we have seen in the recent past. Thus, viewing portfolio positions with shorter time horizons and a greater emphasis on tactical positioning is prudent in the current environment. Moreover, using cash allocations as a portfolio hedging tool becomes far more relevant today given the propensity for unusually high asset class correlations during periods of market stress whether it is positive or negative.
At present, stocks continue to offer the most upside opportunity, although it should be recognized that this could change quickly on any given day or policy maker speech. Domestically oriented U.S. small caps (NYSEARCA:IWM) continue to outperform, and I remain long this area of the market via the iShares Core S&P Small Cap ETF (NYSEARCA:IJR). U.S. industrial stocks (NYSEARCA:XLI) are also currently attractive given their high correlation to the broader S&P 500 Index coupled with their more cyclical exposure and relatively less interest rate sensitivity. U.S. real estate stocks (NYSEARCA:VNQ) also set up well from a technical perspective and now offer more reasonable value following their recent sharp pullback since mid-May. Looking beyond the U.S., although the fundamental economic story remains unexciting, Japanese stocks (NYSEARCA:DXJ) also offer appeal. This is particularly true following their recent pullback due to the absolutely massive flow of stimulus that is forthcoming from the Bank of Japan. The volatility associated with the Japanese capital markets must be watched closely in relation to any position here, however.
Overall, we remain in an environment where the swings in capital markets may prove unpredictable at any given point in time. Sometimes this will lead to euphoric advances. Other times it will result in staggering declines. Now more than ever it will be important to keep a sharp eye on investment portfolios to protect against these wild swings.
Disclosure: I am long IJR, DXJ, XLI, VNQ. I wrote this article myself, and it expresses my own opinions. I am not receiving compensation for it (other than from Seeking Alpha). I have no business relationship with any company whose stock is mentioned in this article.
Disclaimer: This post is for information purposes only. There are risks involved with investing including loss of principal. Gerring Wealth Management (GWM) makes no explicit or implicit guarantee with respect to performance or the outcome of any investment or projections made by GWM. There is no guarantee that the goals of the strategies discussed by GWM will be met.