As this Motor Trend article states, Tesla (NASDAQ:TSLA) ended Q2 with a 12% sales decline (4181 units sold in Q2 versus 4750 in Q1). As some have predicted the initial sales demand from the very wealthy and car enthusiasts may be wearing off. Also with the recent uptick in the sales of the Chevy (NYSE:GM) Volt and Nissan (OTCPK:NSANY) Leaf (Volt, through June, has 9855 units sold and the Leaf 9839 units), which are both outselling Tesla, Tesla is having more pressure from the competition. With the recent price reductions of the Volt according to this article, a buyer can potentially get the Volt in California for under 30 thousand dollars. So time will tell how low the sales of the Model S will go and if those sales will continue to have a high margin through the internet sales model.
So what does this all mean for the valuation of Tesla? It means that the bears might be coming back, since according to Nasdaq, Tesla's short interest grew by almost 7% in June. It also means that Tesla has not been disclosing sales for a reason, they most likely knew the initial rush would end soon and that is a big reason they are pushing hard to get the "Gen III" out, that should be under 50 thousand dollars. They probably have a backlog that can keep outputting 20k units for another several quarters, but after that the Motor Trend article predicts a yearly output of 18k units of the Model S. If we take that into account at the current gross margin projections of 20% and about a 4% profit margin projection, that is an EPS of roughly 0.53 cents and if the market still decides to give it a "growth P/E" of 100, that is roughly a value of $53 per share currently.
But since this is considered to be a cult and growth stock that people love, they will most likely start to price in future "possible" sales of the Model X and Gen III, which we can also dissect. Taking into account that Chevy and Nissan are selling roughly 20k units each of their pure electric cars and mix in other electric cars, there might currently be a 50-75k unit market in the world for this pure electric car in the 30-50 thousand USD price range. So now we will assume (favorably) around 18k units of the Tesla S (which in all reality will probably decline much further over the years) and a range for the Model X and Gen III over the next 4 years. We arrive at the following price valuation: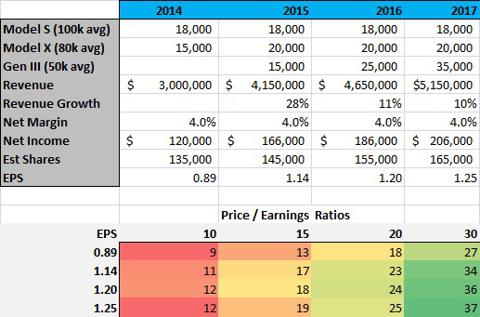 *first rows are projected units sold and price average per car sold in parenthesis
There are several very bullish assumptions in this valuation:
1. Tesla reaches and continues to maintain an industry leading 4% Net Margin
2. The Model S does not continue to have sales decline of 12% every quarter
3. The United States does not ban the internet auto sales model introduced by Tesla, which would dig deeply into the Net Margins
4. The GEN III comes out in 2015, with a price tag of 40-50k and is able to compete with the Volt and Leaf, which are already in the 30-40k USD range
5. The GEN III has immense success and can get up to a an extraordinary 35k units shipped a year by 2017
6. Tesla is able to not print more than 10 Million additional shares a year to fight legal battles, increase R&D to put out the GEN III and other models and advertising spend
7. Not looking at any of the future potential competition, such as: new luxury hybrids, new less expensive pure electric cars, new alternative technology like hydrogen and natural gas, prices of lithium batteries, foreign copy cats... the list goes on
Taking these favorable assumptions into account, the projected EPS are shown above. The reason why I have lowered the P/E ratio from a range of 10-30 versus the current nonexistent P/E for Tesla (because they currently have a negative EPS), because Ford (NYSE:F) has an EPS of 1.48 and a P/E of 11. This is a reasonable and fair valuation when the revenue growth decreases to 10% at the end of 2017 in the proposed model. With such a growth, Tesla will no longer be a startup and "growth stock" and will be considered to be an established automotive company that will be tagged with a realistic P/E.
To conclude, although the shipments are still impressive for a small auto company and we will see how they do with their 21k units predicted as well as trying to reach a 20% gross margin, the sales decline should not be taken lightly. The Model X will most likely have a good fan base and at a lower price tag might get up to 20k units a year as well, but until the GEN III comes out, no one will know the real value of the Tesla stock. So the price might bounce around for a couple years, but eventually the roller coaster ride will be over and Tesla will most likely be tagged with an "automotive" stock price per earnings just like every one of their competitors.
Disclosure: I have no positions in any stocks mentioned, but may initiate a short position in TSLA over the next 72 hours. I wrote this article myself, and it expresses my own opinions. I am not receiving compensation for it (other than from Seeking Alpha). I have no business relationship with any company whose stock is mentioned in this article.