While economists were looking for a modest decline in the last week to 340K, first time initial jobless claims actually rose by 16K to 360K. This was the highest level since May 10th, but it could have been distorted by the July 4th holiday. Nonetheless, the headline number was weaker than expected.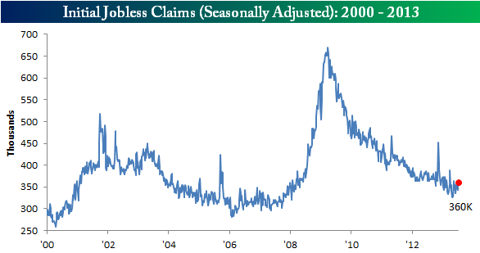 With this week's increase, the four-week moving average rose to 351.8K. It has now been 10 weeks since the four-week moving average made a post-recession low, and with the current low at 338K, it will be at least a few more weeks before that level is tested again.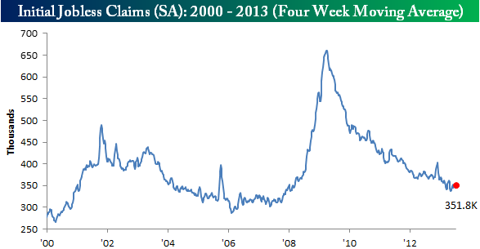 While the seasonally adjusted numbers showed signs of weakness this week, on a non-seasonally adjusted (NSA) basis, this week's report could have been the best report in months. On an NSA basis. jobless claims rose by just under 50K to 384.8K.
This may sound bad on the surface, but when you take into account the fact that the average increase for the current week of the year is 73K, a gain of 50K is not so bad. Furthermore, the last time jobless claims were this low for the current week of the year was nine years ago, all the way back in 2004!