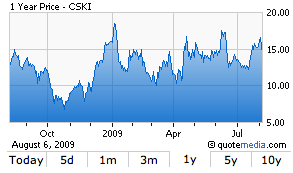 China Sky One Medical Inc, (NSDQ: CSKI) is considering raising funds to finance acquisitions. The company's primary goal will be to acquire new products, instead of whole brands or entire companies, according to CEO Liu Yanqing who was quoted in a Reuters article. Liu said the timing for the move seems right. Improved optimism in stock markets has made it feasible to raise funds, while China's huge healthcare expansion will increase demand for drugs.

With regards to the current financial atmosphere, Liu added,
The U.S. capital market is recovering, companies with China exposure are enjoying strong recognition and many investment banks and funds have expressed confidence in prospects for China's economy.
Liu did not, however, disclose any specific fundraising plans.

China Sky One expects its revenues to jump 40% to $130 million in 2009. In late 2008, the company received SFDA permission to add a large number of new drugs to its product offerings, a lineup that concentrates on external use products.

At the start of the year, its stated goals for 2009 were building its sales and distribution networks and strengthening its brand image. Acquisitions also figured in the equation, but it seemed as though China Sky One would concentrate on capitalizing on its previous gains, rather than buying new products.

The opportunities presented by China's healthcare initiative may have changed the emphasis.

China Sky One will increase its R&D spend to 10% of sales this year, up from 8% last year. In 2008, advertising was 8% of its revenues; the company expects to boost advertising to 10%-12% this year.

China Sky One raised $25 million in new capital in February 2008. The usual pattern for the company has been to make incremental acquisitions that added products around its core offerings. It did not make high-dollar "transformative" deals that took the company in novel directions.

Disclosure: none