It seems as if Intel (NASDAQ:INTC) is going after another market using its Silvermont processor architecture: "Intelligent Systems." This, in Intel-marketing speak, is code-word for embedded systems, and I believe that it further cements my thesis that Intel is diversifying away from being a company that competes in a few fairly narrow (but lucrative) end markets and instead is targeting a wide range of applications. While these growth initiatives may not play out during 2013 (particularly as these new products will be released near the end of the year), I expect that these more than set Intel up for a strong 2014, even if PC sales have not yet bottomed by then.
What Is This New Chip?
The new system-on-chip is called Bay Trail-I, which stands for, unsurprisingly, "Bay Trail for Intelligent Systems." Leaks from awhile ago suggested that these chips were coming, but after perusing the Intel Developer Forum 2013 session catalog, it's clear that this new SoC will likely be launched by the end of the year. That would be in concert with the rest of the Bay Trail family for tablets, low-cost clamshell PCs, convertibles, and so on.
Click to enlarge images.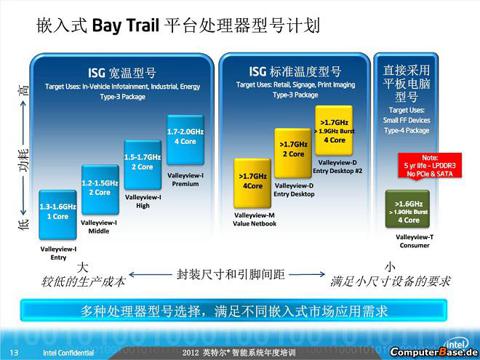 While we do not yet know precisely how the SoC differs on a technical level from, say, the notebook/convertible, desktop, and tablet versions, we do know from yet another recent leak that they will be coming in 1, 2, and 4 core versions at TDPs no greater than 10W (table courtesy of The Tech Report).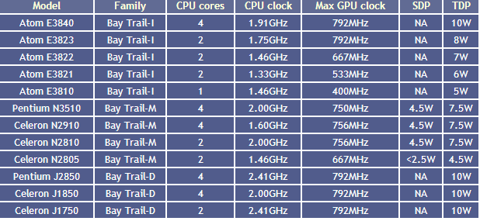 So, Why Should We Care?
Tech specs are nice, but why should investors care? I have quite a few reasons. First and foremost, notice that Intel's Silvermont core will now be targeted at an incredibly broad set of end markets, now including:
Smartphones
Tablets
Low-cost notebooks
Low-cost desktops
Micro-servers
Networking infrastructure
In-vehicle infotainment systems
Industrial controls
This means that Intel's chip volume is set to increase dramatically, even if it is selling a bunch of lower cost chips (blended ASPs for all chips go down, but revenue likely to increase significantly). Furthermore, the fact that Intel is building custom SoCs for each of its target markets signifies a fundamental shift in the development methodology within the company.
Now, interestingly enough, this is a space where Intel's manufacturing/chip scale is actually a significant advantage. The same fundamental Atom core is used across all of these segments, which means that the R&D costs are amortized over a broad swath of processors across multiple segments. The real incremental development cost, then, is in R&D. But as Advanced Micro Devices' (NYSE:AMD) Andrew Feldman is so keen to point out, the actual design time/cost for an SoC once the core is in place (or licensed off the shelf) is significantly lower than doing the actual core (think ~18-month design cycle). So think of it this way: The processor core/GPU core/etc. development team is like an internal ARM Holdings (NASDAQ:ARMH), and then all of the SoC design teams within Intel are like the various ARM licensees.
Now, this is also a space where wafer-scale is important. While I do believe that Intel has key fundamental advantages thanks to its process technology and co-optimization of chip and said process, this really all comes down to scale. Intel can deliver very competent parts, and it can do so reliably in high volume. There's no waiting in line at Taiwan Semiconductor (NYSE:TSM) or fighting for enough capacity to meet demand, and if Intel can actually keep its fabs full (and I believe that it will), then Intel reaps the benefits of getting paid both the design margin as well as the foundry margin.
Yet More Hope for Intel's Long-Term Future
Intel is becoming a full SoC design house that targets many end markets. While today the PC represents a significant part of Intel's revenue, I believe that the increasing ubiquity of computing will drive new opportunities for Intel going forward. I further believe that as Intel gains meaningful share in these markets, the company's manufacturing scale, process lead, and ability to amortize key IP development costs over a wide number of markets will have a profoundly positive effect on Intel's long-term earnings power.
I look very forward to the upcoming investor day presentation at which the opportunities in these new end markets (industrial, in-vehicle infotainment, networking, and micro-servers) are likely to be quantified and investors' long-term models can be appropriately updated to reflect these incoming revenue streams.
Disclosure: I am long INTC, AMD. I wrote this article myself, and it expresses my own opinions. I am not receiving compensation for it (other than from Seeking Alpha). I have no business relationship with any company whose stock is mentioned in this article.