Looking for undervalued Tech high dividend stocks? From a value standpoint, that makes sense, seeing as how Tech is second-to-last in sector performance so far in 2013.
Himax Technologies, (NASDAQ:HIMX), is a Taiwan-based fabless semiconductor solution provider dedicated to display image processing technologies. Its stock sells in the US via ADS shares.
Himax operates in 2 segments, Driver IC and Non-Driver Products. Its principal products include display drivers and timing controllers for large-sized thin film transistor liquid crystal display (TFT-LCD) panels that are used in desktop monitors, notebook computers, and televisions; and display drivers and timing controllers for small and medium-sized TFT-LCD panels, which are used in mobile handsets and consumer electronics products, such as tablet PCs, netbook computers, digital cameras, mobile gaming devices, portable DVD players, digital photo frames, head-mounted-displays, and car navigation displays.
Himax also offers touch controller ICs for electronic devices, such as smartphones, mobile Internet devices, and tablet PCs; TFT-LCD television and monitor semiconductor solutions; and liquid crystal on silicon (LCOS) microdisplays solutions, including color-filter LCOS, color-sequential LCOS, and micro-electro mechanical systems.
Performance: HIMX has had a wild ride over the past year, ranging in price from $1.47, up to $8.19 on May 16th, only to fall 37% since then, to its current $5.20 price. HIMX rose up on waves of speculation that it would be a supplier for Google's "Glass", a head-mounted display, and its much-improved EPS.
HIMX's recent fall was attributed to one of its customers, Innolux, disposing of its entire holding of Himax shares, which HIMX accomplished in a shelf registration, that avoided any dilution of the U.S. HIMX ADS shares. Innolux disposal of shares was part of its divestment strategy that will enable it to focus on its core business of TFT-LCD manufacturing.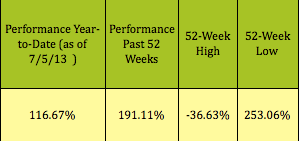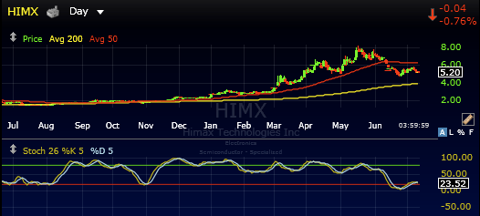 Click to enlarge
(Click to enlarge)
This big pullback has created several lucrative opportunities. HIMX goes ex-dividend for its annual dividend on Wednesday, 7/17/13.

Strategy 1: All of the negativity around HIMX has inflated its put option prices, to the point where you can earn a 20% nominal yield by selling its December 2013 $5.00 puts. This equals over 45% annualized for this 5-month trade. This December put pays 4 times HIMX's annual dividend, and gives you a breakeven that's 23% below HIMX's $5.20 share price. (You can see more info on this and over 30 other trades in our free Cash Secured Puts Table.)

Click to enlarge
(Click to enlarge)
Strategy 2: If you own shares before the 7/17/13 ex-dividend date, you can also earn a higher yield via combining the annual dividend with selling covered calls. This December 13 $6.00 call trade, from our Covered Calls Table, also pays much more than the $.25 dividend ...

Click to enlarge
(Click to enlarge)
... and, since the $6.00 strike price is $.80 above HIMX's $5.20 price/share, you also have the potential to participate in a price gain of $.80/share, if your shares get assigned/sold away.
Here are the 3 scenarios and nominal yields for this trade:
A. Static (non-assigned): A 17.31% yield
B. Assigned before the ex-dividend date,(pretty unlikely, since there are only 2 trading days left before the ex-dividend date): A 27.88% yield
C. Assigned after the ex-dividend date: A 32.69% yield

Click to enlarge
(Click to enlarge)
Why you should consider these trades or just buying the shares for dividend income and additional price appreciation: Even very high options yields like these won't do you much good, if there's no compelling reason to own the underlying stock. Fortunately, HIMX has been experiencing major growth, and is estimated to continue doing so in 2013 and 2014.
In looking for undervalued growth, we've found it increasingly hard to find dividend stocks with very low PEG ratios, (P/E divided by EPS Growth), for both 2013 and 2014. HIMX has this in spades, and looks very undervalued on a PEG basis: a 2013 PEG of just .39, a 2014 PEG of only .38, following up on 400% EPS growth in 2012.

Click to enlarge
(Click to enlarge)
HIMX also had very good Q1 2013 earnings growth, respectable sales growth, (which is becoming not as common in 2013), and has a very low 5-year PEG of just .59: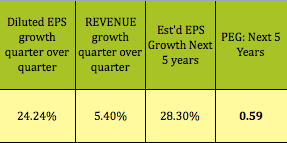 What's driving all of this growth?
Several factors: HIMX has been diversifying its product mix, with an emphasis on higher margin smartphone applications, as management noted on its Q1 2013 earnings call: "Smartphone application has been the largest revenue contributor among all panel applications since the third quarter of 2012. We expect the sales for smartphone application will continue its growth momentum throughout the rest of 2013. In addition to volume growth, we are also benefiting from the industry trend toward higher resolution as mentioned in our last call. Higher resolution will not only benefit our revenue but also gross margin." (HIMX's gross margin improved to 23.1% in 2012, vs. 19.8% in 2011, and rose to 24.6% in Q1 2013.)
In its non-driver business, management expects its "CMOS image sensor product line to rebound strongly in Q2 with sales expected to triple from the previous quarter to become our single largest non-driver segment."
Management is also confident about new business prospects: "With more complete product offerings covering newly-launched 8 mega-pixel and solid shipping records of our existing products, we expect to break into new and leading smartphone brands in the second half of 2013 and continue to penetrate the tablet, IP Cam, surveillance and automotive markets."
Concerning the possible future Google Glass business, HIMX cannot disclose that info as of yet, but they did state that, "In anticipation for potential product delivery ramping, we have recently embarked on certain capital expenditure to upgrade our in-house LCOS facilities."
HIMX has superior Management Efficiency ratios, a higher Operating Margin, and a low debt load, vs. its Industry averages:

Click to enlarge
(Click to enlarge)
Additional Valuations: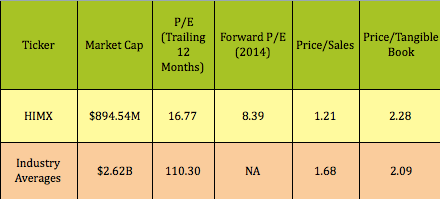 Disclosure: I am long HIMX. I wrote this article myself, and it expresses my own opinions. I am not receiving compensation for it (other than from Seeking Alpha). I have no business relationship with any company whose stock is mentioned in this article. I'm also long HIMX, via being short HIMX put options.
Disclaimer: This article was written for informational purposes only.