With new 52-week highs being hit it seems every day (there were 727 of them yesterday) by the companies with compelling stories and names that should be in many investors' portfolios, we feel as if things have once again shifted toward an investor's market rather than a stock picker's market. That said, as it pertains to our portfolios and those friends and family who we help devise portfolios for, our attention has shifted away from indices and sector ETFs and exclusively toward individual stocks. We have not made moves to sell those index holdings, but will keep our exposure where it currently stands on a dollar basis.
One now must use the charts to find trading ideas and deeper research into the business models of names that are underperforming. Yes, it requires more work, but this is laying the groundwork for when one must focus on individual stocks because general markets are stalling. We seek value and even though we are sometimes dubbed traders, the bottom line that drives our success is that whether it is a momentum trade, channel trade, or long-term trade for our retirement funds, we are always seeking value. This is something we want readers to focus on here because even in this market with indices at all-time highs, there is value to be had.
Chart of the Day
The recent action of this chart explains why people are worried about the housing market and housing-related stocks, but the entire chart shows why they should not necessarily be losing sleep over the action of the past few months. Yes, we are at two-year highs on the 10-year, the yield for which is used to price traditional 30-year mortgages. But we are still very near all-time low rates, and looking at a 30- to 50-year chart interest rates one could not see this recent price action. Perspective is important.
Click to enlarge images.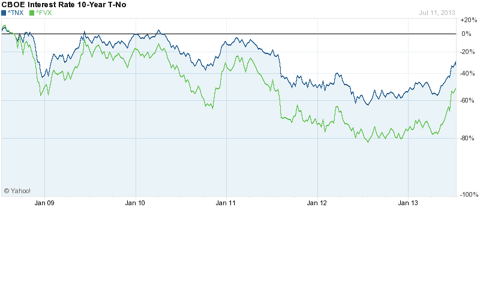 Click to enlarge
Source: Yahoo Finance.
We have economic news due out today and it is as follows:
PPI (8:30 a.m. ET): 0.3%
Core PPI (8:30 a.m. ET): 0.1%
Michigan Sentiment (9:55 a.m. ET): 85.0
Asian markets finished mixed today:
All Ordinaries -- up 0.21%
Shanghai Composite -- down 1.62%
Nikkei 225 -- up 0.23%
NZSE 50 -- up 0.18%
Seoul Composite -- down 0.41%
In Europe, markets were trading mostly higher this morning:
CAC 40 -- up 0.16%
DAX -- up 0.97%
FTSE 100 -- up 0.42%
OSE -- down 0.16%
Conglomerates
There might not be a better gauge for the health of the U.S. economy than Berkshire Hathaway (NYSE:BRK.B) right now. Every bull market has a conglomerate that leads the way, and in the past it has been General Electric (NYSE:GE). However, with the guidance of Buffett and the company's deployment of their cash stockpile during the financial crisis, Berkshire shareholders now have more diversification than ever before. On top of that they are invested in great companies in great sectors, with their railroad acquisition being the driving force behind this investor exuberance.
Transports are powering the market higher and Berkshire has benefited greatly from their exposure to the sector, with the fact that shares hit another all-time high yesterday being strong evidence. When it comes to railroads we are bullish, and when it comes to the U.S. economy we are bullish as well. Combine those two and you get something that looks a lot like Berkshire Hathaway, and we are bullish on that as well. This is still a great long-term buy for investors here.
There is probably no better indicator of how the U.S. economy is doing right now. Buffett has certainly gotten his groove back, and so too have Berkshire Hathaway shares.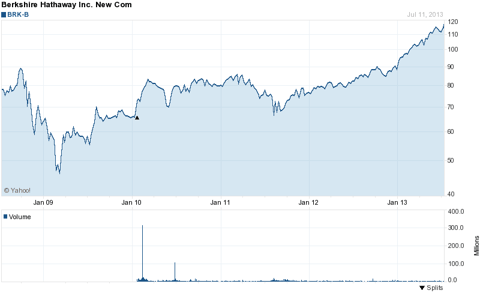 Click to enlarge
Source: Yahoo Finance.
Housing
While we are bullish the railroads, we are also bullish all things housing and housing-related. Rates rising is an issue for those on the margin, but if one looks at the big picture, rising rates that rise gradually and within reason should be bullish as it indicates better growth for the U.S. economy without inflation pressures. To the novice it seems counterintuitive, but think of it this way: If a doctor had a severely sick patient they would place them in the intensive care unit, as they got better they would move them to a regular room, and at some point the patient becomes healthy enough so that you can take all of the tubes out and turn off the support machines and send them home. That is where we are at with rates.
Should homebuilders come under pressure when talk of tapering arises again, and it most certainly will, then we would be buyers of the industry. Look at the move in PulteGroup (NYSE:PHM) yesterday, where the shares rose 7.20% on volume of 12.6 million shares. Those moves happen when you get market participants trying to game the system. As many were caught on the long side of the trade when talk of tapering first surfaced, many were on the short side this time when that talk subsided in recent Fed comments. It will pay for readers to invest in a contrarian manner with the housing names over the next few years. Buy on weakness.
Retail
RadioShack (NYSE:RSH) caught our eye this week with volume surging and volatility as well. Something is always up when action like that takes place, and when a story takes awhile to come out rumors begin to float. That is what took place yesterday as the shares nosedived on the back of a report from Debtwire (see reporting by Reuters here) that said the company was evaluating whether to hire a financial advisor, which led to words like "bankruptcy" getting thrown around before cooler heads could prevail.
The chart below says it all, and although shares did rally into the close the story behind the move should make every investor pause before wanting to jump in. If you want retail exposure, there are so many more names out there with attractive valuations and much better short and long-term prospects.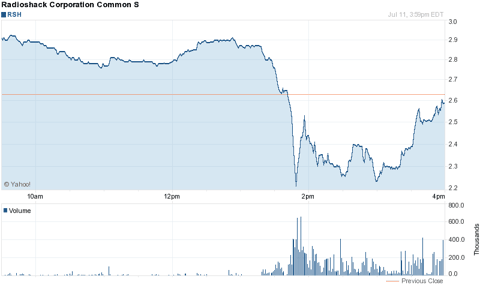 Click to enlarge
Source: Yahoo Finance
The bonds took a dive too, and the company issued a statement to confirm that they were considering a financial advisor hire to evaluate its balance sheet and gave investors guidance on their liquidity in an attempt to get ahead of the story and better control the narrative. The retailer has been battered over the years and has a tough time competing against the big-box and discount retailers; we thought this name would have disappeared a long time ago during some of the more severe recessions. The fact that it has not already happened is a bit of a miracle, but that said, we would advise readers to stay far away -- even those who are traders and have sent us messages about the name.
Technology
It is well documented that U.S. equities are at or near all-time highs in nearly every index out there. The one exception that grabs everyone's attention is the Nasdaq, however, and that is due to its Internet bubble highs having been so outrageous. An investor simply looking at the indices that track tech (or lead depending on how you look at the situation with ETFs and the way they are traded) does not get the full story that is taking place right now. That underlying story is something we find quite interesting because the strength of the tech rally is actually being masked by some pretty large big caps.
We are speaking of Apple (NASDAQ:AAPL) here and the weakness that has plagued shares as investors first grew anxious and then became frustrated by the company's lack of new product releases. All this happened while rivals developed competing devices that seemed to either close the gap with key products or, in some cases, surpass the offerings by Apple. All that is well-documented, but with Apple having bounced around and lost much of its fast money and hedge fund investors -- or at least seen many lower their exposure -- the stock has traded around the $400-430/share level.
With yesterday's move and the back-to-school shopping season beginning, we think that this might very well be a buying opportunity for investors. The $440/share level is where your initial attention should be focused in regard to a figure to take out. The $460/share level would be the key resistance level that would need to be breached in order to have what we like to call an "inflection rally" -- a situation where resistance is broken and it becomes obvious to investors that the stock is headed higher and everyone piles in. There is good momentum here, and with Apple having underperformed so poorly, it very well could be a stock that attracts capital heading into the end of the year as it presents a compelling play on current valuations and does a brisk business during those months.
This six-month chart shows the tail end of the fall from grace for Apple shares, but it also shows momentum building and opportunity.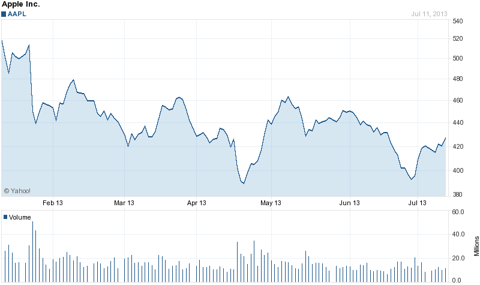 Click to enlarge
Source: Yahoo Finance.
The fear with Apple is that history will repeat itself and that their lead in tablets and smartphones will be whittled away as other companies are able to use free Android OS software and really crimp margins in a race to the bottom. That is why we have been bullish on shares of ARM Holdings (NASDAQ:ARMH), whose technology is found in many smartphones and offers a play not on the success of one product or family of products, but rather the entire category. We rode this to all-time high levels a few months ago and remained bullish as shares fell. We did not recommend selling on the way down, but also did not recommend buying as it was apparent we were in Crazytown territory.
As these cheaper smartphones penetrate world markets and bring technology to a greater portion of the population in areas like Asia, Africa and South America, we will see more and more licensing revenues for ARM. Our research points to the rise in revenues, based on current agreements, outpacing any price concessions for these new sales to what we will call "bargain markets" for smartphones. We found the support at $35/share and now our attention is on the $40/share level where we will probably have to deal with a fair amount of resistance. There should be a decent bump if we break through.
Watch for a move above $40 that then clears the $40-45/share range for a move higher. This can be a simple short-term trade for readers who seek those opportunities or an attractive entry point for long-term investors.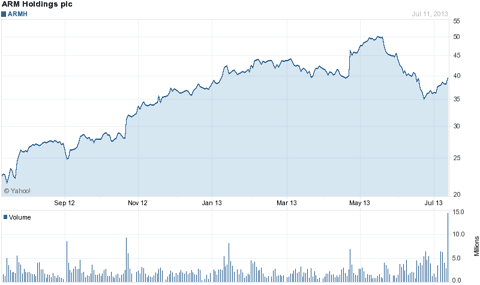 Click to enlarge
Source: Yahoo Finance.
Disclosure: I have no positions in any stocks mentioned, and no plans to initiate any positions within the next 72 hours. I wrote this article myself, and it expresses my own opinions. I am not receiving compensation for it (other than from Seeking Alpha). I have no business relationship with any company whose stock is mentioned in this article.