The downtrodden precious metals complex is finally showing signs of life. And following an impressive advance in recent days, both gold and silver have arrived at a critical juncture. How they perform from here will go a long way in determining whether these metals are soon off to the races on the upside or if another down leg is in store.
Overall, precious metals had a fantastic day on Thursday with gold (NYSEARCA:GLD) advancing by +1.7% and silver (NYSEARCA:SLV) tacking on +3.4%. This marked the fourth straight day of gains for both metals, which has spurred hopes among those that have been long these metals that a bottom may finally be set and that a sharp rally is imminent.
The good news for both of these metals is that the fundamental theme supporting the ownership is sound and well established. This includes protection against global currency debasement and potential deflationary or inflationary pricing instability, a hedge against political or market turmoil, a long-term store of value and a low to negatively correlated asset for portfolio diversification among other reasons.
The only problem is that all of these fundamentals have been in place over much of the last year, yet both of these metals have lost a third of their value or more along the way. But after cratering lower at the end of June and thrashing back and forth in early July, both metals have come to life over the past four trading days. And they have now arrived at a most critical juncture.
Both gold and silver are now trading effectively at their respective 20-day moving averages. Why does this matter? This is the downward sloping technical level, which is the dashed green line shown on the charts below, that both of these metals have been trapped below for virtually all of 2013. Every time this year either of these metals have sought to break out above their downward sloping 20-day moving average, they have been turned back and pushed to new lows.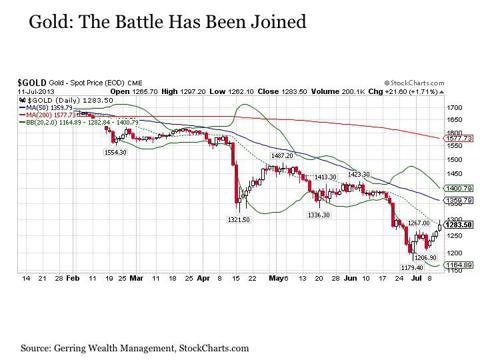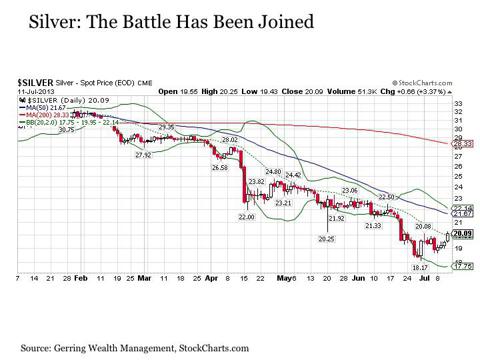 What was notable about both gold and silver into the overnight on Wednesday and into Thursday is that they immediately surged to their 20-day moving average. And once they arrived at this threshold, they were both completely stopped in their tracks. Gold briefly managed to break out above this critical resistance level during the overnight hours, only to get abruptly slammed back lower. And throughout the rest of the day on Thursday, both metals remained stalled right at their 20-day moving averages and were unable to decisively break through.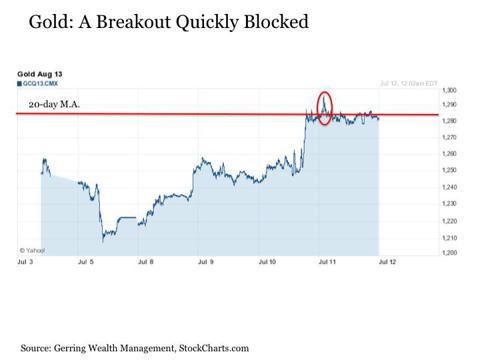 All of this implies that a battle has now been joined among traders in the precious metals market, as both gold and silver are now engaged in an active fight to break out above their respective 20-day moving averages. The fact that both metals stalled at this level throughout the trading day suggests that sellers have a great deal of firepower at these levels. But if either gold or silver is able to break out decisively above this critical resistance level at the 20-day moving average, this would be a important bullish development for these metals from a short-term perspective.
This presents two different scenarios that are both favorable for those that are looking to either initiate or build upon a long-term allocation to gold as part of a broadly diversified asset allocation strategy, as the sharp pullback thus far in 2013 is presenting an increasingly attractive entry point. For despite the resoundingly negative sentiment today for gold, the underlying fundamentals remain strong.
To begin with, gold is not going bankrupt, its balance sheet is not going to be impaired by a major accounting scandal and its CEO is not going to be suddenly fired for personal misconduct. And while it is true that the overall demand for precious metals has been down in recent months, this decline is almost exclusively due to selling by speculators in the paper markets, which makes up only a small percentage of worldwide precious metals demand. For example, the paper market only makes up 8% of total global gold demand. And if one were to focus exclusively on the physical market that makes up the remaining 92% of the worldwide gold market, they would find that demand is actually increasing at a solid rate globally including +20% rates in major markets such as the China, India and the United States. Moreover, physical demand has not declined but instead has surged even further in recent months following the recent price decline. Such is the admirable, long-term discipline of the gold investor from which those in the stock market could learn a thing or two.
Thus, the long-term fundamentals remain favorable for the precious metals market despite the considerable short-term weakness that has been particularly pronounced since late last year. This certainly does not mean that the prices of these precious metals might not experience one or more additional down legs in the coming months, particularly if they fail once again at their respective 20-day moving averages, as investor sentiment remains the key in determining exactly when the selling pressure finally relents.
To this point, some recent developments suggest that we are likely drawing close to a bottom in these metals if it has not already been established. First, the large commercial institutions that have a major presence in daily precious metals trading have recently shifted from being considerably short these metals to either minimally short if not outright long. Such shifts have historically coincided with cyclical lows in precious metals prices. Also, gold forward offered rates have recently fallen into negative territory for the first time since 2008 and 1999 before that, suggesting the potential for notable lack of supply currently available in the gold market that has the potential to push prices higher. Such negative rates have also occurred at or near bottoms in the gold market.
Thus, for those with a long-term view on precious metals, patience will likely be rewarded in the end just as it has in the past, at least until we reach the point where we finally arrive at the dawn of a new secular bull market for stocks. Such an outcome is likely still at least several years away despite recent stock market performance, as massive fiscal debt burdens and endless money printing by global central banks suggests that a great deal more cleansing of the global financial system will still be required before it is all said and done.
For all of these reasons, it remains worthwhile to monitor closely whether gold and silver can break out above their respective 20-day moving averages to either initiate or build to long-term positions. While owning the physical remains the best choice, for those interested in making allocations to a securities portfolio, the Sprott Physical Gold Trust (NYSEARCA:PHYS), the Sprott Physical Silver Trust (NYSEARCA:PSLV), the Central GoldTrust (NYSEMKT:GTU), the Central Fund of Canada (NYSEMKT:CEF), which holds a 55% weighting to gold and a 45% allocation to silver, are all ideal selections. While the short-term may continue to prove challenging for these metals, their role in providing long-term portfolio diversification remains as important as ever during these persistently uncertain and volatile times.
Disclosure: I have no positions in any stocks mentioned, but may initiate a long position in PHYS, PSLV, GTU, CEF, GLD, SLV over the next 72 hours. I wrote this article myself, and it expresses my own opinions. I am not receiving compensation for it (other than from Seeking Alpha). I have no business relationship with any company whose stock is mentioned in this article.
Disclaimer: This post is for information purposes only. There are risks involved with investing including loss of principal. Gerring Wealth Management (GWM) makes no explicit or implicit guarantee with respect to performance or the outcome of any investment or projections made by GWM. There is no guarantee that the goals of the strategies discussed by GWM will be met.