Overview
Gazprom (OTCPK:OGZPY) is one of the largest companies in Russia and is known for its massive natural gas production and distribution operations. Based in Moscow, Gazprom has production assets throughout Russia and exports a significant amount of nat gas to various European countries through its extensive pipeline system. As a former Soviet state-owned corporation, the company has undergone massive change since its inception in 1989. Today, the Russian government owns around 50.002% of Gazprom. Shares have not performed well since the financial crisis for a number of reasons. Firstly, company production has been rather unstable in recent years. For example, in 2010 Gazprom produced 508.6 bcm, which increased to 513.2 bcm in 2011, but then decreased sharply by more than 5% in 2012, to 487 bcm. This type of fluctuation is not typically welcomed by investors, as linear positive trends are often more desirable. Secondly, valuation multiples in Russia have been very weak, especially relative to other emerging markets. Gazprom trades very cheaply relative to other nat gas producers and pays substantial dividends to investors with the opportunity to increase these payments over the long term. These two trends in the trading of Gazprom should lead investors towards favoring the company over the long term. Gazprom holds a significant amount of hydrocarbon reserves. The has company stated that it has over 19.1 tcm of proven natural gas reserves. At 2012 production rates, theses reserves can sustain over 39 years of natural gas production. These substantial reserves combined with cheap valuation and a high dividend yield make Gazprom an enticing investment.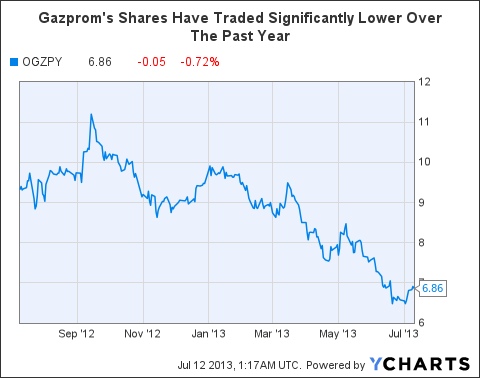 OGZPY data by YCharts
Low Valuation
Currently, Gazprom trades for slightly under 2.3x TTM earnings. This is an extremely low valuation for any company. For comparison, Lukoil (OTCPK:LUKOY), which is an oil producer also based in Russia, trades for more than 4.6x TTM earnings, which is twice the earnings multiple of Gazprom. Even Lukoil is cheap; U.S. oil and gas producers such as EOG Resources (NYSE:EOG) and Southwestern Energy (NYSE:SWN) trade at 24.1x and 25.7x TTM earnings, respectively. This issue is not limited to Gazprom; Russia's stock market is one of the cheapest is the world. The portfolio of the Market Vectors Russia ETF (NYSEARCA:RSX) trades at an average of 6.3x TTM earnings and .8x book value. This is an extremely low valuation and partially explains the relative cheapness of Gazprom's shares. Earnings multiple expansion from here is likely and will boost share prices of Russian companies.
Dividend Potential
Many investors are drawn in by Gazprom's alluring 5.1% dividend yield. Currently Gazprom pays out around 25% of net income to shareholders, which is not an excessive payout ratio by any means. In late 2012, the Russian government ordered that companies are partially or wholly owned by the state pay out 25% of net income to their shareholders. Gazprom has made payments at around this rate since 2010, but nevertheless this move should help Russia become a destination for relatively high-yielding equities. Additionally, there have been rumors that Russia wants to increase this rate even further. Any upward changes to the minimum payout ratio would likely benefit Russian equities and Gazprom specifically.
Conclusion
Gazprom trades at a very low earnings multiple and provides investors with a high dividend yield. These fundamentals will attract investors and over the long term as investors realize the potential of the business and its earnings power.
Disclosure: I am long OTCPK:OGZPY. I wrote this article myself, and it expresses my own opinions. I am not receiving compensation for it (other than from Seeking Alpha). I have no business relationship with any company whose stock is mentioned in this article.