PAR Technology Corporation (NYSE:PAR) (PAR or the company) has not had the best financial performance track record over the past 5 years; the net income numbers have been low considering the revenue growth. Thus, the 5-year average valuations are influenced by the subpar operating expense management. If management can lower the cost of revenue or decreases R&D spending and SG&A a total of 200 basis points as a percentage of revenue, the company would command a higher valuation.
That said, cash flow from operations could get back to normal this year. Further, the company's new EverServ 7000 series should start to positively impact revenue in 2013 and 2014. Thus, with solid expense management, PAR should earn a higher price/sales and price/book multiple. Additionally, as PAR gains scale through higher revenue, the cost of revenue could decline.
I consider this a speculative investment. Consequently, I'm looking for an upside of about $1.70 to $3.70 with risk of $0.70. The risk and reward are calculated from a share price of $4.30. That would put the price/sales ratio at roughly 0.50. The price/book ratio would be about 1.80. The price/earnings ratio would be around 20 (based on the forward price/earnings). Those valuations are if we get $3.70 of upside.
As a point of clarification, I define a speculative investment as one that investors use a stop loss level, or an investment that isn't buy and hold. The second point of clarification, the reward/risk ratio is 2.5 at the $1.70 level and 5.3 at the $3.70 level; including a trailing stop loss, this could be an investment with close to a 10 reward/risk ratio. Hence, this is a speculative investment with a great risk/reward.
Company Profile
PAR has operations in two distinct business segments: Hospitality and Government.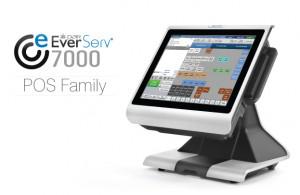 PAR's Hospitality business, representing approximately 64% of consolidated revenue for 2012, provides technology solutions, including hardware, software and a range of support services, to businesses and organizations in the global hospitality industries.
PAR's Government business, representing approximately 36% of consolidated revenue for 2012, provides a range of technical services for the U.S. Department of Defense and other federal, state, and local governmental organizations.
PAR provides information technology solutions to two markets within its Hospitality Segment: Restaurants and Hotels. As a leading vendor to the Restaurant market, PAR has developed committed long-term relationships with the industry's three largest organizations, McDonald's Corporation, Yum! Brands, Inc., and the SUBWAY franchisees of Doctor's Associates Inc.
In the Hotel/Resort/Spa market, PAR, through the company's PSMS subsidiary, is a leading global provider of software solutions for a variety of property types including city-center hotels, destination spa and golf resorts, cruise ships, and casino hotels.
Risk Factors
Future operating results are difficult to predict and are subject to fluctuations.
The stock price has been volatile and may fluctuate in the future.
A decline in the volume of purchases made by any one of the company's major customers would materially adversely affect the business.
An inability to produce new products that keep pace with technological developments and changing market conditions could result in a loss of market share.
PAR may not be able to meet the unique operational, legal and financial challenges that relate to international operations, which may limit the growth of the business.
Liquidity and Solvency
With a company the size of PAR, it is important to check the liquidity and solvency position. The liquidity and solvency position are both solid.
At the end of the latest quarter, the current ratio was 2.04. The quick ratio was 1.04. Financial leverage was 1.64 and debt/equity was 0.01.
Cash and short-term investments as a percentage of total assets was 11.97%. Intangible assets were 16.25% of total assets.
In conclusion, liquidity and solvency should not be an issue with PAR, in the near future.
Valuations
In this instance, a comparison to the S&P 500's valuations would be meaningless. Thus, in this situation, I will use the time series and 5-year average valuations to value the shares of PAR.
| | | |
| --- | --- | --- |
| | PAR | PAR 5Y Avg* |
| Price/Earnings | | 0.6 |
| Price/Book | 0.9 | 1.0 |
| Price/Sales | 0.3 | 0.3 |
| Price/Cash Flow | 16.3 | 5.9 |

*Price/Cash Flow uses 3-year average.
On a time series basis, PAR is undervalued and heading towards fairly valued. Relative to the 5-year average, PAR is fairly valued. I conclude that par is moderately undervalued. But, as previously mentioned, the last 5 years have not been the best in PAR's history. Thus, the 5-year average valuations are probably skewed to the downside.
PAR introduced the EverServ 7000 series, its flagship POS platform, in 2012. I think that will act as a tailwind for revenue growth and net income growth in 2013 and 2014. As a consequence, PAR could command a higher valuation.
Disclosure: I have no positions in any stocks mentioned, and no plans to initiate any positions within the next 72 hours. I wrote this article myself, and it expresses my own opinions. I am not receiving compensation for it (other than from Seeking Alpha). I have no business relationship with any company whose stock is mentioned in this article.