Manulife Financial (NYSE:MFC) had a terrible time following the 2009 market meltdown. Stocks fell and interest rates dropped dramatically. As a life insurance company, Manulife not only saw its investments in stocks fall with the market but also had to recognize the long-term liabilities inherent in its policies and discount those liabilities to a current value using lower and lower interest rates as the total rate structure continues to decline. Lower rates meant higher long-term liabilities for Manulife, and the effect was destructive to its earnings. Not surprisingly the stock dropped - from $40 in 2008, to less than $10 in 2009.
Following a management change, with Don Guloien as CEO, Manulife dealt with the challenging environment by concentrating on its core insurance business and building a less-leveraged and more fully-hedged set of assets while shifting its product mix away from variable annuities. Through determined management, Manulife survived the financial crisis and emerged a stronger (if more traditional) insurance company.
The adverse environment that plagued Manulife as it fell has become more of a tail wind as stock markets began to recover but the persistent declines in bond yields continued to make it a challenge to build a prudent portfolio with enough duration to meet the insurance obligations as they matured in the years to come. This adverse environment turns positive if rates begin to rise.
Today, Manulife is in a strong recovery mode as shown in the chart below, its stock up over 70% from its 2009 lows.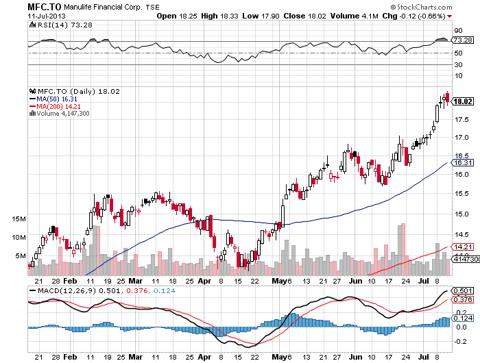 While the stock markets fear the end of quantitative easing and the prospect of higher interest rates, Manulife is one company that will actually benefit if interest rates do rise. In parallel, it is executing a solid strategy of disciplined growth with four key elements:
Develop its Asian business to the fullest extent possible
Grow its wealth management business in Canada, the U.S. and Asia
Continue to build a diversified financial services business in Canada
Build a higher return on equity U.S. business helping Americans with retirement planning, long-term care and estate planning needs
Manulife's Asian business has grown from insurance sales of $582 million in 2008 to $1.4 billion in 2012. In the same interval, its funds under management have grown from $405 to $532 million in its wealth management segment. Manulife's Canadian business continues to thrive, with over 1.5 million in-force policies and over 3 million people covered by its benefits insurance. And, through its U.S. John Hancock subsidiary, it has successfully shifted the mix of its business where the higher risk guaranteed universal life and non-par whole life business has shrunk from 45% of its business in 2008 to 6% today.
While Manulife has benefited along with all investors in the burgeoning stock market recently, it has also hedged 87% of its stock market portfolio protecting it from any major decline. More importantly, as we enter into a period of rising rates, Manulife's income moves approximately $600 million for each 1% movement in interest rates as set out in a recent management presentation [pdf].
Manulife's goal is to achieve annual core earnings of $4 billion by 2016 and the company appears well on its way towards meeting that objective. With a current dividend yield of 3% and trading at only 11 times 2013 estimated earnings, Manulife is a stock you might consider if you believe we are entering a period of rising interest rates.
I am long Manulife.
Disclosure: Long MFC. I wrote this article myself, and it expresses my own opinions. I am not receiving compensation for it (other than from Seeking Alpha). I have no business relationship with any company whose stock is mentioned in this article.