As we pointed out in our article yesterday (see here), commodity equities were seeing prices firm up. The rally continued into yesterday with gains across the board, especially in sectors that have been the hardest hit which is something that we find quite bullish. Not bullish enough to rush in and establish positions, but bullish enough to think that this may point to a more general rally for commodities as a whole as investors rotate back into these names.
Buying on the dips continues to work for the companies with good balance sheets and growing production and should continue to be a play readers use when either adding to positions or initiating new positions.
Chart of the Day:
We saw this article (available here) from CNBC come through our email via a long-time reader as we were finishing up our article early this morning and found it quite interesting. We decided to take a look at a chart of silver going back to when the bull run really kicked into high gear to get a feel for the market. What is discussed in that interview and article makes perfect sense and applies to all commodities across the board. There are currently a handful which are at, or very close to being at, production cost levels. It is bullish for prices and readers need to recognize that charts never lie. Silver has found resistance and support around the $20/ounce level numerous times, part of that is due to the number being an important psychological price level and based off of the article also a level around where many of the miners are close to breakeven.
Remember, during bull markets much of the new production that comes online are old mines which were previously shut down due to high production costs, by-product material which companies previously saw no need to bring to market due to poor economics, and fully permitted projects which were simply waiting to be developed when prices rose. This production quickly disappears when the market corrects because mines go through cash just as fast as they can process ore.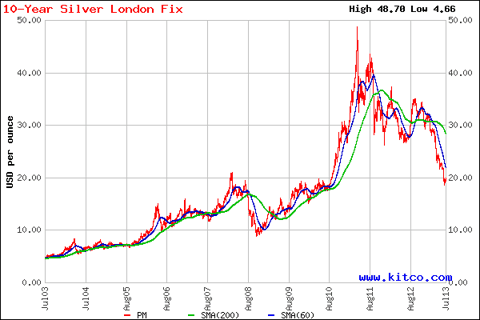 Source: Kitco
Commodity prices this morning are as follows:
Gold: $1269.80/ounce, down by $10.10/ounce
Silver: $19.74/ounce, down by $0.216/ounce
Oil: $105.49/barrel, up by $0.58/barrel
RBOB Gas: $3.0495/gallon, up by $0.0281/gallon
Natural Gas: $3.639/MMbtu, up by $0.026/MMbtu
Copper: $3.149/pound, down by $0.0285/pound
Platinum: $1404.70/ounce, down by $2.90/ounce
Coal
No sector has been beaten down harder longer in the commodity complex than coal. Worse still, lately investors in the sector have watched as commodities and the market traded higher and they were seeing their companies' shares trading either in the red or slightly up. Underperformance has been the only consistent performance from the sector, but yesterday's broad market rally saw even these names garner capital inflows. Walter Energy (NYSE:WLT) saw shares rally 10.46% to close at $12.67/share with volume hitting 9.9 million shares. That is a significant move, especially when one considers that it was only recently that the company fell into the single digit stock price territory. Which makes us wonder whether that may have been a capitulation moment.
All of the coal pure plays have performed as we would have suspected knowing about this bear market in coal. Generally speaking the worst performers are the smaller names and the best performers (although still abysmal when compared to the general market, so best is quite a misleading adjective) have been the larger names. Notice too that CONSOL Energy did dip on what could end up being the industry's capitulation period but did not materially trade below previous lows. That does raise some questions.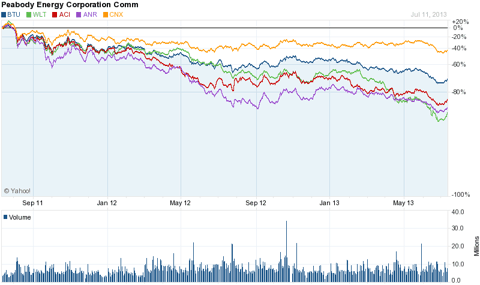 Source: Yahoo Finance
Adding intrigue to that line of thinking is the move over at Arch Coal (ACI) which saw shares rise a bit over 5% to close at $4.15/share on volume of 10.5 million shares. We highlight the move because on a percentage basis they are significant, volume is strong and shares are back above $4/share. The coal business is crummy, to put it kindly, right now and not only must deal with competition from natural gas here in North America, but also from new supply coming online across the world. So even if what we recently saw was capitulation, we highly doubt that this move shall lead to a V-shaped recovery. Our opinion is that we still see a U-shaped move and that it will probably be a multi-year move. It shall take time to clear this excess supply from the market and see demand build globally for coal products. An improving global economy, especially in developing and emerging markets, does go a long way though.
Brazil
Both Vale (NYSE:VALE) and Petrobras (NYSE:PBR) have been names we highlighted due to their Brazilian exposure and the social unrest which has been taking place in the country. Although the citizens seem to have been calmed, there are upcoming elections and our guess is that politicians will look first to winning the popular vote and only after that turn their attention to Brazil's struggling commodity companies. Exposure to Brazil's bountiful commodity reserves should be an asset, but that is not always the case as investors in Petrobras have learned.
The following chart compares the performance of Vale and Petrobras to that of the Dow Jones-UBS Commodity Index, an index that tracks 20 different commodities. The chart for the index is ugly itself, but it looks terrific when compared to both Vale and Petrobras. The fact that Petrobras was up 15% one month into the chart and still fell to a low of 25% in performance tells the tale. Oil has outperformed, and Petrobras should have as well. The fact it is trading in tandem with Vale at this point clearly indicates its decoupling for the time being from the oil complex.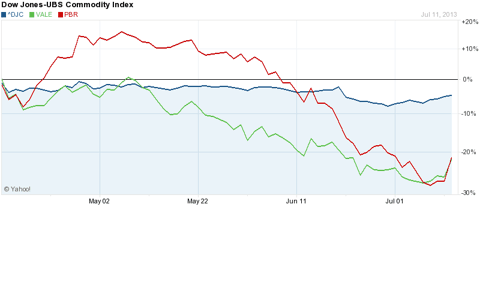 Source: Yahoo Finance
With both Vale and Petrobras having fallen below $13/share recently there was value, but there were risks that had not been present before either. Many forget that Brazil has a social leaning politically at this time and their reluctance to spend on development of the country's commercial interests and infrastructure in order to divert that capital towards social problems shall plague the country for years to come. The country's problems are already becoming those of its companies as projects are getting harder to market for sale in Brazil and Petronas is being used as the state's 'piggy bank'. The only difference between Brazil's situation and Mexico's with Pemex is that Mexico only ripped off investors once, yet Brazil manages to do it on a daily basis.
Shares will most likely recover as the populace cools, but we would not be buyers until after elections when it becomes apparent who will be governing and exactly what they had to promise to gather the votes to win election.
Oil & Natural Gas
Yesterday's article with comments about Kodiak Oil & Gas (NYSE:KOG) were made without realizing that The Wall Street Journal ran a story (the link here will get you through the pay wall) on the company's attempts to sell themselves last year and not attracting much interest. The article states that the potential buyers arrived at the same conclusions as we did that the share price is consolidating gains and growing into its valuation.
Readers invested in the stock might find this news discouraging as Kodiak is always discussed as a potential takeover target, but we would argue that the reluctance of other companies to pay up for the assets is actually beneficial to your portfolio as you are now left with some of the premier oil shale acreage not only in the Bakken area, but in all of North America. Sometimes patience leads to greater dividends and when it comes to small to mid-sized oil E&P plays we have found that to be the truth so long as they can afford to develop their world class assets and already have production flowing. This is the case with Kodiak, and assuming they deliver on their daily production estimates this year and continue to find economies of scale and new technologies applicable to their drilling programs in the Bakken then Kodiak may go from a widely considered takeover target to a widely rumored acquirer.
Disclosure: I have no positions in any stocks mentioned, and no plans to initiate any positions within the next 72 hours. I wrote this article myself, and it expresses my own opinions. I am not receiving compensation for it (other than from Seeking Alpha). I have no business relationship with any company whose stock is mentioned in this article.