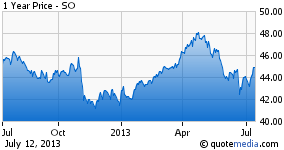 I am down grading Southern Company (NYSE:SO) to "hold" from "buy". I believe the pending rate cases and ongoing construction of plants provide high uncertainties for SO, which can negatively impact the bottom line and stock price of the company.
Southern Company is among the leading regulated utility companies of the U.S. The company has approximately 43,000MW of generational capacity, and serves 4.4 million customers in the U.S. SO operates with its four utility subsidiaries including Alabama Power, Gulf Power (Florida), Mississippi Power Co and Georgia Power. SO has diversified electricity generational sources. Electricity generational sources for 2012 were as follows: coal 36%, gas 45%, nuclear 17% and hydro 2%.
The company has delivered satisfactory financial performance in the past and remained as an attractive investment option for the investors. However, in the recent times SO has been surrounded by regulatory uncertainties, which poses a risk to the company.
Mississippi Power Co. highlighted that development costs for its Plant Ratcliffe will rise by $160 million as compared to previous estimates. The uncertainty related to development cost of the plant remains a serious threat to the bottom line. In April, earlier this year, Mississippi Power already has announced that Ratcliffe will cost $540 million more than prior cost projections, increasing total estimated cost for the plant to $3.42 billion and forcing SO to register a charge of $333 million in its 1Q'13 earnings. The rise in projected costs continues to put pressure on Mississippi Power's equity ratio, which already dropped to approximately 41% as compared to long run target of 50% following the $333 million write down in 1Q'13. In order to bring back its equity ratio near its long term target, the company has to issue common equity which will result in earnings dilution.
Moving in 2H'2013, Georgia Power pending rate case represents uncertainty for the company. Earlier this month, Georgia Power filed a rate case requesting an increase of 6.1% or $482 million in residential and commercial rates for the upcoming three years. The company also wants its allowed ROE to rise by 0.35% to 11.5%. If the company is not allowed to increase ROE as desired, then downside risk remains. Hearing on the rate case is expected in 4Q'13.
Moreover, Georgia Power is building on two additional nuclear units, Vogtle Units 3 and 4, at Plant Vogtle. The two units are expected to cost $14 billion. As the construction costs of these units are significant, any unexpected increase in costs can significantly impact the financial performance of SO in the future. Both Vogtle units, 3 and 4, are expected to be in service in 2017 and 2018, respectively.
Conclusion
| | | | | |
| --- | --- | --- | --- | --- |
| | SO | Duke Energy (NYSE:DUK) | Wisconsin Energy Corp. (NYSE:WEC) | Average |
| Dividend Yield | 4.60% | 4.60% | 3.30% | 4.10% |
| Forward P/E | 15.30x | 15x | 16.7x | 15.6x |
| PEG | 3.4 | 3.9 | 3.5 | 3.6 |
| 5 year growth est. | 4.6% | 4% | 4.9% | 4.5% |
Source: Yahoo finance
SO has a high dividend yield of 4.60%, higher than its peers' average of 4.10%. Also, SO has higher analysts' growth estimate of 4.6% as compared to DUK. Despite SO's strong fundamentals, I believe the uncertainties concerning pending rate cases and ongoing development projects poses a risk to future financial performance of SO and hence for the stock price. Therefore, I recommend "hold" rating on the stock.
Disclosure: I have no positions in any stocks mentioned, and no plans to initiate any positions within the next 72 hours. I wrote this article myself, and it expresses my own opinions. I am not receiving compensation for it (other than from Seeking Alpha). I have no business relationship with any company whose stock is mentioned in this article.