Recent Financial Results Way Above Expectations

Even though Vonage (NYSE:VG) (Recommend Price: $0.40,) has always been a controversial stock, I don't think there was much to debate about after the company's recent financial report.
After years of massive losses, Vonage (VG), has now successfully turned the corner on profitability, with EBITDA rising to $31 million in the quarter, up 50% sequentially, and nearly triple the level of a year ago. Free cash-flow was also positive this quarter at around $12 million. Incidentally, I was only expecting about $20 million in EBITDA this quarter (conference call transcript here).
VG Skeptics Still Abound Citing the Customer Loss Issues

Despite these better than expected results,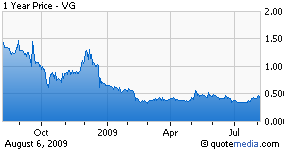 VG stock price was highly volatile yesterday, and actually closed down a few percent. Whether the drop has anything to do with fundamental analysis is an open question, as the stock had rallied nearly 20% into the earnings release, so a slight sell off could be expected. In addition, it's difficult nowadays with the proliferation of algo trading to to definitively attribute any short-term stock price movements to sound economic analysis.
Nevertheless, since it always pays to invert when investing, to use a Munger term, I'll gladly consider the lingering bearish argument against VG. While in the past, bears rightly pointed to VG's massive losses, and legal troubles, as reasons to avoid the stock, with those problems now behind the company the argument now has shifted to concern over VG's customer losses. Notably, during the quarter, Vonage lost about 88,000 customers, to end the quarter with 2.49 million customers. In addition, churn increased, and overall revenue dropped 3% year-over-year.
The Customer Loss Issue Is Not Relevant or Necessarily Important at This Junction in the Turnaround
Of course losing customers is not a recipe for long-term success, but still I offer these counterarguments to the "customer loss" concern at Vonage:
Revenue/Customer Declines Not Unexpected in This Economy
I can count on my hand the number of companies that are reporting revenue and customer growth in this economic environment. So the situation at Vonage is no way unique or out of the ordinary.
A Tripling of Profits on a 3% Decline Is a Bad Thing?
I find it extraordinary that anybody can complain about a roughly 3% drop in customers and revenue, when that situation in turn led to a tripling of profits. The point of a company is to make money, not lose money. If stalling growth plans for a period of time, is the only way to nurse a company back to financial health, that is the correct way to go. In every turnaround, the most important thing is to first stabilize the financial situation. Thereafter, one can focus on growth.
Long-Term Customer Losses Are Exaggerated and the Worst Case Is Not All That Bad
Of course the contention is that due to mobile alternatives, VG will continue losing customers at a rapid pace (as if a 3% churn is necessarily rapid - actually it's a standard figure throughout the telecom world), and soon enough the company won't have any customers. This, of course, is a major exaggeration. The company lost a mere 88,000 customers in the quarter, out of 2.5 million. Even if the trend of losses continues, and the company can't reignite growth (a possibility of course, but equally possible is a return to growth), VG will still have another 7 years+ to milk the current customer base before there any serious concerns.

In other words, in a worst case, there is still value in the business even in a "run-off" state, to use the insurance analogy, that is way in excess of the current stock price. In fact, the company can probably completely turn off the marketing spigot and focus on the core customer base that loves the VG service. In such a case, revenues may decline sharply, but the sustainable free cash-flow from the business would increase exponentially, much as this past quarter demonstrated.
Current Valuation Already Reflects a Non-Growth/Decline Scenario
The current stock valuation of VG, at about 2X EV/EBITDA, already reflects the non-growth, business will decline argument. As such, I do not see why this is even a worry. Everybody knows about this risk already and it's priced in.
New Products Could Reignite Growth
Finally, though critics are focusing on VG's current customer losses, they are not looking to the future growth prospects at VG. The company has several new services, including a much anticipated mobile product, which it will be launching shortly. At this point, the probability of renewed customer growth at VG due to these new products, is just as probable, as is the worst case scenario of continued 3% customer declines. So I see no reason to focus on the negative here, when a positive outcome is just as likely.
Summary: Risk/Reward Still Very Favorable
In sum, VG financial results, while not entirely perfect, demonstrate a company undergoing a substantial turnaround. With a valuation that continues to reflect bankruptcy concerns, I believe most of the worst case is already priced into VG shares. At the same time, I think the upside case for VG in not in the least bit reflected in the current valuation. The stock price may appreciate dramatically in the year ahead, should financial results continue their positive trend, and should new product launches succeed in renewing customer growth, or even in the worst case stemming the decline.

Disclosure: Affiliates of Envoy Global Research, and its principals, own shares in Vonage (VG). All ideas, opinions, and/or forecasts, expressed or implied herein, are for informational purposes only and should not be construed as a recommendation to invest, trade, and/or speculate in the markets. Any investments, trades, and/or speculations made in light of the ideas, opinions, and/or forecasts, expressed or implied herein, are committed at your own risk, financial or otherwise.