The Blackstone Group LP (BX) is having a strong week. At the close of trading on Thursday, the stock is up 24% in this week alone. Although investors ended up selling the stock down a bit on Thursday after the earnings announcement, the lower trade did little to take away from the sharp gains on Monday and Wednesday.
Last time we discussed the private equity firm, the stock had been trading lower based on news that the FDIC was setting tighter limits on companies who would buy distressed banks and turn the investment around for a profit. The new regulations would have firms like Blackstone putting up more tier 1 capital and also being required to hold the acquisitions for at least three years instead of the current requirement of 18 months. While investors were disappointed in the restrictions, we noted that the company would still have plenty of opportunities in which to deploy their capital and receive great returns. The FDIC needed Blackstone much more than the company needed the FDIC's blessing to acquire banks.
Wednesday, Blackstone shares traded sharply higher due to a very unusual opportunity. It seems that AIG is likely to be broken up with many financial firms across Wall Street generating fees in the process. A Wall Street Journal report estimated up to $1 billion in fees generated as firms help to set up initial public offerings of certain portions of AIG's business while other firms are brought on to manage toxic assets that the insurer is still exposed to.
Regardless of the AIG transaction, Blackstone is in the catbird seat when it comes to this new era of investing. Institutional capital such as endowments and pension funds are increasingly looking for "non-traditional" opportunities to invest - specifically in programs that are not heavily correlated to equity or traditional debt markets. This is why Blackstone has a stable level of Assets Under Management (AUM) when many traditional competitors have seen their investor base dwindle.
And then there is the issue of what to do with these assets… Since Blackstone is often able to lock up funds for a significant period of time, and then use that long-term capital to buy up entire companies, the company is often at an advantage versus a normal mutual fund manager. Mutual funds usually do not have any significant lockup agreements so when investors get skittish, the managers must liquidate investments and return the capital - often at the worst possible time as prices are depressed. However, Blackstone currently has an enormous balance of available cash to put to work in some great opportunities.
We currently have the largest amount of available capital in our history across our investment platforms and we expect our investors will benefit greatly as we deploy that capital over the next several years. ~Stephen Schwarzman, Chairman and CEO
Looking at the last quarter, while GAAP earnings actually posted a loss (you wouldn't believe how complicated the accounting is for private equity firms), the company actually created economic net income of $173 million. Management and advisory fees were down slightly from last year's levels as the Assets Under Management were just a bit lower. Losses in portfolios such as real estate funds have been mostly offset by new capital coming in. But the real positive news was an increase in performance fees which were $72.2 million.
During the first quarter, performance fees were actually negative $213.8 million. Performance fees are essentially Blackstone's take of customer profits. Most of the real estate and private equity funds are set up so that as the funds increase in value, Blackstone is entitled to a certain portion of the profit. This portion is recognized as incentive allocations or performance fees. During the first quarter, losses were big enough that the company actually had to write off some of the fees that had previously been "earned" but not yet collected. The resurgence of performance fees in the second quarter is good news because this is the largest income generator in normal economic times. Watch for incentive fees to pick up sharply in future quarters as the company's strategies should lead to several of the private equity funds turning out profits.
One of the biggest challenges remaining is the issue of debt financing. In the past if Blackstone were to want to make a $5 billion purchase, it might put up 1 to 2 billion of its own capital and then finance the rest of the transaction. This made many deals extremely profitable as a 20% increase in the $5 billion investment would actually nearly double the fund's leveraged investment! It appears banks are still unwilling to commit to financing such large commitments which may limit the number and profitability margins of new transactions. But don't feel too sorry for Blackstone as they still have plenty of their own dry powder to pursue deals.
During the panic stages of the last market collapse, Blackstone suspended its normal dividend in order to conserve cash. But the suspension only lasted one quarter and as we have stated, the company is currently awash in cash and should have no difficulty paying the dividend for the foreseeable future. Currently with the stock at $14 and the quarterly dividend of $0.30, investors are receiving an 8.5% yield on top of expected appreciation in the stock. The deal almost seems too good to be true. While there will certainly be some volatilty in the shares as market events transpire, Blackstone is managing an incredible amount of capital - employs the most talented deal makers across the globe - and has its pick of distressed situations to invest in. The ZachStocks Growth Model is currently sitting on a 93% gain in the stock and I expect that to increase exponentially in the coming months.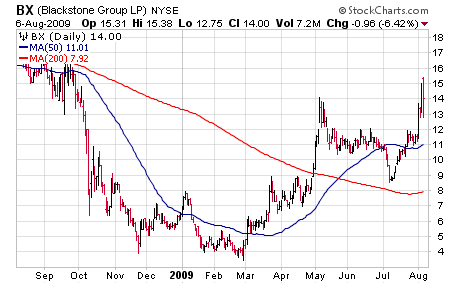 Disclosure: Author has a long position in the ZachStocks Growth Model