Earnings Time Already?
Can you believe that it's almost time for Apple's (NASDAQ:AAPL) earnings again? There's only a few earnings calls that I consistently listen to - Apple being one of them - and it seems like just yesterday I was penning an article about all of the things that I loved and thought there was room for improvement in with Apple's last conference call.
Apple is set to report their Q3 earnings conference call on Tuesday, July 23rd at 5:00p.m. EST. The company has offered guidance of revenue between $33.5 and $35.5 billion and gross margins between 36% and 37%.
I listed, in my previous Apple article, what I liked about Q2:
1. Massive $60 Billion Buyback

2. Dividends Increased 15% to $3.05/Share

3. More Cash in the Bank

4. EPS and Revenue Beats

5. iPhone and iPad Numbers

6. Record Sales from iTunes Store

7. New Products Coming This Fall
I called the company a buy heading into the third quarter, and I continue to reaffirm my bullish sentiment going into Q3 earnings.
This quarter's earnings are extremely important. They're going to give us some serious "third straight quarter" insight as to the momentum behind iPhone 5 and iPad mini sales. Investors will be able to start to gather data to form trends on the sales of these two products, now no longer the new products in town for Apple.
It's been noted by a few analyst sites that the July call over the past few years was the call where Apple launched their OS X Mountain Lion and OS X Lion - but there really doesn't seem to be any indication that Mavericks, Apple's up and coming OS, will be announced this July.
One year ago, Apple was running full force gale - stock priced over $700 with absolutely no indication of turning back. The technicals behind the stock have been telling us an interesting story.
Apple, this quarter, has faced a number of downgrades and uncertainties, but the stock has been holding its ground.
Technical Picture
Here's how Apple has looked trading over the last six months, which have been substantially less ugly than Apple's performance over the last 18 months: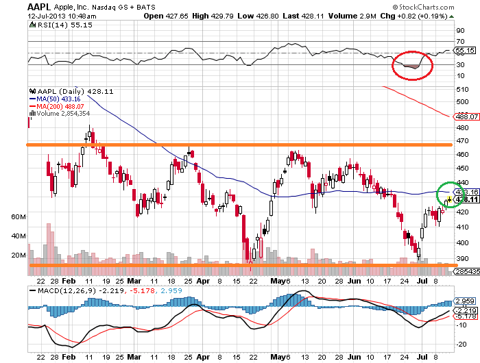 Click to enlarge
(Click to enlarge)
As I often say, I am not a chartist. I use some basic technicals as a supplemental way to add an additional gauge on a stock. Technicals are important because they can offer good insight as to resistance/support, and also because so much of today's trading is done algorithmically - so, data becomes increasingly important in this computerized age.
A few things worth noting about Apple's current technical picture:
The major support/resistance levels that have been set over the last 5 months are right about $390/$470. A lengthy break above or below one of these key areas is going to indicate the beginning of a sustained trend.
Apple is extremely close to, once again, crossing the 50 DMA. If that happens, the 50DMA will begin to curl upward as the 200DMA starts to wane downward. We know the "golden cross" and "death cross" hit Apple hard from past experiences - so, the 50 DMA crossing the 200 DMA in the near future will set off bull flags for a lot of investors. We're one good earnings report away from this occurring.
Apple was, according the RSI, oversold this month for the first time in a long time. This proves that the bottom in $390 appears to be true and that there's an argument for the stock responding to upward pressure more significantly than to downward pressure.
Analysts Downgrading: Time to Buy
The expectations for Apple's Q3 earnings aren't exactly through the roof - a situation that I think can work to Apple's benefit. Analysts have been generally agreeing that iPhone shipments are going to be an issue through the end of 2013 for Apple.
Remember the days when every earnings call was a blowout surprise for Apple's investors? We're still waiting for one of those again - and this would be the quarter to do it. Whether it's a surprise from the numbers or an introduction to a new product (something Tim Cook assured us we'd see in 2013), Q3 - Apple's worst quarter of the year traditionally - would be the place to do it.
Jefferies analyst Peter Misek was one of the latest analysts to offer up thoughts on iPhone sales problems. He reaffirmed his $405 price target for Apple, and like many other analysts, doesn't seem to expect much out of Apple through the end of 2013.
As reported by ValueWalk.com:
Misek sees continued problems for Apple Inc. (NASDAQ:AAPL) as demand for larger smartphone screens continues to shift upward toward 5 inches. He said the other issue is the increasing saturation of the high end smartphone market, which will put pressure on Apple Inc. (NASDAQ:AAPL)'s prices and lead to decelerating shipments of the iPhone. According to Misek, their checks indicate that carriers and retailers are carrying about 10 weeks of inventory for smartphones, compared to the typical 4 to 6 weeks.
In addition it was reported earlier this week that Canaccord Genuity's Mike Walkley cut his smartphone forecast for 2013. It was reduced 20 million, to 959 million. In addition, his 2014 forecast was also cut by 40 million, to 1.25 billion.
Earnings Comps
Seeking Alpha offered up some industry comp details for smartphones on Wednesday:
While the surveys indicate iPhone 4 (-0.1%) and Galaxy S III (OTC:SSNLF) sales were above expectations, they suggest the opposite for the iPhone 5 and Galaxy S4. Also, low-end/mid-range Android sales from Chinese OEMs are said to be "very strong" (good for SPRD), and high-end Lumia (NOK -2.4%) sales soft. Sales of the cheaper Lumia 520 and 620 are deemed "solid," but Walkley expects sell-in to slow as inventories rise. His report comes shortly after Samsung forecast light Q2 profits, and Wedge Partners reported of iPhone build order cuts. (also)
Make no mistake, Apple has some stiff competition going into this earnings call. BlackBerry (NASDAQ:BBRY), who has really been a non-factor in the smartphone area reported low from analyst estimates. Samsung, however, crushed their earnings with a record profit of $8.3 billion.
QTR's Analysis
I've been an Apple bull since the early 90s and, quite frankly, not much has changed. Don't get me wrong, I'm not one of these blind Apple followers that is going to be long his whole life for the sheer reason of sticking with my brand.
Those who read me know that I'm a straight shooter - I'm long where I feel there's potential upside gain and I'm short when I think companies are overvalued. Hell, I don't even use a Mac (although I do own an iPhone).
Here's what I said after the last call that I would be looking for from Apple in the coming quarter:
1. Margins Fell

The margins fell to 37.5% this quarter, which was on the very low end of the guidance given by the company. CFO Peter Oppenheimer attributed these margins to one of the best reasons you can give for earnings coming down: it sold too many iPads. Apple purposely gave a price break on the iPad mini in order to make it appealing, and it knew it was going to take a hit on margins. It sold a bit more than expected, therefore, margins suffered accordingly. Tim Cook noted upfront during the call that the margins from 2012 were exceptional and a poor basis on which to make expectations from for the future due to how extremely high they were. Apple commented that Q3 margins will come in a bit lower, mainly due to a different product mix.

2. Mac Sales Came in Light

Mac sales came in at just under 4 million, which represented a decrease of about 2% year over year. CFO Peter Oppenheimer cited that computer sales worldwide were down significantly, positioning a 2% loss in Mac sales as being ahead of the rest of the computing world. Also, as iPhone and iPad sales continue to flourish and the Windows computers of old continue to become obsolete, Mac sales will come up supplemental to other product sales and as home PC turnover continues.

3. Guidance for Q3 Came in Low

Guidance for the 3rd quarter came in lower than expected. From CNBC.com:

For the third quarter, Apple forecast revenue of between $33.5 billion and $35.5 billion, well below the $38.25 billion Wall Street was forecasting. It also expects its gross margin to continue to slide to between 36 percent and 37 percent.

It's worth noting that the upcoming quarter is usually Apple's slowest point of the year. Leading into product launches in the fall and the holiday season, I am fine as a long-term investor with the margins coming down. As we move into Q4 and 2014, I'd like to see these numbers stabilize.
If Apple can surprise on margins, Mac sales, iPhone sales or guidance in the face of all the negativity, both this quarter and this year, we're going to see a significant run in the stock.
As was Peter Oppenheimer's plan over the past year to recalibrate both analyst and market expectations and how they correlate to Apple's guidance offered, I think this could be a quarter where we see a beat.
Also, it helps that at the end of the day, Apple remains the most fundamentally sound company on planet earth. If this info, coupled with their recently raised dividends cannot put investors in a warm and fuzzy place to launch a long bet in Apple pre-earnings, I don't know what's going to do it. Amongst the negative sentiments, I'm bullish heading into earnings.
I'd love to hear, in the comments, your stance on Apple earnings as well. What are you expecting? Are you bullish or bearish? Why or why not?
Whatever side of the coin you're on, I wish all investors the best of luck.
Disclosure: I have no positions in any stocks mentioned, and no plans to initiate any positions within the next 72 hours. I wrote this article myself, and it expresses my own opinions. I am not receiving compensation for it (other than from Seeking Alpha). I have no business relationship with any company whose stock is mentioned in this article.