Despite the economic headwinds that have devastated the lodging industry, Ashford Hospitality Trust (NYSE:AHT) turned in strong cash flow from its operations in the second quarter. It's a testament to management that amidst a 20% decline in RevPAR, on par with the industry, they were able to keep pace by slashing expenses 17%. That is a major reason why Ashford is so far ahead of the game. It's all about cash flow in this environment.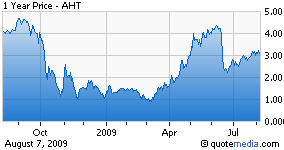 We want to see three other things from hotel companies in these times. We want to make sure interest payments are, in the aggregate, being made. We want that preferred dividend payment being made. We want capex kept to a minimum. Ashford had already been smart enough to suspend their common dividend last December, saving them upwards of $80 million annually -- and every such dollar is precious.
Ashford's quarterly debt service was about $35 million, and preferred dividend payments of about $5 million. Capex was $14 million. Backing out non-cash expenses, Ashford had over $100 million available for these items from their quarterly cash flow. No problem.
Meanwhile, Ashford remains on solid footing regarding all other substantive cash flow, debt covenant and liqudity metrics. AFFO and CAD were $0.31 and $0.22, respectively. Fixed charge ratio was 1.63x vs. the required 1.25x for the senior credit facility covenant. They hold $236 million in unrestricted cash, and are using excess cash flow to buy back stock. They continue to pursue their strategy of debt swaps, which have done well thus far and will likely do well going forward.
One of the other tests that Ashford has passed with flying colors is how unfortunate events do not harm the company's ability to remain a strong operation. For starters, the market freaked out when Extended Stay America filed for bankruptcy, yet nobody seemed to understand that writing down the entire $100 million mezzanine loan would not materially impact Ashford's operations or cash flow. For that matter, should all their mezz loans go bad, it still wouldn't impact them very much. This time around, Ashford announced it was writing down three other loans to the tune of $20 million, and the market did not freak out. I guess investors understand that the money had been loaned out already, and the only thing they lose is the interest income from those investments. It certainly isn't great news, but it isn't life-threatening.
More interesting is that Ashford has filed suit in federal court against Wachovia, the senior ESA lienholder for $160 million. I don't have the lawsuit details, but the filing is a matter of public record. For all we know, perhaps that $100 million isn't totally lost.
In the case of their Hyatt Regency in Dearborn, Michigan, the hotel was unable to make their debt payment in June. Ashford announced it's handing over the keys to the debt servicer. It's unfortunate that shareholders lose the down payment put up for that hotel, but in this environment, Ashford needs to cut loose any property not holding its own. Remember that, while Ashford takes that non-cash charge and loses the revenue the property generates, it also doesn't have to pay its expenses or service its debt any longer.
Overall, CEO Monty Bennett said it clearly, "The ongoing decline of the lodging market dictates disciplined capital allocation to ensure actions taken in this environment today will enhance the Company's future."
How is this actionable?
Ashford common stock is at $3.07. If one buys into the industry expert calls that 2007 NOI levels will return by 2014, and the market rewards Ashford with the EBITDA multiple of 13 as it did before, buying now returns just under a 36% IRR.
Meanwhile, the preferred D shares trade at $12.40, which is at a 50% discount to par and yields 17%.
I continue to see outstanding value in Ashford Hospitality Trust.
Full Disclosure: Long AHT and AHT Preferred D.