Last week, I noted that Primus (PRS) announced a fairly significant "credit mitigation" transaction, which clipped the tail risk on about $1.2 billion in notional CDS. Because Primus discloses such events and credit losses as they occur, and the company not writing new CDS business, non-GAAP earnings aren't really a surprise – economic results of $47.5 million came from CDS premiums (no credit events in Q2) and a repurchase of debt at a large discount.
The most interesting development is that Primus is now using its float – over $730 million at quarter's end – to invest in investment grade corporates. On the conference call, CFO Richard Claiden said that $20 million of holding company capital was now allocated this way, and subsequently Primus Financial has started doing the same. In the second quarter, Primus' interest income from short-duration risk-free assets was a mere 0.61%. With the iShares iBoxx Investment Grade Corporate Bond ETF (NYSEARCA:LQD) yielding 5.59%, there's plenty of room for improvement in the yield on that capital (which is about 5.6x Primus' current market cap). My valuation model ballparks a 100 basis point improvement in yield over the duration of Primus' current swap portfolio as being worth 58 cents per share in terminal value. There's value to be captured here, and investing in investment grade corporates is a natural way to leverage Primus' credit evaluation abilities.
Although low interest rates hurt the investment yield, it also resulted in Primus paying just 3.71% on its debt and preferred securities – roughly equal to the yield on 10-year Treasuries. The debt structure offers cheap financing, is long-term in duration, and is capped should rates rise in the future. In other words, taking financing when it available on favorable terms proved to be a good move, and now gives the company plenty of optionality as it runs off the CDS portfolio.
There was $63 million in capital outside Primus Financial at the end of Q2 (CypressTree acquisition not counted yet), and the holding company debt (NYSE:PRD) now trades with a $14 handle. Repurchases of both debt and stock have slowed, as the prices have risen dramatically and Primus has re-oriented its capital allocation toward building out asset management. Also discussed was a collateralized CDS seller, but that remains in its early test stages (roughly six months) and has hardly seen a full market cycle, as spreads have been consistently narrowing during that time – see below.
Investment Grade CDX: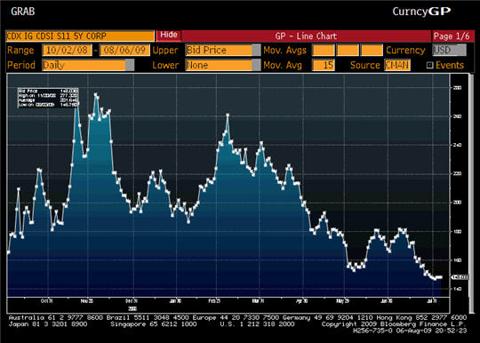 High Yield CDX (less applicable to Primus, but still noteworthy):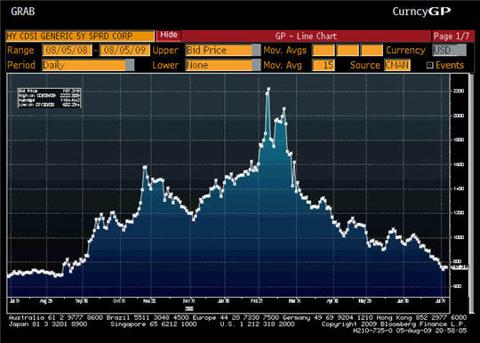 The real question for Primus - one that backwards looking metrics like credit events don't capture - is where in the credit loss cycle we are. There were 15 corporate defaults in Q1, and 13 in Q2; does that constitute a deceleration, or merely a pause before the next leg up? With the current public policy doing everything possible to play for time, I believe a long slog to debt rationalization will take place. Ultimately, that's good for Primus, as it gives more time for CDS to run-off and interest to be earned on premiums, even if it isn't good for the economy as a whole. My long moral hazard trade continues…
Primus Guaranty Q2 2009 Conference Call Transcript
Disclosure: I own both Primus debt (PRD) and stock (PRS).