Pilgrim's Pride (NYSE:PPC) has seen some big action on recent Fridays, carries a great valuation, and will be reporting earnings soon. It is a Zacks Rank No. 1 (Strong Buy). It is the Bull of the Day.
I Feel Like Chicken Tonight
If the title line of this section is lost on you, then I am showing my age a bit. That was a popular tagline from a commercial in the 1980s, but it's clear that the sentiment still rings true. With a 19% share of the domestic market, Pilgrim's Pride has a firm grip on second place behind Tyson's 22%. The 36 million bird weekly capacity also tells you that plenty of people are eating chicken.
Company Description
Pilgrim's Pride produces, processes, and markets fresh, frozen, and value-added chicken products in the United States, Mexico, and Puerto Rico. The company was founded in 1945 and is headquartered in Greeley, Colorado. As of Dec. 28, 2009, Pilgrim's Pride operates as a subsidiary of JBS USA Holdings, Inc.
Earnings History
Looking to the earnings history, I see a stock that has beaten the number in two of the three most recent reports. The most recent quarter was a miss of $0.02, which translated into a negative earnings surprise of 8.7%. The two previous quarters had analysts guessing where the number was going to come in, and they were pretty light. The September 2012 quarter was a beat of $0.11, or 183%, and that was followed up by an even more impressive $0.17 beat for the December 2012 quarter. That translated to a beat of 212%, which isn't exactly chicken feed.
Not a Small Chicken
PPC has approximately 37,500 employees and 30 hatcheries. They also have 3,900 growers and 26 feed mills with production facilities throughout the southeastern portion of the United States, Mexico, and Puerto Rico. The company sells to a wide range of food service companies like U.S. Foodservice, Yum! Brands (NYSE:YUM), Wendy's (NYSE:WEN), Burger King (BKW), and ConAgra Foods (NYSE:CAG). On the retail side, PCC sells to grocers like Wal-Mart (NYSE:WMT), Publix (OTC:PUSH), Kroger (NYSE:KR), and SuperValu (NYSE:SVU), among others.
Earnings Estimates Tick Higher
Estimates for FY 2013 have been moving higher and higher. The 2013 calendar year started out with the Zacks Consensus sitting at $0.86, but that number jumped to $1.31 in April and then again to $1.49 in May, and now sits at $1.65. That is some excellent growth of nearly 100% in just six months. The picture for 2014 is a little less clear, but still shows some growth. The Zacks Consensus for next year started the year at $1.18 and ticked higher to $1.22 in April. A big move up to $1.41 the following month and a subsequent move to $1.47 at the current level.
Valuation
The valuation picture for PPC is a good one. With a trailing P/E of 20.8x the stock trades at a very small premium to the industry average of 19.5x. Not that great, but not that bad either. The impressive valuation metric is the forward P/E of 9.3x compared to the 18x industry average. That is a significant discount for such a large player in the industry. The price to book of 4.1x carries a small premium to the 3.6x metric for the industry. Price to sales of 0.5x is only a fraction of the 2.4x industry average, so there is a lot of room to expand there.
The Chart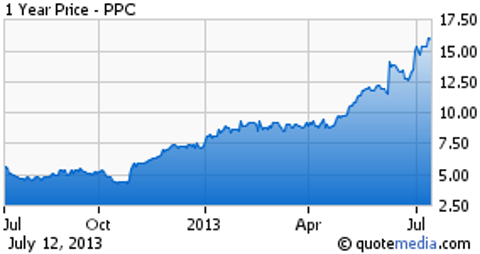 The year-to-date price chart of PPC stock shows a few recent big up days. Both were more than 10% moves and both came on Fridays in June. Last Friday, July 5, saw a surge of buying at the close, but nothing like the recent big moves. Is it at all a coincidence that PPC is the Bull of the Day on this second Friday in July? Well, I am not a believer in the Easter Bunny or coincidences, just merely the appearance of said bunny and coincidences. How else do you explain all those egg hunts, chocolates, and foam bunny treats? As for the stock, I like it here and beyond the Aug. 1, 2013, earnings release.
Pilgrim's Pride: Free Stock Analysis Report (email registration required)