The Nokia (NYSE:NOK) Lumia 1020 was unveiled on Thursday 11th July to a generally positive reception, which turned ambivalent in places. The attendant media were certainly awed by the 41-megapixel phone's capabilities. Several times during the presentation, journalists broke out into spontaneous applause upon seeing some of the incredible photos and videos the phone was able to take. Of course, once the awe had died away and the presentation ended, old questions returned with some jaded columnists launching the usual attacks on Nokia and Microsoft (NASDAQ:MSFT), including issues such as lack of apps and the fact that many consumers prefer Apple (NASDAQ:AAPL) and Samsung (SSNLF.PK) products. Tellingly however, these were perennial arguments, which had very little to do with the phone itself. This does indicate that Nokia despite launching a great product, still has a long hard slog to overcome its brand perception issues. With so many different stories in and around this unveiling, it seems only appropriate to examine them in turn.
The Lumia 1020
Source: Nokia Press
1. Elop is a great presenter - Two months ago, when the L925 was unveiled, I was hugely disappointed by the quality of the presentation which largely consisted of two senior Nokia managers fumbling through their sentences without the presence of Stephen Elop, Nokia CEO. The L1020 launch on the other hand was a masterpiece on how to showcase the product on a limited budget. Elop's effortless charm and charisma helped focus the conversation on the positives of the phone and away from any potential shortcomings. In one notable incident in particular, he answered a very difficult question about AT&T (NYSE:T) being a "crummy partner" with graceful tact which no doubt won the company new friends among AT&T's senior management. These are not just surface theatrics but genuinely matter and strongly contribute to Nokia's brand image. I also liked the presence of a distinguished female PhD on-stage. We often hear talk of sexism in the technology industry, such as with the Samsung Galaxy S4 unveiling which was described by one commentator as "tone-deaf and shockingly sexist." Yet Nokia showed us that there is another path in its own understated way. I do not know if it will win it plaudits in the media or get the attention of the public, but it certainly deserves to.
Elop unveils the L1020
Source: Nokia Press
2. AT&T continues to be Nokia's lead partner in USA - Having carrier exclusives is one of the great polarizing themes among Nokia-watchers. I can understand why, it makes intuitive sense to sell all its phones to all carriers possible. I took a slightly different take in my supply chain article where I pointed out that these carrier exclusives are a vital way for Nokia to gain traction with its main customers. These aren't so much ordinary consumers, but are the procurement negotiators at these big carriers which decide which Nokia phones to purchase and how many. AT&T is one of these and while it is not the biggest carrier in the U.S. [that title belongs to Verizon (NYSE:VZ)], it is committed to Nokia. With their deepening relationship, it appears that AT&T will engage in a concerted "back-to-school" marketing campaign revolving around the L1020.
Elop with AT&T CEO Ralph de la Vega
Source: Nokia Press
This can only be a good thing for Nokia. While, it is easy to assume Nokia would have sold more if it had launched on all carriers, it may not have received any marketing support, which would have counter-intuitively resulted in fewer sales. Naturally, it is developing this strategy globally which brings us to point 3.
3. Nokia keeps developing important new carrier relationships - Telefónica (NYSE:TEF) a Spanish multi-national with operations in 24 countries and more than 315 million customers, is a major player in the telecommunication sector. Nokia announced it will deepen its partnership with Telefónica, which unofficially (so far) includes giving them a special 64GB variant of the L1020. This mimics what it did with Vodafone (NASDAQ:VOD) earlier in the year giving them exclusive access to the 32GB variant of the L925. These types of relationships are exactly what Nokia needs in Europe and while allowing it to sell slightly lower specification L1020s and L925s to other European carriers. Of course, we do not yet know the parameters of this deal and how much advertising spend Telefónica has committed to as of yet. However, I would contend that any extra advertising is of benefit to Nokia.
4. Nokia and Microsoft's partnership can work really well - With the Lumia 1020, it really seems that the two companies worked very closely indeed to be able to make the phone a reality. The 41MP camera phone required special back-end upgrades to WP8 which Joe Belfiore, Microsoft VP of Windows Phone helped coordinate with Nokia. This included building the hardware and software together to ensure the finished product met their requirements. Not only that, but I suspect Microsoft, Nokia and Qualcomm (NASDAQ:QCOM) worked well together to make the Snapdragon S4, a slightly dated processor previously known to be capable of only handling up to 20 megapixels, be able to handle the 41MP L1020. This is very impressive and brings to mind the close Microsoft-Intel (NASDAQ:INTC) partnership. There isn't another single smartphone vendor that I can think of that works so closely with its software provider, which means Nokia is starting to develop a competitive edge in this regard, certainly over its Android competitors, none of whom have a close relationship with Google (NASDAQ:GOOG).
5. The App gap keeps closing - There was a time just 6 months ago when the lack of apps on WP8 was widely discussed and it was unknown if this problem would ever go away. Now, on the same day as the L1020 launch, it was announced that Vine, a Twitter add-on app that has only been on Android for 6 weeks will be coming to WP very soon. What was most interesting about this was that Stephen Elop didn't even mention it in his presentation illustrating how having major apps come to WP is now to be expected, instead of just hoped for. Regarding Instagram's reluctance to come to WP, I increasingly feel this reflects more badly on the Instagram management team than anything to do with WP considering how most other apps are now on the platform.
6. Lumia 1020 is expensive - and that's okay - Some members of the media were shocked that the Lumia 1020 costs $299 up front in the USA and is likely to be around $100 more expensive off-contract globally than the likes of the L925. To this the only response can be that Nokia does need premium halo phones in the store. Competing purely on price is a losing proposition in the long term, product differentiation is what counts. More than that, Nokia does need to subtly shift the perception among some journalists that the only premium phone is an iPhone. Yes, it is more expensive than the 16GB iPhone 5 (but still the same price as the 32GB iPhone 5). I think this extra price is entirely warranted with the novel technologies Nokia is bringing to the table. For sure, within a couple of years, maybe even months, some Chinese brand will find a way to squeeze in an absurdly high amount of megapixels into a phone to superficially compete with Nokia. It however won't have the innovativeness behind Nokia's "PureView" technology, which if properly marketed and exploited, will hold Nokia in good stead for many years to come.
7. Nokia recognizes the brand perception problem it has in the shops - As I mentioned briefly in point 1, Elop had a very difficult question to deal with regarding AT&T. For the benefit of those who didn't get a chance to watch the presentation, I've written this response verbatim below.
Joan Lappin: "Over the last interval, since you introduced the Nokia Lumia [920] in New York, AT&T has been a really dreadful partner, I bought one, I own one, its sitting here in my purse and I love it… but the reality is if you went into the store, most of the sales people knew nothing about it, there was no signage and if you asked about it, they didn't really promote it. So what have you done to make sure this terrific phone, doesn't get the same crummy treatment from AT&T that you've had in the past that's curtailed your sales?"

Stephen Elop: "So first of all... I'm going to generalize this to a fundamental challenge that Nokia faces and it is a challenge that Nokia owns and not AT&T. That is we made the bold decision to not try and just create another set of phones using a common operating system that so many of the others have pursued. We said, we are going to create the third ecosystem. And with that decision came tremendous responsibility to actually help, whether it's a retail sales associate, an operator partner, consumers, the press, to everyone to understand what that third operating system stands for.

And we stand by that decision, because if you look at the market today, you see two big competitors, we used to talk about Android as a competitor, now we talk about a hardware company as a competitor [Samsung], that whole dynamic has changed, and yet our growth in market share, that success we're building on day by day came because we made that bold choice.. But the price we take on for doing that, is that yes, we have to, we Nokia, we have to train those sales associates, we have to work with AT&T to get the best signage.

What you'll see with the launch of the Lumia 1020 is something far better than we've done ever before with AT&T but it won't be as good as we do with the next major launch later this year and on and on. So there's a lot of work required to push through with that third ecosystem, and we're so pleased with the effort the AT&T team have put behind this, it is hard work for all of us and I know we have tough moments but boy we're very pleased they're committed and standing behind us every step of the way as we grow with them."
Elop's response is straight to the point and deals directly with many of the issues Seeking Alpha readers and other folk have reported all over the social media. I have heard of this problem a lot and encountered it myself when a salesman persuaded someone I know to get a Samsung Galaxy Fame (with inferior specs) over a Nokia Lumia 520. I was really surprised because this person I knew mentioned, "but it has Android" as a key selling point and shows just what the struggle Nokia and Elop have in selling the Lumia range. I am glad they recognize this problem and are confronting it. It will take a long time to overcome Samsung's dominance in retail stores, but acknowledging the problem is the first step to dealing with it. For the record, I also think they've taken the second step too by building these carrier exclusive partnerships to help encourage the training of sales personnel to sell Lumias.
8. Lazy journalism directly hurts Nokia - This point links with 7, closest to the consumer we have sales representatives, the final point of contact before a sale is made. But of course before this, when consumers are researching they will often look online for information, around 70% according to this Google study. We all know that modern journalism is a very different beast to 10 years ago with the decline of print media, fact-checking and deeper analysis now often take a back seat with the amount of material one can generate being paramount. In practice, in relation to Nokia, this means that lazy half-truths can continue to perpetuate with no deeper underlying analysis. So for example, in this BBC article, it is pointed out that the camera is only ranked 15th out of 23 considerations when it comes to selecting a smartphone. While that may be correct, it also is irrelevant. The Lumia 1020 with its 41MP camera is unique among smartphones, so it is not too far a stretch to imagine that people interested in cameras in particular will choose to purchase this phone. A basic knowledge of market segmentation is enough to know that different people are interested in different features, something which the Lumia 1020 offers.
Also, in this context, Henry Ford famously stated: "If I had asked what people wanted, they would have said faster horses," Sometimes, being bold in the marketplace is not about creating what people say they want, but what they actually buy in practice.
Unfortunately however, we as investors cannot do much about journalistic attitudes. All we can do really is to recognize they will err on the side of descriptiveness instead of analysis and often give a worse picture of Nokia than the company warrants based on writing about past facts rather than analyzing future potentialities.
9. Nokia is still reluctant to commit to large up-front orders - One of the aspects of the presentation I did not like was the delay in getting this phone out to consumers globally. We know AT&T will receive the phone on 26th July. We also know Europe, China and parts of Latin America (due to Telefónica) will get the phone sometime this quarter. The rest of the world may have to wait up to six months for the phone. That is simply not good enough. Yes, I appreciate that Nokia is very cash-constrained, yet it must recognize that phone-shelf life is very limited. I don't know how desirable this phone will be in six months, but I do know it will have more formidable competitors than it does today. If Nokia has limited stock, it needs to figure out ways to still get this phone delivered worldwide as quickly as possible. For example, is it not possible for Nokia to create a worldwide Nokia store which sells directly to the customer online? Even just a ration of 1,000 units a day from this would do much to satiate global demand.
10. The phone sells itself - Finally, in this long analysis, I did little to actually discuss the merits of the phone. Nokia Conversations has an excellent selection of images here which I'd recommend to all readers. Below is a sample image.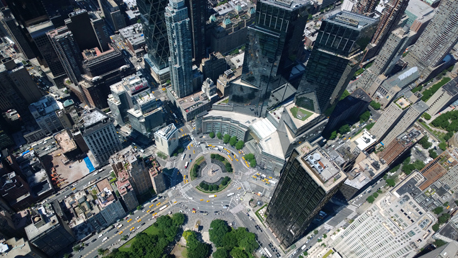 And here is a select part of the image blown up to full size.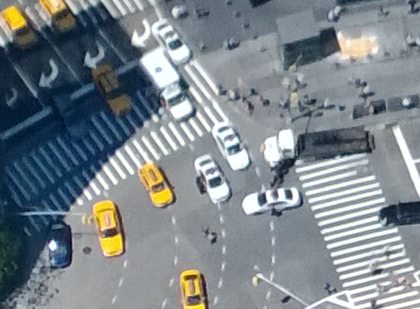 What is even more astonishing about this is that it was taken from a helicopter, something not known for its stability. The "OIS" within the phone however helps to stabilize the image and produce something incredible. All Nokia need to do now is to show off the capabilities of this camera in as many ways as possible and they will win many new fans and customers.
Conclusion
With the Lumia 1020, Nokia has what is probably the world's best camera phone at its disposal. This type of innovativeness will hold the company in good stead and is a decent payoff for all the R&D the company invests in. What is exciting about having the L1020 already released is that this shows the future direction of the entire Lumia range. Today it is a premium smartphone, within perhaps 2-3 years, this technology may well exist in the budget range and the premium successors to the L1020 will become even more special. If it maintains its lead in camera phones, it will have another competitive advantage and will only help it increase its market share.

Disclosure: I am long NOK. I wrote this article myself, and it expresses my own opinions. I am not receiving compensation for it (other than from Seeking Alpha). I have no business relationship with any company whose stock is mentioned in this article. I may increase or reduce my position within the next 72 hours.
Disclaimer: This article is not an investment recommendation. Any analysis presented in this article is illustrative in nature, is based on an incomplete set of information and has limitations to its accuracy, and is not meant to be relied upon for investment decisions. Please consult a qualified investment advisor. The information upon which this material is based was obtained from sources believed to be reliable, but has not been independently verified. Therefore, the author cannot guarantee its accuracy. Any opinions or estimates constitute the author's best judgment as of the date of publication, and are subject to change without notice.