By: Todd McDonald, Analyst
Overview
Goldman Sachs (NYSE:GS) is scheduled to report 2Q2013 earnings before the opening bell on Tuesday, July 16. The firm indicated it would provide a press release at 7:30 a.m. EST and follow with a conference call at 9:30 a.m. Please note that, in past reporting periods, Goldman Sachs reported earnings approximately 15 minutes ahead of the scheduled release time. Goldman's results also have the potential to impact the financial sector as well as the broader market gauges, particularly the index futures, given the investment bank's influence.

Outliers & Strategy
Earnings Per Share: Goldman Sachs typically provides a "clean" number that is comparable to consensus. The current Street estimate is $2.82 with a range of $2.55 to $3.17. (Source: Yahoo! Finance)
Revenues are seen coming in at $7.9 bln, an increase of 20.50% from 2Q2012. The range is $7.65 bln to $8.74 bln.
Sympathy Plays: Morgan Stanley (NYSE:MS), Jefferies (JEF), Lazard (NYSE:LAZ), and Barclays (NYSE:BCS). Also, be sure to watch the relevant ETFs, such as Financial Select Sector SPDR (NYSEARCA:XLF) and Direxion's leveraged ETFs (FAS3x bull) and (FAZ3x bear).
Implied Volatility: The average price move off earnings in Goldman Sachs shares is 2.59%. The options markets are implying a 2.88% move one day after earnings are disseminated.
Recent News
07/12: JPMorgan Chase (NYSE:JPM) reported earnings per share of $1.60, and revenues of $25.2 bln, both of which were better than analyst estimates. The earnings release sent the financial sector marginally higher on Friday, July 12.
07/09: According to a post on StreetInsider.com, financial regulators have imposed new leverage ratios on the major US financial institutions, raising the capital leverage ratio from 3% to 5% of assets. A post on Benzinga.com indicates that Goldman Sachs would need to raise about $5 bln in capital to meet the new requirements. The bank would have to do one or more of the following to comply with the new regulations: sell assets, decrease or eliminate payout ratio, or decrease share buybacks.
06/26: Atlantic Equities reiterated its Neutral rating on Goldman Sachs, citing a forecast for decreased revenues in investment banking and trading, according to a post on Benzinga.com. The firm cut its EPS estimates to $2.70, $0.10 below consensus.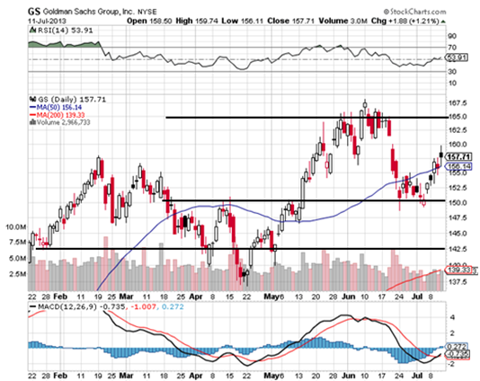 Technical Review
Goldman Sachs shares have reclaimed the 50-day SMA, bouncing off of old resistance near $150. The stock has outperformed the S&P 500 substantially in 2013, rising approximately 25% YTD versus the (NYSEARCA:SPY) increase of 18.73%. If earnings results surprise to the upside, look for initial resistance at $165, followed by the recent highs of $168.20. If results disappoint, the first target for support should be near the aforementioned $150, followed by $142.50. (Chart courtesy of StockCharts.com)
Summary
Goldman Sachs shares have benefitted greatly from a strengthening US economy and improving lending standards. Although there have been new capital standards imposed on the largest US banking institutions, the price action of the industry has remained positive, indicating the downbeat news was already priced in. Therefore, the Street is most likely pricing in a solid report. Look for earnings and revenues well above consensus to push shares significantly higher. Anything less would be seen as a disappointing report.
DISCLAIMER: By using this report, you acknowledge that Selerity, Inc. is in no way liable for losses or gains arising out of commentary, analysis, and or data in this report. Your investment decisions and recommendations are made entirely at your discretion. Selerity does not own securities in companies that they write about, is not an investment adviser, and the content contained herein is not an endorsement to buy or sell any securities. No content published as part of this report constitutes a recommendation that any particular investment, security, portfolio of securities, transaction or investment strategy is suitable for any specific person.
Disclosure: I have no positions in any stocks mentioned, and no plans to initiate any positions within the next 72 hours. I wrote this article myself, and it expresses my own opinions. I am not receiving compensation for it (other than from Seeking Alpha). I have no business relationship with any company whose stock is mentioned in this article.