Fundamental long-term growth in digital content will provide a strong tailwind for Western Digital Corporation (NYSE:WDC) and could propel the stock to $100 in 2015.
WDC makes reliable hard disk drives ("HDD") as well as solid state drives ("SSD") that store digital data. These drives are used everywhere digital information and content is found: in mobile devices; in business and personal computers; in external storage devices; in the digital video recorder in your home; and in sophisticated medical, military, aerospace, automotive, manufacturing and telecommunications systems. Customers range from the individual consumer (like you) to the largest corporations to big government.
In a July 2, 2013 presentation, Western Digital shared its view of the coming boom in digital data. The company predicts a 34% compound annual growth rate through 2020: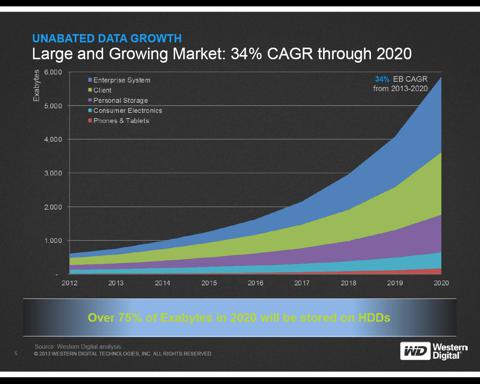 As can be seen by the slide, the largest growth is expected to be in the Enterprise Systems and Client market segments. So we are talking "cloud" and "big data" here. According to market data shown in the presentation, these two market segments are dominated by HDDs today and are expected, along with SSDs, to dominate the market in 2020.
Megatrends driving the growth in digital storage requirements are in fields as diverse as human genome data, social media, consumer, and content digitization of old media (paper, film, CDs, etc). With recent revelations about eavesdropping by the National Security Administration ("NSA") and cyber-theft by the Chinese, it is clear big governments will be storing huge quantities of "metadata." One of the slides in the WDC presentation says the NSA's "Boundless Informant" tool enabled it to view 3 billion pieces of intelligence in a 30-day period on its US network, and 97 billion pieces worldwide as of March 2013.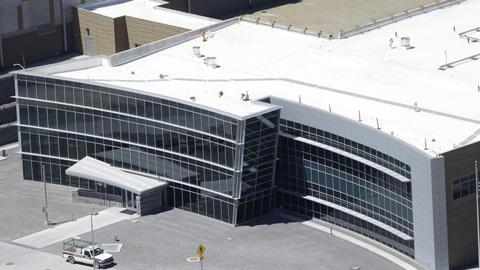 The NSA's Utah Data Center in Bluffdale, Utah
A recent article on Fox News reported that the NSA's new Utah Data center is a 1.5 million square foot building filled with super-computers designed to store massive amounts of information gathered from phone calls, emails, and online activity. James Bamford, the author of several books on the NSA and who last year wrote about the Utah center in Wired magazine, says it will be the central depository for everything the NSA intercepts -- in effect, functioning as the agency's "cloud." Bamford believes the facility will be able to hold a so-called yottabyte of information, the largest measurement computer scientists have. A yottabyte is equal to 500 quintillion pages of text.

These very large "metadata" storage requirements are likely to be satisfied with storage devices like those in WDC's multi-disk helium filled HDD product line. Take the UltraStart 7K3000, for instance. This drive is a 5-platter platform with the following specs:
Up to 3 Terabytes of capacity
Supports both SATA and SAS 6 GB/s interface configurations
Supports TCG Enterprise_A encryption
2 million hour mean-time-between-failure rate ("MTBF")
5 year warranty
What else could a 24x7x365 enterprise-class application ask for out of a storage device? Answer: more storage! With the smaller footprint of this product, the company says it is now possible to achieve a colossal 1.8 PB (petabyte) of storage in the footprint of a standard 19-inch enterprise storage rack by stacking ten 4U, 60-bay enclosures.
It's clear the world's digital data storage requirements are growing at a phenomenal rate. It's also clear Western Digital has the products to satisfy the requirements of the demand for data storage. But will these fundamentals push the stock up? In a word: Yes.
Competition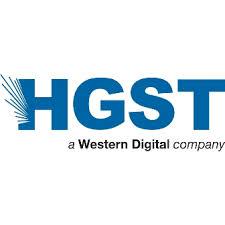 There are basically two large HDD companies left: Western Digital merged with Hitachi Global Storage Technologies (the origin of WDC's "HGST" product line) last year, and Seagate Technology (NASDAQ:STX) merged with Samsung Electronics' HDD business in 2011. Toshiba is still hanging on, but in my opinion is a tier-2 player. In addition to acquiring their competitors, the hard drive manufacturers have been acquiring companies along the supply chain, such as companies that produce components of the drives. Basically, WDC and Seagate own this market.
When it comes to something like the NSA, most all government programs require second sourcing of components. Hard drives manufactured by different competitors are highly substitutable. As a result, I believe WDC and STX will roughly share this market opportunity.
HDD makers often compete on the basis of price, quality, reliability, performance and storage capacity. As technology advances, storage density and drive speed (performance) continue to increase. Like any technology, this often results in price erosion of older models. So the industry is characterized by times of intense pricing pressure followed by new technological innovations and margin expansion. But with the consolidation of the last 2 years, Western Digital and Seagate have basically reduced the field from four major players to two. This reduces WDC's historical competitive threat and, I believe, overall margin pressure.
Financial Performance
According to the company's 2012 annual report, net revenue was $12.5 billion for 2012 -- an increase of 31% from 2011. Operations from HGST contributed $3.1 billion in net revenue. Enterprise unit shipments rose 60% from 10 to 16 million. Not surprisingly, there followed a $17 increase in ASP from $45 to $62. For the year, net income was $1.6 billion -- up 12.9% year-over-year. Gross margins were close to 30%.
2012's financial performance was exceptional considering the industry's hard drive shipments decreased from 657 to 599 million units. This reflected flood-related supply constraints in Thailand and a consumer transition away from PCs to tablets ("SSD" instead of "HDD") and smartphones. However, according to the annual report, WDC captured an amazing 45% of the total HDD market.
Cash flow from operations grew substantially in 2012 as a result of the HGST takeover: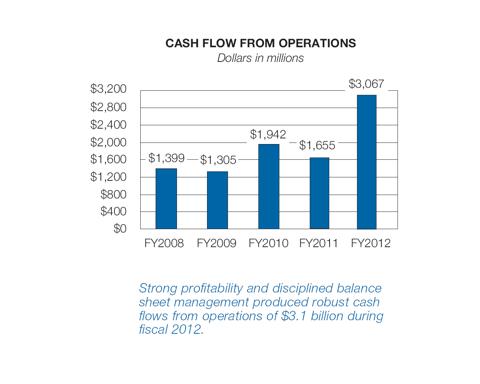 As did shareholder equity: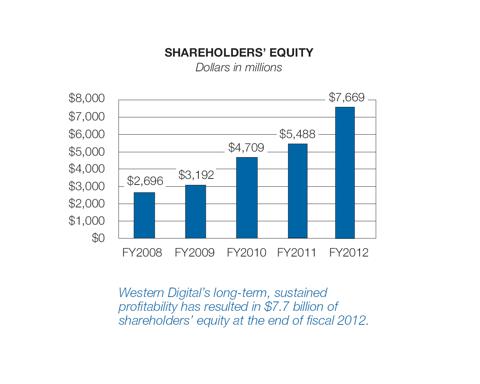 Risks
The risks going forward include a weakening world economy, a more rapid decline in PC shipments without a corresponding increase in shipments for tablets, enterprise and client shipments, as well as competition resulting in a decline in ASPs. Also, as a result of the HGST acquisition, net cash was reduced by 2/3 in 2012 and long-term debt at fiscal year end was $1.95 billion. The company will need a firm market over the next 12 months to bring debt-to-equity back to more a more normal ratio.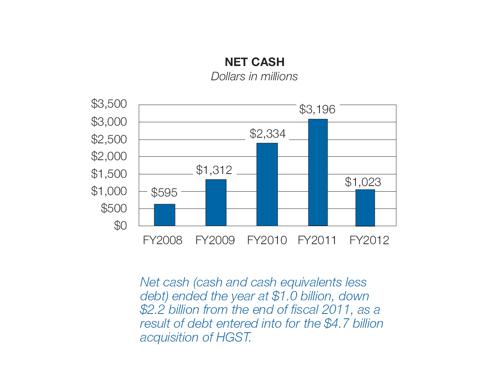 In addition to these risks, the HDD and SDD markets are highly technical fields. The mobile market has increased the demand for smaller, thinner, lighter, and quieter high performance storage products. All this much be achieved with a highly reliable product line along with a steady reduction in cost per storage unit. As a result, WDC must fund a robust R&D budget: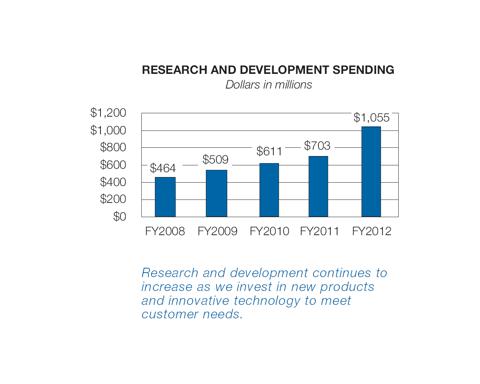 That said, I believe the huge uptick in R&D spending in 2012 reflected the HGST acquisition. I would expect redundancies and synergies across the two R&D engineering operations will allow the company to trim costs and return to a more normal year-over-year increase.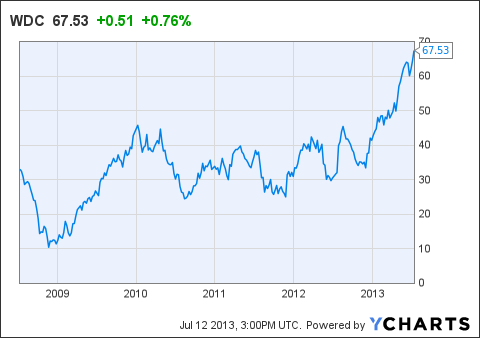 Current Valuation
According to Yahoo finance, WDC currently has a P/E=8.5 and trailing twelve month earnings of $7.93. It pays a dividend of $1/share and currently yields 1.5%.
S&P estimates WDC will earn $8.30 for fiscal year 2013, $7.62 in 2014, and $7.58 in 2015. Analysts' concerns over pricing pressure and lackluster end demand for HDD products will, they say, constrain earnings for the foreseeable future. I disagree. While I will concede the PC market will continue to contract, I think we will see a move to higher margin HDD products in the enterprise and client markets as a result of the phenomenal growth in metadata applications from private industry and governments. This market growth, combined with WDC's 45% market share (according to the annual report), could enable WDC to earn $10/share in 2015. Why? Because I expect WDC will continue to see expanded ASPs similar to what was experienced in 2012. I also believe there will be some R&D duplications rung out of WDC's R&D operations -- and these savings will move to the bottom line. In addition, I expect P/E expansion as the market realizes and factors in the phenomenal growth rate in worldwide storage requirements. With a P/E of 10 and $10/share earnings, WDC could hit $100/share by 2015.
Summary And Conclusion
Western Digital Corporation is a market leader in the HDD market. Due to industry consolidation over the past two years, WDC and Seagate are now the two major players. Due to the interoperability of HDDs, most corporations and governments will second source their storage units in order to reduce mission critical storage risks. Assuming continued engineering and manufacturing execution, this means WDC and STX will basically share the majority of the fast growing digital data storage market, a market expected to grow at a 30%+ compound annual growth rate until the year 2020. As a result, shares in WDC will see an expansion in both earnings and valuation metrics. The company could earn $10/share by 2015 and the market could easily expand the P/E to 10, resulting in a $100 share price.
For those investors willing to assume the risks discussed in this article, WDC is a Buy.
Disclosure: I have no positions in any stocks mentioned, but may initiate a long position in WDC over the next 72 hours. I wrote this article myself, and it expresses my own opinions. I am not receiving compensation for it (other than from Seeking Alpha). I have no business relationship with any company whose stock is mentioned in this article.
Additional disclosure: I am an engineer, not a CFA. The information and data presented in this article was obtained from company documents and/or sources believed to be reliable, but has not been independently verified. Therefore, the author cannot guarantee its accuracy. Please do your own research and contact a qualified investment advisor. I am not responsible for investment decisions you make. Thanks for reading and good luck!