By Todd McDonald, analyst
Overview
Coca-Cola (NYSE:KO) is slated to report Q2 2013 earnings before the opening bell on Tuesday, July 16. The results are typically released between 7:30 a.m. and 8:00 a.m. ET and will follow with a conference call at 9:30 a.m. Coca-Cola is a member of the Dow Jones Industrial Average often seen as a barometer for the health of the global economy, and could therefore impact the index futures when it delivers quarterly numbers.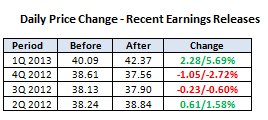 Adjusted Earnings Per Share: Coca-Cola typically includes a value for the measure adjusted earnings per share that is comparable to estimates. The estimate is for earnings of $0.63 per share. The range is $0.62 to $0.66.
Revenues: Analysts are expecting a decrease in sales of -0.50% to $13.02 billion (source: Yahoo Finance).
Unit Case Volume: This is a key metric for Coca-Cola. Estimates call for an increase of 3.5% with a range of 2.3% to 4.4%, according to Zack's Investment Research.
Sympathy Plays: PepsiCo. (NYSE:PEP), Dr. Pepper Snapple (NYSE:DPS), and Monster Beverage (NASDAQ:MNST).
Relative Valuation: Coca-Cola currently trades at a slight premium to its competitors at 18.82 times forward price-to-earnings ratio, vs. Pepsi (18.77x) and Dr. Pepper Snapple (14.91x).
Implied Volatility: For the past eight quarters, the average absolute one-day move after earnings are released has been 2.14%. Using options premiums, traders are expecting an absolute move of approximately 2.11%
Recent News
June 19: According to a post on Benzinga.com, Credit Suisse rates Coca-Cola with an Outperform rating and a $48 price target. Over the next 12 to 18 months, the firm sees upside in Asian and U.S. markets, with improving profit margins and return on invested capital.
Over the past month or so, there have been rumors of Coca-Cola buying SodaStream (NASDAQ:SODA) after the latter canceled their attendance at an Oppenheimer investor conference, according to a post on StreetInsider.com.
May 22: BMO Capital Markets rates Coca-Cola with a Market Perform rating and a $45 price target, according to a post on Benzinga.com. The firm cites the combination of Coca-Cola's opportunity for growth in emerging markets and distribution infrastructure as positives for shares.
Coca-Cola's shares have marginally underperformed the broader market, rising about 14% YTD. Since early June, the 50-day SMA has acted as a significant technical resistance point, which is currently near $41. Should earnings results surprise to the upside, look for a potential break through this point, with further resistance near $42.50. If results disappoint, look for initial support near $40 followed by $39.50.
Summary
Coca-Cola is a classic defensive play, with the benefit of potential upside of emerging market growth in the coming years. The current technical setup should serve as a near-term inflection point, as the upcoming release could cause a failure at resistance or a breakout. Since analysts are predicting a small decrease in revenues, look for an increase along with earnings per share near the high end of the range, and a solid reading for unit case volume to push shares through the aforementioned resistance.

Disclosure: I have no positions in any stocks mentioned, and no plans to initiate any positions within the next 72 hours. I wrote this article myself, and it expresses my own opinions. I am not receiving compensation for it (other than from Seeking Alpha). I have no business relationship with any company whose stock is mentioned in this article.
Disclaimer: By using this report, you acknowledge that Selerity, Inc. is in no way liable for losses or gains arising out of commentary, analysis, and or data in this report. Your investment decisions and recommendations are made entirely at your discretion. Selerity does not own securities in companies that they write about, is not an investment adviser, and the content contained herein is not an endorsement to buy or sell any securities. No content published as part of this report constitutes a recommendation that any particular investment, security, portfolio of securities, transaction or investment strategy is suitable for any specific person.