I am going to come out of the gate on this one and say that I was wrong. I did not think that retail pharmacies would have that big of an impact on the sales of Vivus' (NASDAQ:VVUS) anti-obesity drug Qsymia. At the beginning of July, about 8,000 retail pharmacies became certified and were, for the first time, able to sell Qsymia to consumers. Prior to that date, Qsymia was only distributed through mail order.
How can we tell that retail is making an impact? It is simple deduction given some of the data we have. Last week was a holiday week with the 4th of July happening on a Thursday. Essentially, most investors that track drug sales were expecting that the holiday would cause a sales lull.
For the week ending July 5th, and because of the holiday, competitor Arena (NASDAQ:ARNA) saw script sales for Belviq decrease by about 10% week over week. Generic phentermine, also used for anti-obesity, saw sales drop about 11% week over week. Given that data, one would expect that Qsymia sales would drop by 10% to 11% as well. Instead, we saw Qsymia sales climb from just over 5,100 scripts to just over 6,100. That represents an almost 20% increase in sales. The delta is potentially as high as 30% when you consider that retail pharmacies aside, Qsymia sales should have dropped by about 10%. Retail is having more dramatic positive impact than I thought it would.
On the positive side, Vivus is seeing better traction and wider availability now. On the negative side, Vivus is in the middle of a battle for control with its largest stakeholder, First Manhattan. This makes the price of the equity come into question and brings further uncertainty to a company that has seen the launch of its anti-obesity drug fall well short of expectations.
On Monday, July 15th, Vivus will conduct its annual shareholder meeting. That meeting will bring with it an announcement of whether current management will remain in control, or whether the company will have a new Board of Directors and perhaps even a new CEO. Essentially, this positive news in script data will get lost in the shuffle.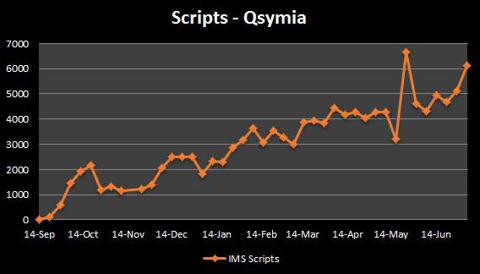 What is perhaps a decent positive here is that Vivus is still working on certifying more pharmacies. Once again, I find myself having to consider the possible impacts as the network grows. In my opinion, the initial 8,000 will carry more weight than those that get incrementally added. Simply stated, the impact of additional retail pharmacies will not incrementally increase sales in the same manner we saw with the initial batch. I believe this to be the case because the initial 8,000 gets the company huge exposure within every region of the country, while the incremental additions will, in many cases, simply be duplicating that coverage. Consider a patient that has three pharmacies in town, with only one carrying Qsymia. That patient would simply go to the pharmacy that carries the drug. If a second pharmacy were to offer the drug, it would not increase sales per se, but rather patient choice in completing one sale.
Traders of Vivus are caught in a bit of a pickle. The equity is up from about $12.20 to $14.70 in the last five days. That is an impressive run. Whether or not this run will continue is determined not so much by script sales, but rather what happens with management and the board on Monday. Positive traction in sales will help to build up a support level for after the dust settles. After typically spending several weeks in each 1,000 script increment before moving up to the next level, Vivus spent all of 1 week in the 5,000s. That points to more exponential type growth. This could bode well for both Vivus as well as competitor Arena. Stay tuned.
Disclosure: I am long ARNA. I wrote this article myself, and it expresses my own opinions. I am not receiving compensation for it (other than from Seeking Alpha). I have no business relationship with any company whose stock is mentioned in this article.
Additional disclosure: I have no position in Vivus.