Wells Fargo (NYSE:WFC) just reported another record quarter. Diluted earnings per share of $0.98 were up 20 percent YoY, and 7 percent on the linked quarter. Revenues were essentially flat.
Headline numbers came in "meet or beat" the Street.
In this article, we will walk through some earnings release highlights, then focus upon three specific metrics I believe are important to watch closely going forward. Lastly, I will provide a 2014 price target.
Despite the recent share price run-up, I believe the stock remains significantly below fair value.
Wells Fargo -- Six-Month Price, Volume and 200-DMA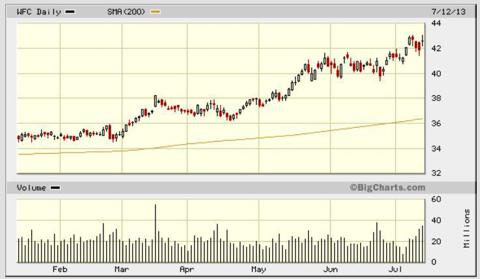 Courtesy of bigcharts.com
Second Quarter Earnings Highlights
In addition to revenue and EPS, there are a handful of other metrics I use when evaluating banking stocks in general. These include:
Returns
Net Interest Margin
Efficiency Ratio
Net Charge-Offs
Tier One Common Equity
Since WFC remains a traditional deposit-and-loan institution, I also review select Loans and Deposit data.
Returns
Wells Fargo Return-on-Equity and Return-on-Assets improved to 1.55 and 14.02 percent, respectively.
These figures have been trending higher since the depths of the financial crisis. RoE and RoA help investors understand a bank's overall financial health.
The current WFC figures are sound numbers that put it near the top of the industry.
Net Interest Margin
Second-quarter NIM continued to experience compression, though the rate has slowed dramatically. Given recent changes at the long end of the yield curve, I believe we're seeing the bottom of this down cycle. Wells' Net Interest Margin fell but two points to 3.46 percent versus 3.48 percent in the preceding quarter. What's positive is that Wells Fargo management has been able to not only survive the squeeze, but continue to grow earnings. The following chart, taken from the 2013 2Q earnings presentation, highlights this.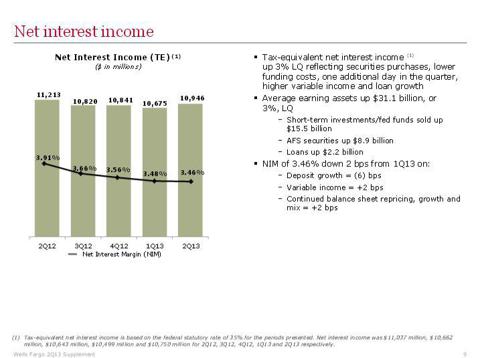 Efficiency Ratio
Wells Fargo management targets an Efficiency Ratio (Non-Interest Expense/Revenue) of 55 to 59 percent. The current 57.3% mark is well within parameters. It also represents a +100 basis point improvement over the linked quarter. Senior bank leadership has voiced a focus on expense reduction. This metric helps to measure it.
Net Charge-Offs
The 0.58 NCO rate has reached a level not seen since the 2006 pre-crisis days. The number provides a glimpse of how well the bank is managing its impaired loan portfolio. Many of the problems were embedded within the Wachovia Bank buy-out.
Tier One Common Equity
Tier One Common Equity is broad measure of a bank's core equity capital compared with its total risk-weighted assets. The trend should be up, indicating increasing underlying strength of a bank's capital structure. Wells Fargo has shown consistent improvement in the area, and exhibits the strongest mark of the four major U.S.-based banks. The Tier One Common Equity Ratio under Basel I is 10.73%, up 65 basis point from a year ago. Under Basel III conditions, the figure was 8.54%.
As an adjunct, the dividend was raised to $0.30 a share, and the stock now yields 2.8 percent.
Other Loan and Deposit Data
When evaluating WFC performance, I always like to look at selected loan and deposit data. My expectation is that Non-Interest Income will follow alongside growing core deposits and loan activity.
The following two slides from the 2013 2Q earnings presentation provide the necessary color in these areas: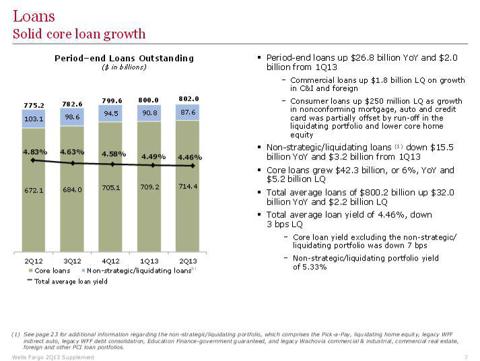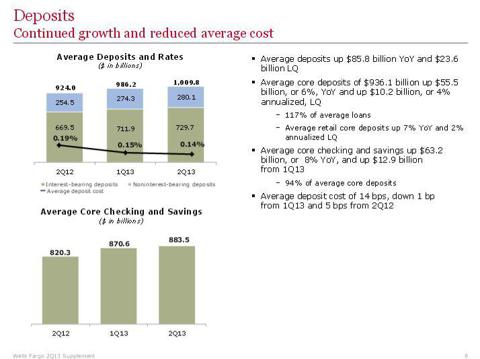 What to Watch Going Forward
Many investors have concluded that the U.S. economy is at or nearing an inflection point regarding interest rates, business growth, and momentum. In general, I concur with this analysis. While I have confidence that WFC can do well under nearly any reasonable circumstance, there are three specific measures I plan to watch in order to evaluate how well Wells Fargo may navigate structural economic change.
These include:
Mortgage origination, application, and pipeline data
Earnings contribution from the release of Loan Reserves
Unrealized losses on Securities AFS (Available For Sale)
Mortgage Growth Data
Higher rates are likely to affect mortgage refinancing. If the increase is great enough, it will also reflect upon buyers' willingness to enter into new real estate transactions.
In the linked quarter, Wells Fargo saw mortgage originations increase 3 percent. Mortgage applications bumped up 4 percent. Good stuff. However, the mortgage pipeline (loans that have been locked in with a mortgage originator by borrowers, mortgage brokers or other lenders) decreased by 13 percent. I plan to watch these markers for quarter-by-quarter trends.
Indeed, mortgage refinancing is sensitive to interest rates. WFC's re-fi business took a hit, dropping from 69 percent of all first quarter originations to 54 percent in the quarter ending June 30.
Earnings Contribution from Release of Reserves
One way a bank can "make money" is to release monies set aside to cover bad loans. These reserves are created to insulate the bank from expected losses on prior loans gone bad. As conditions improve, the bank can release some of this money. Banking leaders have latitude when determining how much to release. In general, the release is calculated by subtracting Provision for Credit Losses (PCL) from Net Charge-Offs (NCO). What I plan to watch closely is how much of Wells Fargo's EPS comes via contributions from releasing loan reserves. Here's a table I put together outlining the trend for the past five quarters:

Do I see a problem today? No. The most recent contribution to EPS from loan reserve releases was $500 million or nine cents a share on a 98 cent EPS basis. Nonetheless, I will pay attention to this figure and its corresponding trend. Sustained banking growth should come from the bottom up business, not financial accounting.
Unrealized Losses from Securities
The final item I believe is important to watch is how much money the bank is losing on the unrealized portion of its securities portfolio. The recent jump in interest rates has caused a sizable decrease in the value of some fixed income investments. I suspect that a number of these securities were carried previously well above par value: interest rates were at historic lows. These securities must now be marked to market.
In the second quarter, Wells Fargo booked a $6.13 billion loss on such securities. It's found in the earnings release under, "Consolidated Statement of Comprehensive Income." In the prior YoY period, there was an unrealized gain of $831 million in this category -- a pretty big swing.
Prudent investors may wish to pay attention to the direction and magnitude of this line item in coming quarters.
WFC management acknowledged the issue on the 2Q conference call. CEO Tim Sloan noted:
We expect reductions to unrealized securities gains when rates rise and this is one reason why as discussed over a year ago we're targeting a capital buffer of approximately 100 basis points.
Valuation
Despite a YTD shareholder return of more than 25 percent, I contend that Wells Fargo stock remains undervalued. Utilizing fellow S.A. contributor Chuck Carnevale's F.A.S.T. Graphs, I offer my reasoning below.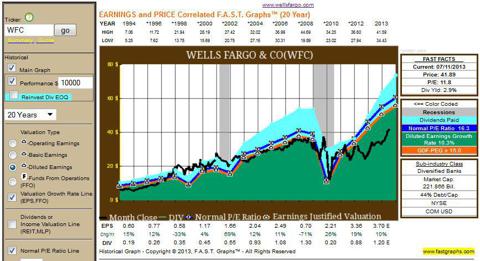 courtesy of fastgraphs.com
In the 20-year chart above, WFC's price (black line) has tended to follow earnings (the green shaded area) somewhat closely sans times of economic stress (the 1998 currency crisis) and recession (the grey shaded time periods).
I chose a 20-year time frame in order to provide plenty of historic data.
In 2012, we see the pattern changed. While bank earning accelerated, the P/E multiple compressed. The stock price began to lag earnings growth. My view is that this is an anomaly, not a permanent condition. I can find no compelling long-term reason why Wells Fargo stock should now command a multiple of 12x, when Mr. Market has placed a long-term multiple of 16x on it. Indeed, the P/E has been contracting during a period of both earnings and dividend growth.
Utilizing a second, related F.A.S.T. Graph, we can visualize five-year Wall Street consensus earnings estimates and various P/E ratios associated with such earnings forecasts.
Let's presume that the EPS figures are reasonable; Wells Fargo management has an excellent track record of meeting analysis expectations. Let's further assume a more conservative view of the future price/earnings multiple versus the past 16x; one may premise a more subdued EPS growth rate could warrant a lower 13.5x ratio.
Multiplying the 2014 projected EPS of $3.90 per diluted share and a 13.5 P/E, we arrive at a target price of $54. This represents a potential 23 percent per share upside. Dividends are additive to the returns.
Please see below.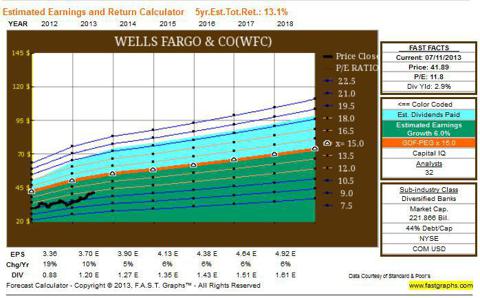 courtesy of fastgraphs.com
Conclusion
Wells Fargo reported a strong 2013 second quarter. Financial measures met or exceeded expectations despite ongoing net interest margin compression and a stubbornly tepid economy.
I believe a play in WFC stock is a play in the U.S. housing market as well as the overall consumer economy. Assuming we experience any kind of broad, sustained improvement, the bank is positioned to thrive, gradually rising interest rates notwithstanding. Even in a climate of weak growth and today's ultra-low rates, management has figured out ways to cope.
Going forward, I place special importance upon future metrics of the bank's mortgage business; understanding how much future earnings represent loan reserve releases; and the impact of unrealized losses on securities.
I believe the shares remain undervalued despite the strong 2013 gains.
Please do your own careful due diligence before entering into any investment. Good luck with all your 2013 investments.
Disclosure: I am long WFC. I wrote this article myself, and it expresses my own opinions. I am not receiving compensation for it (other than from Seeking Alpha). I have no business relationship with any company whose stock is mentioned in this article.
Additional disclosure: I am long WFC common shares and warrants.