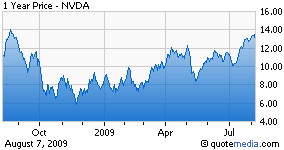 Following a better-than-expected Q2 report and a forecast above estimates, shares of graphics chip maker Nvidia (NVDA) are repeating the rise they had last night, up 79 cents, or 6%, at $13.91.
Bulls are willing to believe Nvidia can keep improving its cost of goods while gaining inroads in mobile devices with new chips; bears assert the company is still doomed longer term by AMD's (AMD) and Intel's (INTC) offerings.
No ratings changes, but everyone's estimates are going up.
Kevin Cassidy, Thomas Weisel: reiterates his "Overweight" rating and raises his price target to $18 from $17, writing that a 12 percentage-point increase in the company's gross profit margin was aided by a higher proportion of chipsets (cheaper to produce) in the company's sales, as well as a higher ramp of the company's 40-nanometer standalone graphics chips. "This balancing act will continue into the October quarter," writes Cassidy, allowing for a 1.25 percentage point increase in gross profit. Cassidy raised his estimate for this year from $3.1 billion and 8 cents per share to $3.19 billion and 17 cents per share.

Bobby Burleson, Canaccord Adams: reiterates his "Buy" rating on the stock and raises his price target from $13 to $18, writing that gross profit rebounded "faster than expected." The main source of outperformance was the rise of sales of chipsets for desktops, with sales up 55%, and for notebooks, up 33%. Gross margin will probably continue to expand as the company achieves greater efficiencies in manufacturing and swings back at AMD and Intel's graphics offerings with its most recent products, "Tegra" and "Tesla." Burleson raised his fiscal 2010 estimates to $3.129 billion and 19 cents per share from $2.95 billion and a loss of 2 cents per share.

Alex Gauna, JMP Securities: reiterates "Market Outperform" rating and raises his price target to $17 from $18, writing that "upside is possible on multiple vectors" given what he sees as the company's "conservative" forecast. Gauna thinks the company can deliver 70 cents in non-GAAP EPS in calendar 2010 (Nvidia reports on a January-ending fiscal year). Gauna thinks upside can come from mobile computing, graphics chips for supercomputing applications, and plain old personal computing that's enhanced by graphics chips sharing more work with CPUs. "The products in these areas marketed under Tegra, Tesla and GeForce/ION branding, respectively, and are each capable of scaling to revenue levels equivalent to the over $4 billion in peak revenue the company achieved in fiscal 2008," writes Gauna, "although most likely not as rapidly as NVIDIA management is prone to infer."

Craig Berger, FBR Capital: reiterates his "Market Perform" rating and raises his price target from $14 to $15. Berger raised his revenue estimate for this year from $3.04 billion to $3.162 billion, and his EPS (non-GAAP) from 12 cents to 22 cents per share, on clear momentum for the company's "Tegra" graphics chip, the first chip for HD video presentation on a laptop, he notes. Berger thinks the chip could find increasing wins in handheld computing as well. However, "NVIDIA does have the largest variability of potential outcomes in our universe with visibility into higher margins and earnings power still murky," writes Berger.

JoAnne Feeney, FTN Equity Capital Markets: reiterates her "Sell" rating on the stock while raising her price target to $9 from $7 as her estimates are going up. Feeney raised her estimate for this year to $3 billion from $2.8 billion. Feeney sees greater inroads in the mobile computing market for Tegra, similar to Berger, but worries that long term, the chipset business for Nvidia will come under further pressure from AMD and Intel's integrated graphics offerings, threatening average selling prices.