Actionable Items:
Highest Positive Spread: PIMCO Dynamic Income Fund (NYSE:PDI)
Focus Stock: First Trust Energy Infra Fund (NYSE:FIF)
Last Week's Focus Stock: Gabelli Convertible & Income Securities Fund (NYSE:GCV)
Fedspeak: On Wednesday, Chairman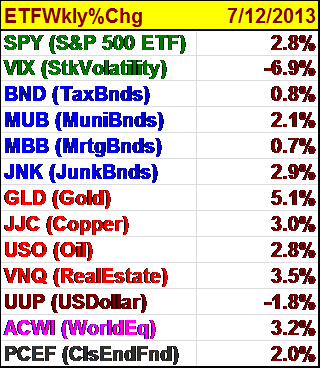 Mr. Bernanke's remarks soothed the equity markets. His reassurance was that the central bank isn't in a rush to taper its bond-buying program and that a pullback doesn't mean a shift into raising interest rates.
Second Quarter EPS: The 2nd quarter may not be that encouraging for estimates. Earnings for companies in the S&P 500 may gain just 0.3%. Little wonder then that S&P 500 companies have issued a record number of warnings about lower-than-expected earnings ahead of the latest quarterly reports.
With lower interest rates the implication that P/E yields go down (P/E multiples go up) suggests that earnings may not rise. Flat rates are going to have to persist for a very long period of time. The equity markets may not have that much further to rise.
ETFs' % Change Week-to-Week: Health Care (+6.1%), Utilities (+4.5%) and Technology (+4.1%) were the leaders this week over the previous week. AssetAlloc (+0.3%), Bonds (+1.2%) and Currency (+1.5%) were laggards for the week.
Both Utilities and Technology were up week-to-week from a mid-point year-to-date. Pacific/Asia was up +3.6% on a weekly basis while year-to-date the category was second to last (-10.1%).
Both Gold (NYSEARCA:GLD) was positive +5.1% and Copper (NYSEARCA:JJC) was a positive 3.0%. US Dollar was down -1.8%. (See "Chart 1")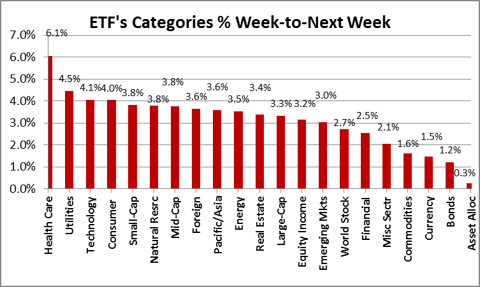 CEF Weekly Fund Type Performance: This week saw price rises for WrldEqFnds (+2.5%), LoanPartFnds (+2.4%) and ConvtSecFnds (+2.4%). The laggards were SingleStMuniFnds (-0.2%), NatlMuniBndFnds (+0.1%) and USMrtgBndFnds (+0.2%). Some of the negative PrcNAVSprds were GenEqFnds and SpecEqFnds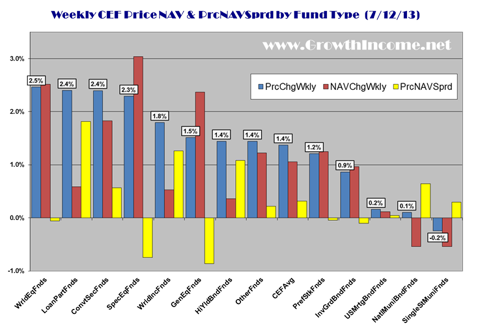 "Highest Spread" for the Week: Our "Highest Spread" for the week was PIMCO Dynamic Income Fund. PDI had a positive share price of +4.0% and a negative NAV of -1.0%. The PrcNAVSprd was +5.0% (A positive number may mean a future decline in share price).
PDI, a WrldIncFnds, has a discount of 5.3%. The total assets were $2.6 billion with effective leverage of 47.4%. The annualized monthly distribution yield is 7.5% (all of it income). The average portfolio yields of asset backed mortgages and corporate bonds are 4.8%. The average annual expense ratio is 2.9% for PDI and the CEF Industry's average is 1.5%. The inception date is 5/25/2012.
Lowest Spread and Focus Stock for the Week: First Trust Energy Infra Fund was our "Focus" Stock" of the Week. FIF share price was negative -1.8% and its NAV per share was a plus +4.9%. Its PrcNAVSprd decline was -6.7%. (Stock prices typically go up.)
The portfolio is energy; MLP made up about 25%. The annualized monthly yield is 5.4% and the discount is 3.5%. Net assets were $581.3 million and the total debt was 26.3%, not made up of structure notes. The monthly distributions are early in the month.
Energy was 3.5% of the ETFs week-to-week. The 4 MLP SpecEqFnds were 1.5% in the week-to-week.
Focus Stock & High Price for Last Week: Last week's "Focus Stock" was Gabelli Convertible & Income Securities Fund. GCV shares were +4.9% this week from last week. The "Highest Spread" for the week is PIMCO High Income Fund (NYSE:PHK) ("Highest Spread" seems to go down) where it went down a negative -0.8% (although the distribution was received July 9 and the distribution was up +0.18%).
Disclosure: I have no positions in any stocks mentioned, and no plans to initiate any positions within the next 72 hours. I wrote this article myself, and it expresses my own opinions. I am not receiving compensation for it. I have no business relationship with any company whose stock is mentioned in this article.