Bank of America (NYSE:BAC) will be reporting Q2 earnings for 2013 before market opening on July 17th. Analysts will be looking for a profit of $0.26/share.
Bank of America has been trading at a P/E ratio of 44 and change, making it extremely expensive for a banking stock. However, with BAC still in the midst of a strong, yet delayed recovery from 2008, we're going to give the P/E ratio a pass here.
From EarningsWhispers:
2nd Quarter Ending June 2013

Earnings Whisper ®:
$0.27
Consensus Estimate:
$0.25
Surprise Expectation:
Release Date: [confirmed]
7/17/2013
Before Open
Expected Time:
7:00 AM ET
Conference Call:
8:30 AM ET
The stock was upgraded by Morgan Stanley on July 8th and MS also raised their price target to $16. I'll argue here that if Bank of America can do two things: 1. beat earnings and 2. break $14, that there's a legitimate chance BAC could see this target as soon as a couple of weeks from now.
As you can see from this chart, the $14 range (from a technical standpoint), looks to be the area to breakthrough for a major rally. Can this upcoming earnings call be the catalyst for this?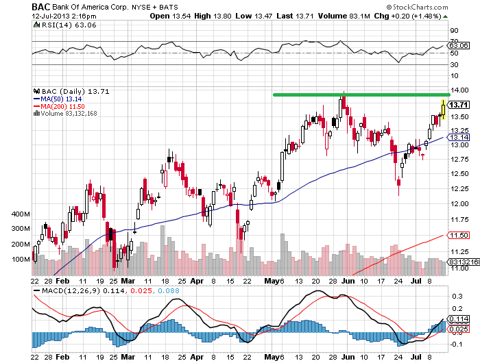 Heading into earnings, BAC is looking like a bullish call for me. The three main reasons I support the bull theory into earnings are:
1. Banks Have Momentum
To open the week, Wells Fargo (NYSE:WFC) had a great showing, posting $0.98/share earnings and $21.4 billion in revenue - a beat for both.
Commerce Bancshares (NASDAQ:CBSH) also had a "decent" second quarter. Although revenue came in a bit light, it was on the heels of securities losses that made the quarter look at bit worse than it was. Its lending growth - a nod towards the future - was up considerably.
Junius reported that JPMorgan's second quarter earnings, out Friday, were also a slam dunk:
JPMorgan Chase & Co (NYSE:JPM), the largest U.S. bank by assets reported Q2 earnings which rose 31% to $6.50 billion. Earnings per share rose by 32% to $1.60, which is much higher than analysts' estimates of $1.44. This is the sixth consecutive quarter where the bank had beaten the consensus analysts forecast for EPS.
Bank of America could, if it posts positive results, ride on the momentum of the banks here.
Reporting this week are banks Citigroup (NYSE:C), Schwab (NYSE:SCHW), and First Niagara (NASDAQ:FNFG).
2. Dividend Increase Likely
Mark Meadows, in his excellent article about BAC recently, states:
Bank of America has over $1 trillion in deposits, which ultimately provides a robust base for revenue and profit growth. At present, BofA has a loan-to-deposit ratio of nearly 80 percent, with non-performing loans accounting for 2.53 percent. That figure is still high, but the company was able to lower this number by 17.8 percent year-over-year.
His reasoning here is that the increase in capital is going to allow the company to unlock cash value for shareholders and increase their "paltry 0.3%" dividends.
If Bank of America wants to operate commensurate with other banks' dividend yields, it can be expected to increase its return to shareholders sooner rather than later.
3. The Trend is Your Friend
Say whatever you want about technicals and charting, but this one year chart is pretty tough to ignore: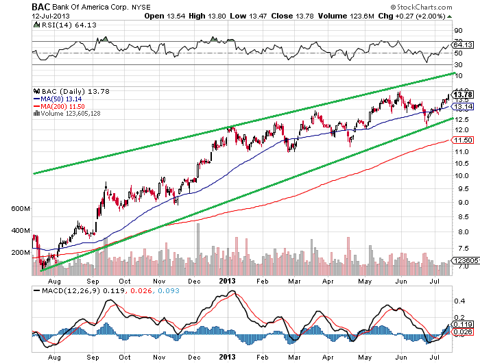 If Bank of America can impress with this technical momentum behind it, the next step will likely be through $14, which will spur a larger rally in this investor's opinion. The RSI is looking healthy, not having been oversold for a few months, indicating there's technical room for the stock to move upward without being overbought.
Some analysts, however, are feeling bearish after Alcoa's decent start to earnings season. International Business Times reports:
"We suspect the news is likely to be less upbeat in the coming weeks and beyond," said John Higgins, chief markets economist at Capital Economics. "Margins are now very stretched by past standards, so there is a clear risk that profits will grow less rapidly than output over the next few years, even as the economy recovery gains traction."

Similar to last quarter, expectations for second-quarter S&P 500 earnings per share (NYSEARCA:EPS) have continued to decline going into earnings season, says Savita Subramanian, head of U.S. equity and quantitative strategy at Bank of America Merrill Lynch.
However, there are other ways to position yourself for the upcoming earnings if you're not into the risk of going one way or the other. One great way to position yourself here is going to be through an options spread. With the way that BAC fell 10% on its last earnings report, and with the coverage the stock gets, you can make a bet on volatility by playing an options straddle here.
The main risk lies here for Bank of America to be effected by rising interest rates. It's also worth noting some strange trading - an investor purchase of 50,000 January $11 puts at the end of June. Barron's reported:
The options market has just placed a giant question mark on Bank of America's stock. Friday will tell if it becomes an exclamation mark for the bulls or bears.

So far, all that we know is that an investor bought 50,000 January $11 puts for 45 cents in three different trades early in the session when the stock was between $12.86 and $12.89. The stock was recently at $12.91.

Though the unnamed investor paid the asking price, which is interpreted as a sign the puts were bought, it is not known if the puts were bought to open a position or close one, because the strike's outstanding position totals 66,958 contracts.

When the trade settles overnight, and the Options Clearing Corp. adjusts open interest, it will become clear if the position is bearish or bullish.

If the open interest declines by 50,000 contracts, it will indicate that a major investor who was bearish on Bank of America has changed his stance. By closing out the puts, which increase in value when a stock declines, it will suggest the investor is suddenly bullish on a stock that has dropped 2.5% over the past month, giving back some of the year's strong gains.

If open interest increases, it will suggest that the investor has suddenly decided to hedge some or all of a sizable stock position.
Wednesday will hold the answer to both sides of the Bank of America coin - I'll be watching closely.
Disclosure: I have no positions in any stocks mentioned, and no plans to initiate any positions within the next 72 hours. I wrote this article myself, and it expresses my own opinions. I am not receiving compensation for it (other than from Seeking Alpha). I have no business relationship with any company whose stock is mentioned in this article.