It was a time not all that long ago that all of the attention in the coming week would be focused on one thing and one thing only in corporate earnings. And with a large number of major companies scheduled to report their quarterly results over the next few days, it should be the primary thing to which most investors should be paying attention. However, the post crisis market environment no longer seems to care all that much about fundamentals. Sure, it still makes a difference on a stock specific level, but the eyes of investors on the most part are now focused elsewhere. Instead, it is now all about monetary stimulus and the words of key policy makers. And it will be two key events over the next several days that have the potential to send the market swinging wildly along the way.
Act 1: China GDP
The first key event takes place on Sunday night before the U.S. markets open on Monday morning. This is the release of China's second quarter GDP data. Markets have already been preconditioned in the last few days to expect an absolutely lousy number with the latest growth projections in the 6.5% to 7.0% range. While such growth readings would represent robust growth here in the U.S., it is considered relatively slow in China. And even if the number comes in better than expected, the event still has the potential to rattle investment markets.
In short, the event on Sunday night comes with three key risks for investment markets heading into Monday's trading. These are listed below:
1. The actual data report itself on China GDP for the second quarter
2. The commentary from Chinese officials about the GDP reading
3. How this commentary is interpreted by the markets
This three part set up presents an intricate web of scenarios for investors to navigate before the trading week has even started.
First, the GDP report may come in better than expected, worse than expected or meet already lowered expectations. Thus, three outcomes exist at this first level of the tree.
Second, depending on the results of the GDP data, Chinese officials may look to send signals about soothing the economy with suggestions of targeted stimulus. Then again, they may chose to emphasize structural reform and the fact that the economy already has sufficient support and liquidity already. Or, they may simply repeat what they have been saying since the new leadership took over in March. Once again, three more potential outcomes exist at the second level of the tree.
Lastly, investors will hear whatever they want to hear when it's all said and done. Perhaps Chinese officials will drop hints about potential stimulus, but the market will chose to ignore it. Or perhaps Chinese officials reaffirm their emphasis on structural reform instead of growth at all costs, but someone sneezes during the press conference and investors take it as a subtle signal that stimulus is forthcoming soon. Or perhaps they may just do what they did last week and skyrocket even though the Chinese premier said effectively the exact same thing he had already stated in March and May of this year. To this last example, the enthusiasm that recently accompanied Premier Li's supposed suggestion that stimulus would be forthcoming did not last long, as China stocks (NYSEARCA:FXI) gave back nearly half of their Thursday gains on Friday alone. And the broader emerging market (NYSEARCA:EEM) complex was also down solidly after a similarly strong advance the day before.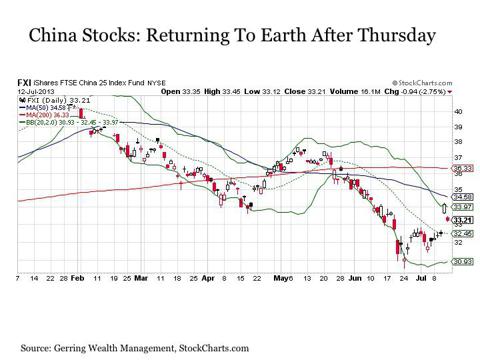 The key takeaway from the release of China GDP on Sunday night is that it is loaded with uncertainty. Over 27 distinctly different outcomes are possible with widely divergent market outcomes, and that does not include the potential that investors here in the U.S. may simply not care whatever happens with the data. Nonetheless, the China GDP reading promises to set the tone for the markets to start out the week.
Act 2: Bernanke Testimony Before Congress
The headline consuming event comes later in the week with Fed Chairman Bernanke's testimony before Congress on Wednesday and Thursday. But unlike his speech last Wednesday when a ton of market froth was whipped up over the answer to a single question during the Q&A period, it is highly likely that Bernanke will not exit his two day testimony without investors having a far more explicit understanding about what the Fed intends to do in the coming months with monetary policy.
This leads to two key risks for markets, which are listed below
1. What Chairman Bernanke actually says before Congress
2. How this commentary is interpreted by the markets
Considering these risks in context, it could be argued that the U.S. stock market (NYSEARCA:SPY) faces risks biased to the downside following Bernanke's testimony. This is due to the fact that so many interpreted from his comments on Wednesday before the National Bureau of Economic Research that tapering may be coming much later than September. But after reviewing his comments, one could argue that his primary intent was to distinctly separate tapering from tightening and that while they may be tapering soon (changes to the "mix of instruments"), they are unlikely to tighten anytime before 2015 at the earliest (the "highly accommodative" part). Thus, if Chairman Bernanke reiterates his time table and investors begin to think that tapering is back on the table for September, stocks may react to the downside. Then again, investors may try to find some thread that suggests the Chairman is merely bluffing and will not withdraw stimulus in the end.
On the flip side, perhaps Chairman Bernanke may fully back away from any tapering talk in the near-term. Stocks would likely love this outcome, but it would only serve to reinforce the idea put forth by some that Fed policy is lacking a cohesive and set direction, which may raise concerns in some market circles.
Once again, we are looking at several distinctly different outcomes depending on what the Chairman says (taper, no taper or no specifics on policy) and how the markets chose to react to his words.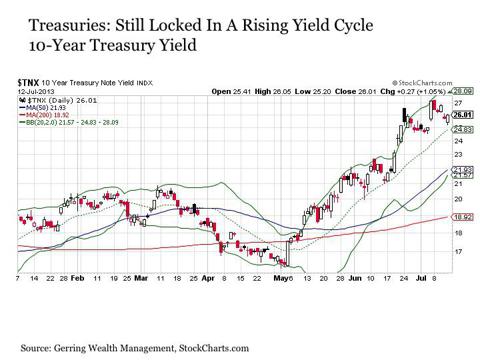 An issue that may cause the Fed to be more dovish this upcoming week is the persistent weakness in the Treasury complex specifically and the bond market in general given its implications on borrowing costs. For while U.S. stocks continued their sharp Thursday rally into Friday, bonds have shown little life in recent days. Treasuries did manage to shed a few basis points of yield on Thursday, but effectively gave most of it back the very next trading day. And Treasuries are not alone in struggling among bonds, as many other spread product categories across the fixed income complex remain in a sharp downtrend at least for now. This includes U.S. TIPS (NYSEARCA:TIP), municipal bonds (NYSEARCA:MUB), Build America Bonds (NYSEARCA:BAB), investment grade corporate bonds (NYSEARCA:LQD), mortgage backed securities (NYSEARCA:MBB) and emerging market bonds (NYSEARCA:EMB). In short, the Fed may be inclined to allow the stock market to rise further so that they can try to provide added support to the bond market following the recently staggering move higher in yields.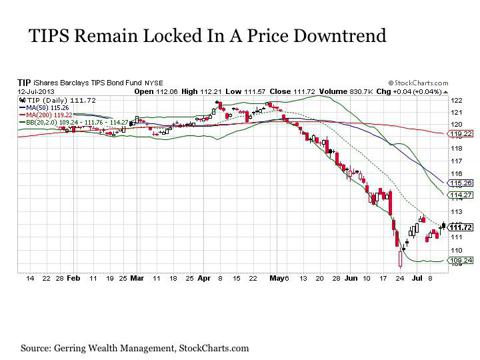 Of course, it is just as possible that Bernanke may take a more hawkish tone. And although he is not likely to be as resolute as some perceived him to be back on June 19, the mere mention of the fact that tapering is actually coming sooner rather than later may be enough to send stocks for a ride lower. And whether the investors actually interpret Bernanke's commentary the way he would like the market to hear it or if it is something all together different just adds another major layer of uncertainty on the process.
In short, Bernanke's testimony before Congress later this week is a hornet's nest full of uncertainty that has the potential to send the stock market soaring higher or plunging lower depending only upon exactly what he has to say as well as what investors actually take away from his commentary whether right or wrong. And while I expect that he will reiterate the potential for tapering starting in September while reinforcing the fact that interest rates are locked at zero until 2015, anything is possible at this point and should be planned for accordingly.
For all of these reasons, these two key events and the widespread uncertainty associated both to the upside and the downside with the outcome of either episode makes, it is prudent for investors to assume a more risk adverse stance heading into the coming week. For while everything may work out just fine for stocks by the time the week draws to a close, all it could take is a few sentences from policy makers to just as easily send the market reeling lower. Such a policy statement dependent investment market is certainly not a healthy one in which to participate. It will be nice to someday return to an environment where a week filled with corporate earnings matters more from a financial news perspective more than most anything else. In the meantime, we are left to wait to see what policy makers might have to say next.
This post is for information purposes only. There are risks involved with investing including loss of principal. Gerring Wealth Management (GWM) makes no explicit or implicit guarantee with respect to performance or the outcome of any investment or projections made by GWM. There is no guarantee that the goals of the strategies discussed by GWM will be met.
Disclosure: I have no positions in any stocks mentioned, and no plans to initiate any positions within the next 72 hours. I wrote this article myself, and it expresses my own opinions. I am not receiving compensation for it (other than from Seeking Alpha). I have no business relationship with any company whose stock is mentioned in this article.