Microsoft (NASDAQ:MSFT) didn't blow the doors off when it reported its March 31, 2013 quarter, but it did show steady progress with growth in all segments, turning in sales of $20.5 billion and operating income of $7.6 billion for the quarter.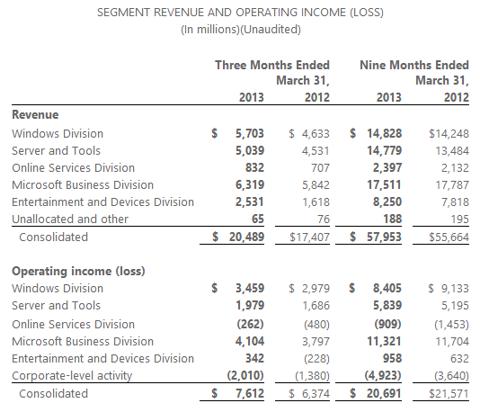 Windows 8 had been released to not much fanfare, and most reports criticized the new operating system for its lack of the iconic START button and the new touch-base Metro interface, called clumsy by some. I have used Windows 8 since it was released, and I find it quite intuitive and interesting, although I did miss the START button. Microsoft has since announced the START button will be back later this year, and a Beta version of Windows 8 with the START button has been released.
The first quarter also showed initial sales of Microsoft's new Surface Pro and Surface RT Tablets which, despite being quite portable and powerful, did not attract an outpouring of rave reviews and apparently sold only a million or two devices in the first quarter.
This quarter will be an interesting one. Windows 8 continues to slowly expand market share, although not at a blistering pace, and Microsoft has reported that over 100 million copies of the new OS have been sold as of a few weeks ago.
In parallel, Personal Computer ("PC") markets have been soft, with IDC and Gartner both forecasting that unit sales worldwide for the June quarter will be 11% below 2012 levels at about 76 million PCs. Despite the doom and gloom of these reports, Microsoft's stock has been on a bit of a tear for the past 3 months, up from the $28 range to over $35 or roughly 25%.
What is wrong with this picture? The PC is dead, Windows 8 is a failure, the Surface tablets are not selling and Microsoft's stock is surging.
Of course there is nothing wrong with this picture. The overly publicized and too-often mentioned death of the PC is hardly a reality. Sure, there are fewer PCs sold as users buy smartphones and tablets, and Windows-based tablets were late to the party, but Best Buy (NYSE:BBY) lists over 130 Windows tablets today, and Windows based phones have almost doubled market share in less than a year.
Markets look ahead, not backwards, and in my view, the smart money can see that Microsoft is a winning track.
Moreover, Microsoft is a lot more than just Windows. Microsoft Dynamics, Microsoft Azure, Microsoft Exchange and a raft of other Microsoft enterprise products are selling well. Microsoft is making real headway in cloud computing, reporting not long ago that revenue from its cloud operations had broken through $1 billion in annual revenue.
Microsoft reports year end results on July 18th. The quarter should be worth watching. In my view, Microsoft will enjoy continued growth in sales and earnings as the trends, while not as robust as many watchers would like, remain healthy. I forecast revenue of $21.1 billion with net income of $6.3 billion or $0.76 per share.
| | | |
| --- | --- | --- |
| Division | Revenue | Income |
| Windows | $6,000 | $3,600 |
| Server & Tools | $5,100 | $2,100 |
| Online Services | $850 | -$200 |
| Business | $6,500 | $4,200 |
| Entertainment | $2,700 | $400 |
| Corporate | | -$2,100 |
| TOTAL | $21,150 | $7,900 |
| Income tax | | $1,650 |
| NET INCOME | | $6,250 |
| NI per share | | $0.76 |
Microsoft recently reorganized itself, and the conference call is sure to give us some insight into how the new organization will capitalize on the opportunities Microsoft sees going forward. There is no doubt in my mind that those opportunities will include a slowing decline and ultimately growth in the PC and tablet market, increased worldwide share of Windows 8 phones by Nokia (NYSE:NOK) and others, and further progress in cloud computing.
In my view, Microsoft remains a sound investment offering steady growth in sales and earnings, and over time, an increasing dividend.
Disclosure: I have no positions in any stocks mentioned, but may initiate a long position in MSFT over the next 72 hours. I wrote this article myself, and it expresses my own opinions. I am not receiving compensation for it (other than from Seeking Alpha). I have no business relationship with any company whose stock is mentioned in this article.