You bet I am worried about housing. I say that because housing has been the linchpin of this recovery and without it - or with a big slowdown in it - or with hedge funds dumping homes because they fear the boom is ending, we could crimp the other hiring machine beside oil and gas and aerospace. And there's no one to take up the slack, least of all the government, which racked up an amazing surplus with many more to follow. - Jim Cramer in "Housing Does Worry Me", July 12, 2013
I do not follow TheStreet.com's Jim Cramer as closely as I did many years ago, but every now and then something pops up that manages to catch my interest. The above quote is from a piece where Cramer basically put the entire burden of the economic recovery and the stock market rally on the collective back of housing. This assessment is surprising on several levels after looking closely at the data.
First of all, national employment in residential construction are still at depressed levels. A lot of upside potential remains here.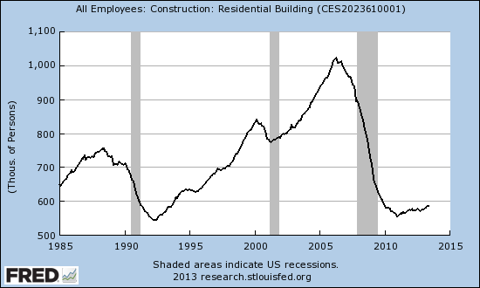 Click to enlarge
All Employees: Construction: Residential Building, Monthly, Seasonally Adjusted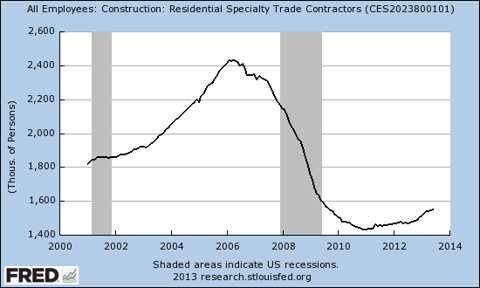 Click to enlarge
All Employees: Construction: Residential Specialty Trade Contractors, Monthly, Seasonally Adjusted
Source: St. Louis Federal Reserve
Based only on national employment, there was never a reason to celebrate the housing recovery. Even in a hot market like California where labor shortages are showing up in certain areas, overall employment in the housing industry looks like it is only in inning 1 or 2 of a recovery.
Cramer goes on to say:
I write about this worry because that sector has almost fully recovered from the May 22 downturn. It's almost gotten back to even, and I think that it would only take one bad number, one slow number in starts, in permits, in sales, in housing company earnings, in consumer sentiment, to send these stocks back down again. Oh, and if rates go to 2.75% on the 10-year then we get a selloff, too.
I agree with Cramer about the impact of poor housing-related numbers. The recovery is just getting started after lagging the post-recession recovery for about two years. The recent sell-off in housing-related stocks was a palpable fallout from the recent spike in mortgage ratesClick to enlarge. However, homebuilder stocks have NOT fully recovered from the "May 22 downturn."
The highly watched SPDR S&P Homebuilders ETF (NYSEARCA:XHB) has almost recovered. In fact, it is just about dead-even with the S&P 500 (NYSEARCA:SPY) on year-to-date performance. However, this poorly named ETF includes a lot more than homebuilders. Many of the publicly traded homebuilders are far from a total recovery and continue to lag the S&P 500 this year.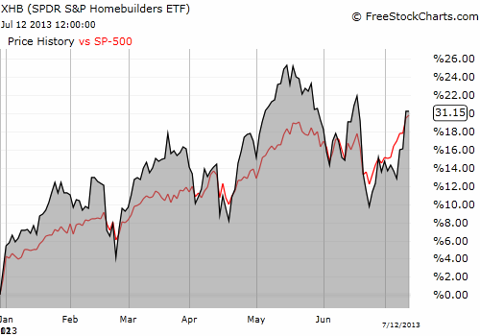 Click to enlarge
XHB has spent most of the year out-performing the S&P 500, but the two indices are about even now year-to-date
The following list shows how poorly homebuilder stocks have fared since May 22nd. The first number after the name and stock symbol of the homebuilder is the largest loss the stock experienced in the sell-off as measured from the close of trading on May 22nd to the lowest close. The next number (after the slash) is the performance from the close on May 22nd to the close on July 12th. The number in parentheses is the number of trading days after the stock closed at its lowest level since May 22nd. For comparison, the S&P 500 has enjoyed 13 trading days since closing at its worst post-May22 level.
All the homebuilders are severely lagging the S&P 500 since May 22nd; the S&P 500 is at all-time highs and 1.5% above its May 22nd close. Only 2 of these homebuilders bottomed when the S&P 500 bottomed. The rest have only bounced off lows in the previous week. XHB is clearly benefiting from the many non-builder stocks it contains. There is no near recovery from homebuilder stocks yet.
Finally, calling housing a "linchpin" of the recovery is a bit premature. Cramer is more accurate when he says the potential upside in GDP comes from housing. However, based on the current recovery, that upside is likely nothing to write home about yet and certainly does not qualify for linchpin status. (All data below comes from the latest Bureau of Economic Analysis spreadsheet on GDP).
Seasonally adjusted annual growth rates for residential private domestic investment have been in the double digits every quarter except one since Q4 of 2011. 2012 was the first full year the growth rate turned positive (12%) after six straight years of annual declines. In other words, housing is only just barely lifting its head off the mat. The economic recovery to date has been trudging along with and without positive growth rates in housing.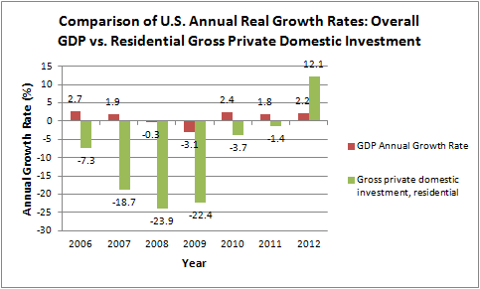 Click to enlarge
Comparison of U.S. Annual Real Growth Rates: Overall GDP vs. Residential Gross Private Domestic Investment
The biggest contributor to GDP is of course personal expenditures. Spending on furnishings and durable household equipment is only a very small portion of these expenditures. For example, in the first quarter of 2013, personal expenditures represented 1.83 percentage points of the 1.8% GDP growth rate (reductions in government spending at the Federal and state levels were the main drag pulling down GDP). Furnishings and durable household equipment was just .08 percentage points of the overall GDP number growth rate. So the GDP upside is not likely coming from that spending.
The quarterly and annualized double-digit growth rates in residential gross private domestic investment have only contributed a small part to the overall GDP growth rate. The main exception was the fourth quarter when massive reductions in farm inventories and government spending crushed GDP to a 0.4% growth rate. During that quarter, residential gross private domestic investment contributed 0.4 percentage points to the growth rate (in other words, the two were equal). In the first quarter of 2013, residential growth contributed 0.34 percentage points. It is big enough to swing overall GDP to a small upside/downside surprise, but not nearly big enough to serve as a linchpin.
I have repeated in several posts now that I continue to expect the housing recovery to be a bumpy ride off the bottom. Setbacks will happen, and there will be plenty of reasons to wring hands and worry. Perhaps Cramer let previous bullishness get too far ahead of the numbers. Relying on hedge funds to hold onto housing investments is definitely not a good reason to buy into the recovery (and I am not sure who could absorb their homes even at depressed prices if they all decided to sell at once). Regardless, I still plan to use "worrying episodes" as opportunities to increase exposure to homebuilder stocks at lower prices. Cramer is right to worry, but the worries are misplaced given that they seem to be coming from an over-optimistic perch.
[As noted in my last real estate piece, I have started rebuilding with TPH.]
Be careful out there!
Disclosure: I am long TPH. I wrote this article myself, and it expresses my own opinions. I am not receiving compensation for it (other than from Seeking Alpha). I have no business relationship with any company whose stock is mentioned in this article.